Image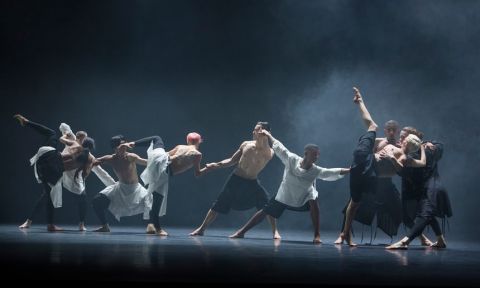 Company
Company Wayne McGregor
Production
Wayne McGregor (Concept, direction, choreography), Jlin (music), Ben Cullen Williams (set design, projection), Lucy Carter (lighting), Aitor Throup (costumes), Uzma Hameed (Dramaturgy)
Performers
Rebecca Bassett-Graham, Jorda James Bridge, Travis Claussen-Knight, louis McMiller, Daniela Neugebauer, Jacob O'Connell, James Pett, Fukiko Takase, Po-Lin Tung, Jessica Wright
For 25 years, Wayne McGregor has brought a refreshing, radical vision to the art of choreography and stimulate the imagination through the language of movement, music and design. Ripping up the rule book of classical dance, Chroma (2006), set to music by the White Stripes, explores our ability to communicate thought and emotion. His highly acclaimed Woolf Works (2015) expresses an artistic life with fine sensitivity.
Perhaps McGregor was inspired by Virginia Woolf's belief that "Life is not symmetrically arranged; life is a luminous halo, a semi-transparent envelope surrounding us from the beginning of consciousness to the end.'
The intensely personal narrative behind his exhilarating, hyper-energetic new work Autobiography is deconstructed into three segments, auto (self)-bio (life)-graphy (writing) to encapsulate the natural, cultural and genetic code of his own unique biological blueprint.
To reflect 23 distinct pairs of chromosomes, his self portrait is viewed through 23 chapters to illustrate a scrapbook of memories, inspirations and influences, such as poetry, music, film, Samuel Becket and Merce Cunningham. However understanding the cultural backdrop is merely a useful footnote: this is about the visual, dramatic creativity and concept of the performance - sit back, observe and listen.
Surtitles give the name of the randomly selected chapters, Avatar, Nurture, Knowing, Ageing, World et al. (no two performances are the same). A huge, triangular, pyramid structure representing the human genome, is stretched high above the stage casting streaks of pure light and soft shadows on a solo dancer. As an essential collaboration, the soundtrack features the strident, electronic music of the American composer Jlin. Through the various dance sequences, there is a powerful – if rather an overly repetitive - resonating. beating rhythm, interspersed occasionally with natural sounds of water and the slow exhale and inhale of the human breath. It is a relief when the tempo dips into a momentary quieter mood with gentle violin strings and then shifts again into tribal dance routine and a Caribbean-style rap.
The ten dancers are all super fit, supple athletes matched with beauty and grace, where the expression of bodily movement is beautifully sculptured: soulful solos, sensual duets, artistically posed and patterned ensembles perfecting fast paced jumps, high kicks and flailing arms. Monochrome costumes are simple but effective - shorts, leggings with flowing kilt-like aprons, billowing shirts.
Throughout this seamless 80 minute dance of life, the lighting is exquisitely designed with short, sharp, shimmering beams to capture facial expression and physical gesture. With hypnotic, breathtaking and synchronised performances, the cool, crafted choreography by Wayne McGregor quite literally and physically drives the action and emotional beating heart of his autobiography.
Run ended