Image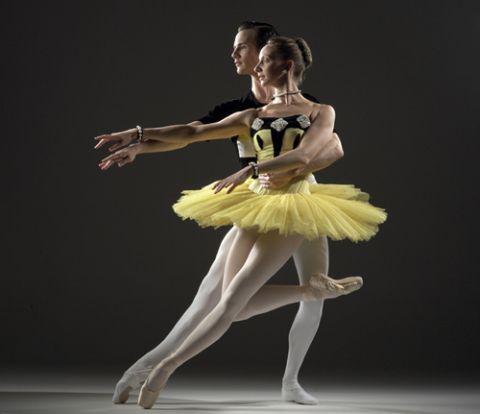 Production
Frederick Ashton, William Forsythe, Ian Spink (choreographers)
Performers
Soloists - Claire Robertson, Adam Blyde, Daniel Davidson, Tama Barry, Victoria Willard, Erik Cavaliari (and the dancers of Scottish Ballet)
Celebrating its 40th birthday (and a new £11 million Glasgow home), it is timely indeed for Scottish Ballet to be invited back to the EIF with a triple bill spanning 60 years of classical ballet and contemporary dance.
With financial support from the Expo Fund, Scottish Ballet commissioned Ian Spink to choreograph a fresh, updated version of "Petrushka", based on the 1911 Stravinsky/Fokine/Diaghilev ballet. As the curtain rose for the world premiere on Friday night, you could almost hear a united intake of breath when the audience observed the stunningly realistic set design.
This is St. Petersburg, early 1990s, where Eastern bloc meets Western society head on: huge Samsung advertisements tower over grim, grey Stalinist-era apartments.  Panasonic TV boxes are unloaded from a truck while a black market in vodka draws a large crowd - the nouveau-riche in fur coats, factory workers, businessmen and young trendy, bohemian girls seeking men and money. It's the local Fair and inside an HGV truck, a top-hatted magician sets up a stage to present his entertainers, a showgirl, strongman and Petrushka, a punky, Bowie-haired, street kid in Doc Marten boots. Working with the folk tunes and mechanical puppet rhythm of Stravinsky's score, Spink has seamlessly re-created "Petrushka" with an energetic, sexy blend of burlesque, hip hop, breakdance moves and pole dancing.
In total contrast is William Forsythe's cool, classy, neo-classical, "Workwithinwork" (1973), performed to Duetti for two violins by Berio. On a black box stage, sixteen dancers, dressed in sparkly purple, grey and pink with black shorts, juxtapose graceful balletic technique with jazzy moves, wide arm waves and high kicks, shifting with the subtle changes in tempo, shadow and light to slow duets and statuesque pauses. Berio's strident strings create a hauntingly beautiful score, while the choreography fits the music with split second timing, as neat as a pair of elegant, tight black evening gloves.
The evening began with "Scenes de Ballet", Frederick Ashton's 1947 one-act ballet (created for Margot Fonteyn) set to Stravinsky's romantic Broadway score. The Corps de Ballet costumes are divine: exquisite duck egg blue and yellow tutus with zig zag bodices, cute black and white pill box hats, bracelets and pearls.  A geometric theme flows through from chic fashion style,  Baroque-Classicism architecture backdrop, to symmetrical dance patterns. This glamorous, sophisticated revival of a post war "New Look" classic is pure poetry in motion. World class performances delight throughout this diverse Festival programme - Happy Birthday Scottish Ballet!
Times: 4-5 September, at 7.30pm; Saturday 5 September, 2.30pm