Image
Image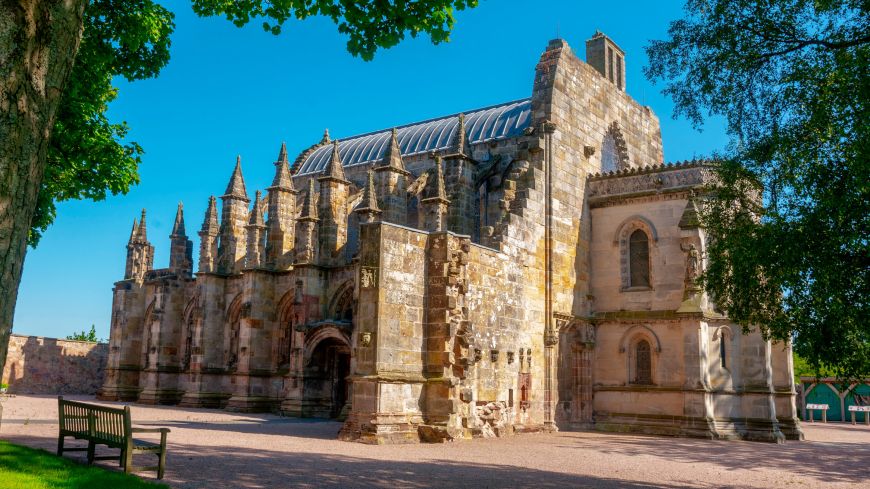 Telephone (box office)
+44 (0)131 440 2159
Rosslyn Chapel received its collegiate charter from Rome in 1446. They started to build in 1456 and the chapel was still not complete by Earl William Sinclair's Death in 1482. Probably the most unique medieval building in the World.
Described in the book Rosslyn Revealed by Alan Butler and John Ritchie as "a library in Stone". Its multitudinous carvings hold information from many medieval manuscripts as well as biblical phrases,there are many references to anamism and astronomy, within and on the outside of the building, its many carvings represent almost all the religious philosophies of the period.
It is indeed a Medieval stone circle, a place of great knowledge and wonder. It was also the chapel which featured in Dan Brown's book and film, The Da Vinci Code. To visit is a unique experience, and has been ever since it was built. Rosslyn Chapel has always been a sacred place of pilgrimage.
Chapel Opening Times
1st April - 30th Sept Mon- Sat 9.30am - 6pm
Sunday 12noon - 4.45pm
1st Oct - 31st March Mon - Sat 9.30am - 5pm
Sunday 12noon-4.45pm
Adults £9.50 Concessions £7
*Children are FREE up to 16yrs under 18s free as part of a family visit. Entrance fees include a history lecture and tour by one of the trained guides
Chapel Services
The Chapel, also known as St. Matthew's Collegiate Church is a working church. Rosslyn is a Member of the Episcopalian Church and holds regular services on Sundays. 10.30am Family Eucharist, and 5.00pm Evensong. On Tuesdays and Fridays there are brief Prayer sessions in the Chapel at 12 noon.
Getting there
By Road from the Edinburgh bypass: take "Straiton Junction" A701 to Penicuik/Peebles. Follow A701 to sign for Roslin (3 miles) once in Roslin Village the Chapel is signed.
By Bus Lothian Buses service 15 (not 15A)