Image
Image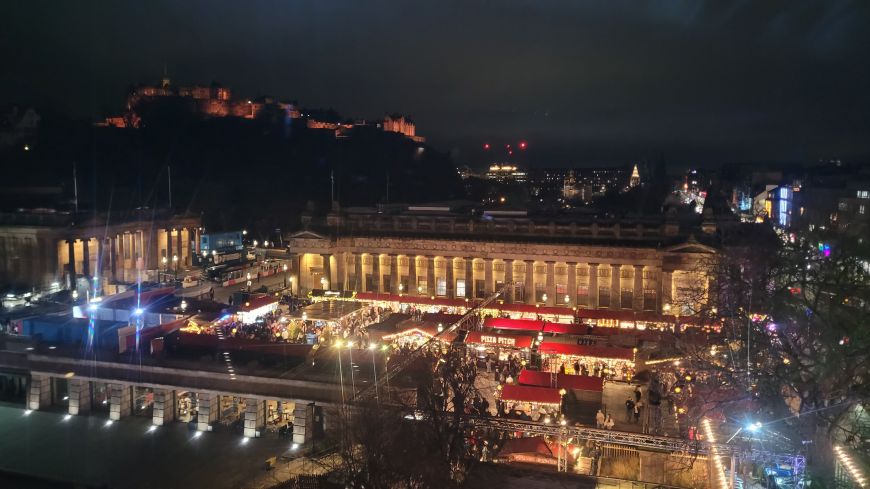 Street
East Princes Street Gardens
The Festival Wheel (aka "Edinburgh Festival Wheel" and "Big Wheel") is a large mechanical, red and white Ferris Wheel, situated in the centre of Edinburgh, in East Princes Street Garden.
The large wheel is a temporary structure, raised during the summer months at the Edinburgh Festivals and in the Winter at Edinburgh's Christmas. It's called the "Forth 1 Big Wheel" during the Christmas season - DJs from local Radio 1 have put together an Edinburgh's Christmas promotional soundtrack that plays during the ride (unfortunately, there is no mute button).
In terms of size, the Christmas ferris wheel has 36 enclosed, weather-proof pods each of which can carry six people.
Previously, the attraction was an Italian-made ferris wheel with 27 gondolas and around 20,000 lights. At 42 metres high, it wasn't quite as tall as the neighbouring Scott Monument.
The open-air, cage design of the earlier gondola allowed for room for taking unobstructed photographs and video of the city below. The gondolas on the current Big Wheel provide cover from the weather, and unimpeded views, but photographers must contend with the sheen and reflections off the window as the wheel makes its rounds.
What to look out for
The Big Wheel lifts you up high above the National Galleries, offering impressive views (weather permitting) of the New Town and across the Firth of Forth to the Kingdom of Fife.
After paying for tickets in a booth at the foot of the Wheel, or booking online, riders are boarded onto one of the gondalas, at various points on the wheel. The wheel gradually climbs in stages above the gardens as the operators carefully load their human cargo, paying attention to load balancing. The Wheel then spins for three rotations before, a few minutes later, passengers are disembarked.
As the Big Wheel cycles up and down, the rider is presented with a panoramic sweep that extends West down Princes Street and across to Edinburgh Castle.
In the distant North East the coastline becomes visible and then sinks behind Edinburgh rooftops, while in the other direction you get a bird's eye view of Waverley Station and the jumble of buildings of the Old Town ascending to the Castle. In the distance, Arthur's Seat and Holyrood Park also come into view.
Forth 1 Big Wheel Opening Times (Winter 2022)
25th November - 3rd January 2023
10am – 10pm (last admission 9.45pm)
Forth 1 Big Wheel Ticket Prices (Winter 2022)
£10 (Concession £8)
Family ticket: £28 (4 people, with max 2 adults are available)
Note: Tickets are date-specific, but there are no set time slots - admission is on a first-come, first-served basis.
Allow extra time if you plan to attend during busy periods.
Edinburgh residents will receive a 20% discount with proof of their EH postcode.