Image
Image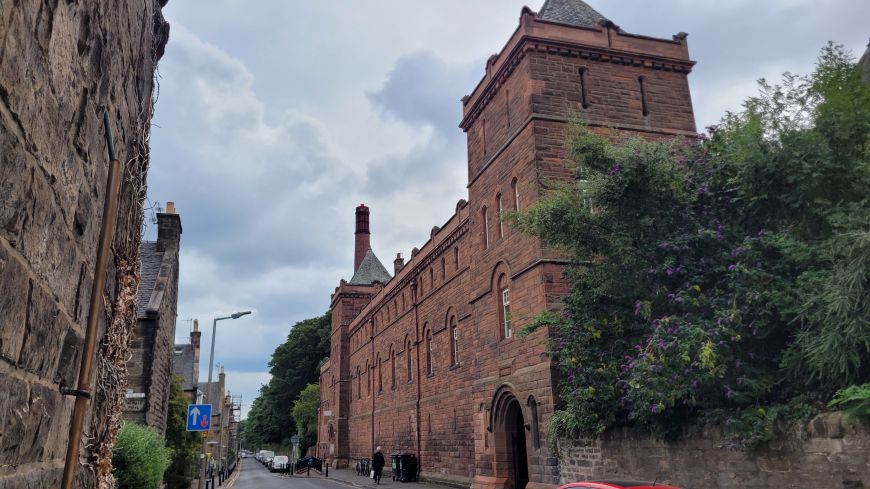 Attractive Victorian swimming baths, located on three levels in the Stockbridge Colonies, that have retained much of their original character since opening in 1900.
The 25 yard (22.85 metre) swimming pool is housed under a tall-roofed room with glass skylight, with a wrap-around, open balcony above, providing a good view over the pool.
Along the length of the pool are a series of curtained cubicles for individuals to change in, and at the far end of the pool are a steam room, sauna, showers, and toilets. The building also has a fitness gym upstairs in what was originally a communal bathing pool, known as the "high level pool".
The pool and facilities are housed in a red sandstone building that can be entered from below at Glenogle Road (near the Colonies) or from above, by going down the stairs at Saxe-Coburg Place. Look for the red building with  Norman towers at either end and (if coming from the Saxe-Coburg side) tall smoke stack which once puffed coal smoke as it heated water in the pool boiler.
There are limited spaces for the public swim - with a booking system in place - so the pool never gets too crowded even though at five lanes it is not a huge pool. The centre provides mats, floaty and throw toys, for kids of all ages to play with during public swim. There are public lanes available at certain times of day as well. 
The facility is one of five Victorian pools in Edinburgh run by council-backed charity Edinburgh Leisure. 
The centre re-opened in 2010 after a major, £5.7 million renovation including accessibility improvements (a ramp at the Glenogle road entrance and lift). Solar roof panels were also introduced to help with the facility's electricity needs.
The Glenogle Baths were originally designed by Robert Morham (City Architect) and built between 1897 and 1900 in a design similar to Dalry Public Baths. Some interesting period features that the building retains include ceramic tiled floor in the entrance halls, above and below the reception area. 
The balustrade staircase leads to a curious little seating area with a tiny, oval balcony overlooking the ground floor reception and a cupola above allows light to pass to the lower level.
The original timber payment booth and window are now used as an office and display cabinet.