Image
Image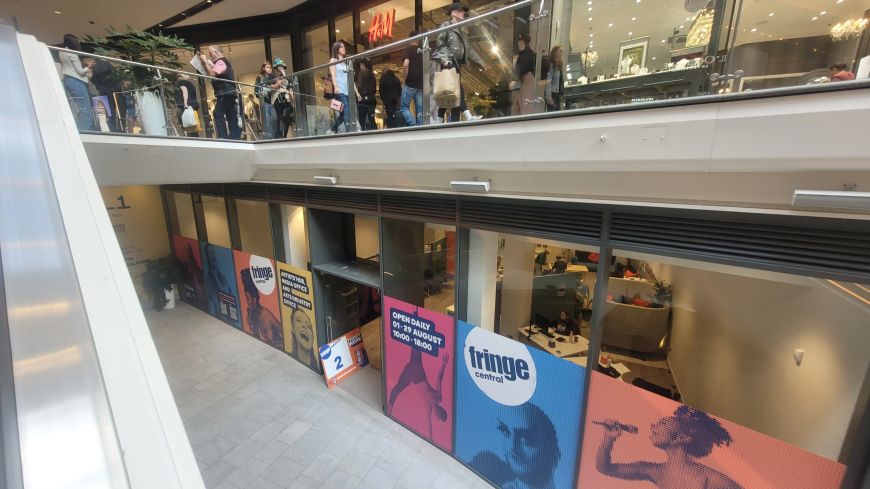 Telephone (box office)
0131 226 0000
Fringe Central (venue number 2) is the hub for Fringe staff, those involved in putting on shows, and media covering the Fringe. If you got bitten by the Fringe bug, this is the place to go to learn more about putting on a Fringe show, and you'll find the Arts Industry Office and Media Office here.
In 2022, Fringe Central re-orientates itself to the New Town (from previous location on Edinburgh University's Southside campus) with its base in the St James Quarter. The Fringe Central office is on the lower floor (Level 1) at the West End of the mall. If coming along Multrees Walk / St James Place entrance you will need to take the escalator down a level.
Run by the Fringe Society, it provides practical resources and facilities for participants and assistance for members of the press.
Fringe Central's free programme of workshops covers the business and marketing, as well as creative side, of putting on shows.
In previous years, Fringe Central has supported over 1,000 national and international media representatives, and 1,200 arts industry professionals.
Background
Fringe Central was formerly listed as the Fringe Press and Performance Centre, it moved from its Old Town location down the narrow close at the side of the Fringe Shop and Box Office to Edinburgh University's Appleton Tower block in the George Square campus.
In 2022, Fringe Central moved to St James Qtr.
Opening hours
Monday 31 July – 28 August 10am – 6pm