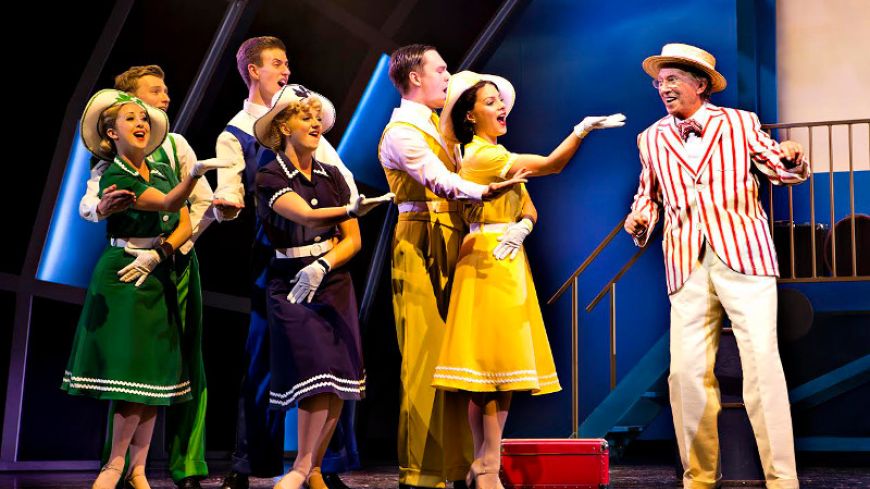 Company
Bill Kenwright Presents
Production
Bob Tomson (Director), Keith Strachan (Music Producer), Bill Deamer (Choreographer)
Performers
Tommy Steele (Glenn Miller), Sarah Soetaert (Helen)
The oldest 'swinger' in town (Tommy Steele), with an orchestra, playing the music of legendary bandleader Glenn Miller adds up to a mellow show.
Prior to and during the Second World War, in the heyday of the big band, band leaders were the superstars of their day along with the actors in the movies. Glenn Miller died young at 40 presumed dead when his plane was lost over the channel en route to Paris. What happened is technically a mystery but it was December and he was in a single-engine plane with a carburetor known to be prone to icing–up in winter.
His legend has lived on because of the quality of the music and also Jimmy Stewart's portrayal of him in the film of his life story.
With Tommy Steele at the heart of everything you can only sit back and watch a master class in how to hold centre stage and engage with your fellow cast members and of course the audience.
The journey to the discovery of the 'sound' was a gentle soft shoe shuffle through his life, with some hardship and a long-distance courtship of Helen who became his wife and motivator.
Sarah Soetaert, as Miller's wife Helen, kicked off the homage to the 'sound' with a beautiful rendering of 'Moonlight Serenade' to complete the first act.
After the interval, his time as a major in the army providing entertainment for the troops was celebrated with a mixture of Glen Miller's greatest hits supplemented by other wartime numbers allowing the master and the dancers to show off their skills.
The Orchestra recreated the 'sound' and maybe an extra 15 minutes of the music would not have gone amiss.
The lead up to his departure on the fateful journey could have extracted a bit more drama and the show kind of petered out with a singalong which nevertheless was enjoyed by the audience.
'If you don't know the words you are in the wrong theatre' said Tommy - in other words, the show is targeted at an older audience. Having said that the show is suitable for all with a love of the big band sound.
Runs to Saturday 30th January