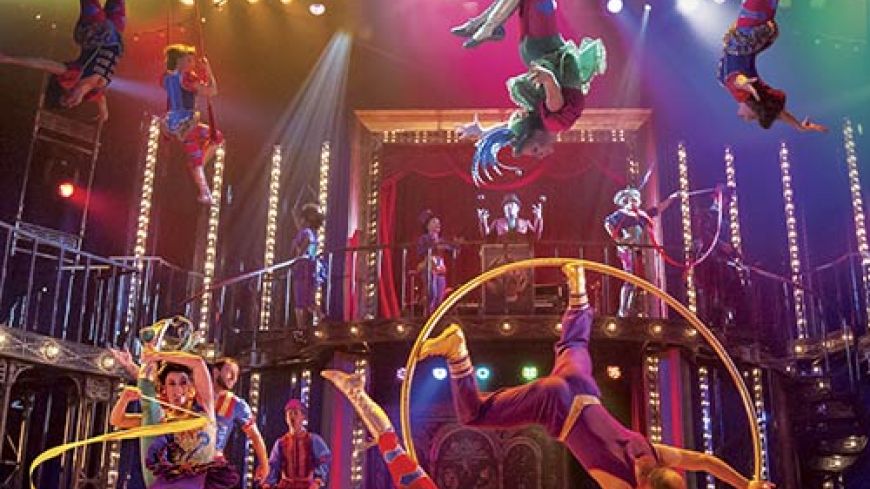 Company
Cameron Macintosh & Michael Harrison
Production
Jean-Pierre Vander Spuy (Director), Ian Townsend (Musical Director), Andrew Wright (Choreographer)
Performers
Brian Conley (Barnum), Linzi Hateley (Chairy Barnum), Kimberly Blake (Jenny Lind), Landi Oshinowo (Joice Heth), Michael Jay-Heath (Tom Thumb), John Stacey (Bailey & Ringmaster)
'The Show must go on' was a maxim that P.T. Barnum and Brian Conley would probably share.
Despite his distinctive voice seeming even deeper, the star of the show not only shrugged off the 'lurgy' but worked in an extra few gags to use it to his advantage.
'Barnum' is a musical with a difference, with the audience being 'warmed up' as if in a television studio by a display of circus skills in the stalls and the circle. This effectively meant that once the orchestra struck up 'Come follow the Band' the substantial audience were settled ready to be entertained and Brian Conley and the cast did not disappoint.
The interaction with the audience member 'Mike' was funny as Mr Barnum demonstrated that "There is a sucker born ev'ry minute". The key to this show is timing whether it's the jokes, tricks, choreography, or circus skills. The cast didn't put an obvious foot or move wrong and when one of 'Barnum's tricks nearly singed his eyebrows this Super Trouper turned it into a joke.
The lead is a testing part which has been filled in the past with distinction by Jim Dale and Michael Crawford but Brian Conley with an impressive CV of singer, stand-up comedian and game-show host as well as some outstanding performances in musical theatre is impressive throughout.
For a while I thought the rest of the principals were suffering by comparison but Linzi Hateley as his wife 'Chairy' gets stronger as the piece develops and is supported by the other key performers.
The show has an impressive set, great lighting and effects and imaginative choreography.
The story or the 'Colors of my life' is quite good with the dalliance with soprano Jenny Lind the only side story to this tale of his business and political ups and downs. Kimberly Blake as 'Jenny'plays the star with the eye for the men with a good voice and impressive stage presence.
While maybe short on memorable songs, the show has some great scenes especially ones with elements of comedy. Landi Oshinowo is really good as the 160 year old nurse and is matched by Mikey Jay-Heath as Tom Thumb.
No production of 'Barnum' by professionals can dodge the high wire scene and while Brian Conley came off a couple of times you would need to return to another performance to check if it is part of the show.
After all 'People like to be humbugged', but not short changed and this touring production is an enjoyable spectacle.
Runs to Saturday 1st November at 7.30pm- Matinees Wed, Thurs & Sat.at 2.30pm