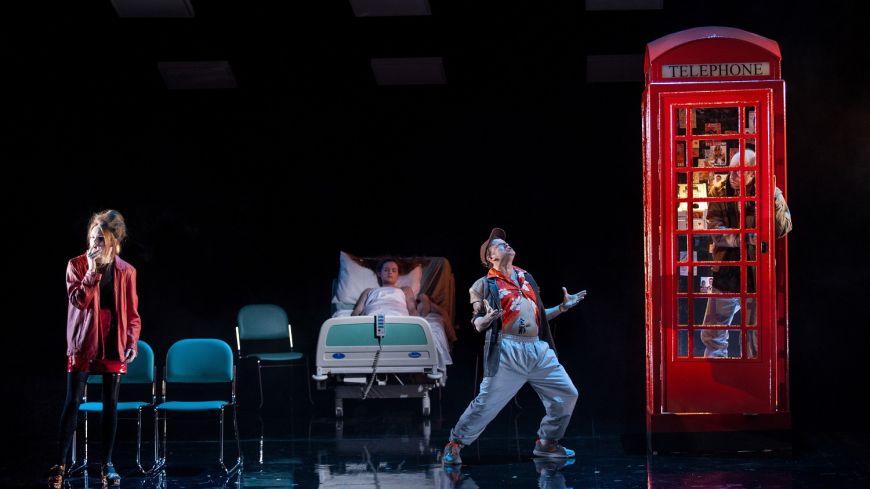 Company
Royal Lyceum Theatre Company
Production
Douglas Maxwell (writer), Matthew Lenton (director), Ana Inés Jabares-Pita (designer), Kai Fischer (lighting designer), Mark Melville (composer and sound designer)


Performers
Sandy Grierson(Chick), Robbie Jack (Jackson), Kirsten McLean (Kate), Lauren Grace (Audrey), Meg Fraser (Meredith), Robbie Gordon (narrator), Nicola Jo Cully (Mo), and Barnaby Power (Mr Ingram)
Once upon a time there was a man called Charlie whose surname had been so difficult to pronounce that it became Sonata. He had a son also called Charlie Sonata, who in turn had a son named Charles. This last in the line attracted the less romantic name of Chick but it is he who is the hero of this latest play from Douglas Maxwell in the Lyceum's Spring season.
The story is based on an old student pal of Maxwell, Chick, who is brought to weak-legged, warm-hearted life by Sandy Grierson, as a guy with a first-class degree in drinking and who is a first-class hero in this fabulous modern fairy tale that holds echoes of Perrault's The Sleeping Beauty. But there are no thorny woods to battle here – instead the thorny issues of the effects of alcohol.
Chick returns home to Scotland from London to meet up with his old pals Gary (Kevin Lennon) and Jackson (Robbie Jack) both of whom have settled lives and steady jobs. Gary's 16 year-old daughter Audrey, beautifully played by final year RCS student Lauren Grace, is dangerously ill in hospital following a recent car accident. In his alcoholic haze, that metaphorically permeates the stage, Chick stots around in a bid to help, his well-intentioned words that make sense in his head largely only coming out as 'hingmy'.
In a scene in the kitchen, Chick mistakes the chalked messages as philosophical ones when he reads 'We need comfort', not realising the family has run out of fabric conditioner. But Chick is right. Comfort is what we need.
Maxwell writes comforting repetition in to his fable starting with the Robbie Gordon's perpetual question as the Narrator 'Can this be right?'. His themes of time travel; observing from hidden places; things being 'not negotiable' and the Zen notion of repeating lives recur circularly like the confusion that is surely in Chick's head.
This production, under Matthew Lenton's fearless direction, weaves from harsh reality to dream state thanks to the magnificent set from Ana Inés Jabares-Pita in which there is a gliding phone box, a discreet re-creation of Jackson's kids' play area Castleland and a troupe of magical floating ballet dresses, all perfectly augmented by music and sound from Mark Melville.
Meg Fraser, in the character of Meredith, magnificently manifests a mix of fantasy and realism as she stomps the reflective stage in LED trainers with her own poison led agenda and incongruous lead ballerina costume. Both she and Nicola Jo Cully, as Chick's wasted Cockney girlfriend Mo, bring physical comedy to the stage that's worth relishing.
Maxwell himself says the play is "not trying to real. It's trying to be true…" And so it is. Full of vernacular language and recognisable elements, this is a glorious fairy tale of our time. No ridiculous aims to be married to royalty, instead an aim to elevate an extraordinary ordinary guy to an apotheosis complete with celestial beams. This brilliantly realised, tender sonata hits every right note.
2 - 13 May at 7:30pm