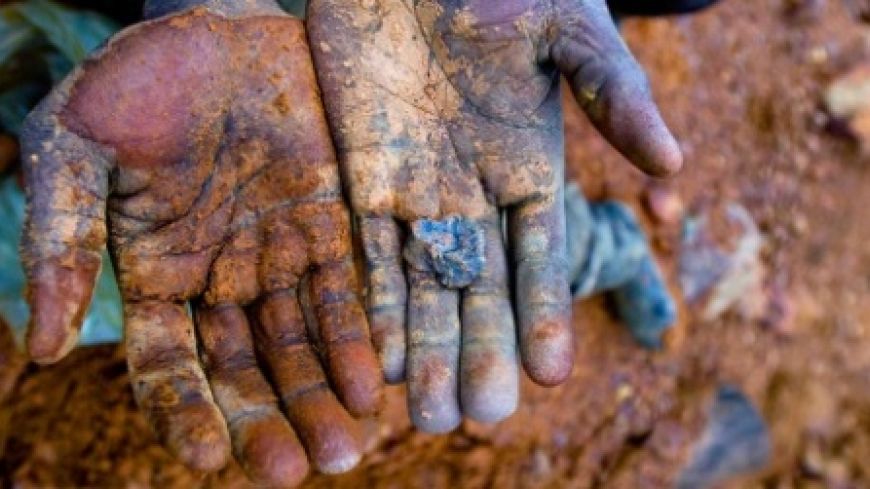 Production
Frank Piasechi Poulsen (director)
Ten years ago it was widely publicised that minerals such as coltan and cassiterite used in electronics, particularly cell phones, were funding violent militias in the Democratic Republic of Congo where they were being mined.
The tech and telecoms industry agreed it should address the issue, however, as Danish director Frank Piasecki Poulsen discovers in Blood in the Mobile, action has not been forthcoming.
Poulsen, concerned that his mobile addiction is funding murder and mayhem, discovers this the hard way. Having negotiated a trip aboard a Russian cargo plane, he motorbikes, and then hikes two days to get into the lawless and remote Bisie mine in the Walikale region of the DRC. During a  brief visit, he captures vivid footage of a sprawling, primitive mine lorded over by armed militia, where teenage boys hack away down ramshackle shafts for up to a week at a time without seeing daylight.
There's a strong sense of desperation and a fear of sudden violence in this part of the world. "These people are out of control," a local warns him of the militias before he sets off for his modern day journey into the "heart of darkness."
In contrast, back home, Poulsen shows the apparent insouciance of his phone company Nokia whose reps seem more concerned about blemishing the corporation's shiny image than discussing whether their products contain "blood minerals".
Poulsen suggests that the electronics industry's ten-year delay has led to 5 million deaths in the region through war. Through interviews with scientists, activists, and lawmakers, we learn that initiatives are under way to monitor the source of minerals in phones. However, for these initiatives to really take hold they need the support of the industry and it seems that solutions to the problem appear low down on corporate priority lists, as evidenced by the way Nokia - after much evasion - eventually wheels out a boyish Director of the Department of Social Responsiblity to offer some platitudes to sooth the filmmaker's concerns.
There are two screenings at Filmhouse, both with Q&As with director Frank Poulsen - today, Friday, 23 September at 3.30pm and tomorrow, Saturday, 24 September at 8.20pm. On Saturday, Clare Short, former UK Secretary of State for International Development who currently serves as Chair of the global Extractive Industries Transparency Initiative, will also be at the Q&A.