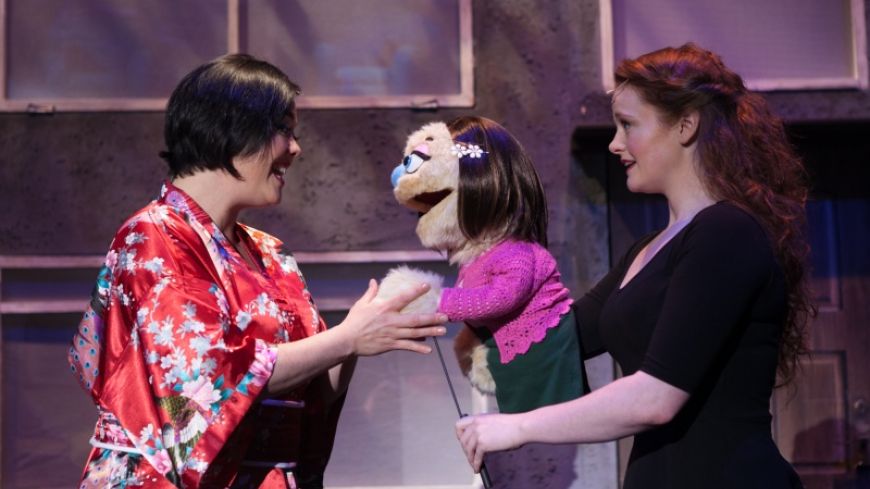 Production
Cressida Carré (Director/Choreographer), Nick Finlow (Music Supervisor), Richard Evans (Set Designer), Natasha Dilworth (Costume Designer), Chris Bogg (Sound Designer), Charlie Morgan Jones (Lighting Designer), Nigel Plaskitt/Sam Lupton (Puppet Coach)
Performers
Tom Steedon (Princeton/Rod), Stephen Arden (Nicky, Trekkie Monster, Bad Idea Bear), Lucie-Mae Sumner (Kate Monster/Lucy the Slut), Jessica Parker (Mrs T/Bad Idea Bear), Richard Morse (Brian), Jacqueline Tate (Christmas Eve), Ellena Vincent (Gary Coleman), Greg Airey, Will Hawksworth, Emily-Jane Morris & Wreh-Asha Walton (Ensemble)
Ten years on since its Broadway beginnings, Avenue Q is remounted by Sell A Door Theatre Company, showcasing topically controversial material through cute fur bulls in a hilarious show with a bevy of brilliant songs.
For those not familiar – get to the theatre – Avenue Q is an adult version of Sesame Street via South Park and Family Guy, with music and lyrics from Jeff Marx and Robert "Book of Mormon/Frozen" Lopez (the pair also wrote four songs for the musical episode of Scrubs).
We meet Princeton (Tom Steedon), a fresh-faced 23-year-old BA English graduate who's just entered the real world and is finding it a big scary place. While trying to find his purpose, he takes up residence in the affordable Avenue Q, meeting a host of eccentric neighbours who help and hinder him navigate the path of life, the most notable distraction being Kindergarten teaching assistant Kate Monster (Lucie-Mae Sumner).
Filthy and sweet in equal measure – well, maybe a bit filthier – the premise is an all too familiar one with young adults, and paired with the shows in-your-face delivery of expected innocence but raunchy reality, it explains its popularity.
The themes of sexuality, religion and racism are still relevant, with Avenue Q's magic being its capacity to voice what a lot of people are thinking internally but aren't brave enough to say, and get away with it.
Directed by Cressida Carré, there are touches of flair noticeable in this offering, which is no easy task with the paint-by-numbers feeling attached to the licensed puppets, animated visuals, setting and specific caricatures of the Avenue Q residents.
It is pretty hard not to get completely immersed in this world, and high praise goes to the tight ensemble of actors and puppeteers whose manipulations are tight, engaging and wholly convincing, ensuring the focus is on the puppets rather than the handlers.
This is a fast-paced show with various quick transitions and the skill of doubling up characters is emphasised in this company, who seamlessly shift from one colourful character to the next, with special mentions going to Lucie-Mae Sumner, switching between the polar-opposite Kate Monster and Lucy the Slut with seeming ease and Stephen Arden's Trekkie Monster, Nicky and Bad Idea Bear were juggled with aplomb.
Avenue Q is not going to change your life. It is not making any grand, sweeping statements about the world as we know it or attempting to solve any problems. It's pretty much just saying that life's a bit crap but look on the bright side and everything will work out, restoring your chipper spirit as you skip out of the theatre happy to live in the moment rather than dwell on the past or panic about the future, and with a few well timed cultural references throughout, it's kept fresh.
Remember… Miley Cyrus is only for now. Hurray!
Run ends Saturday.
Tour continues – next stop Inverness, 17 & 18 June
Full Tour details: www.avenuequk.com