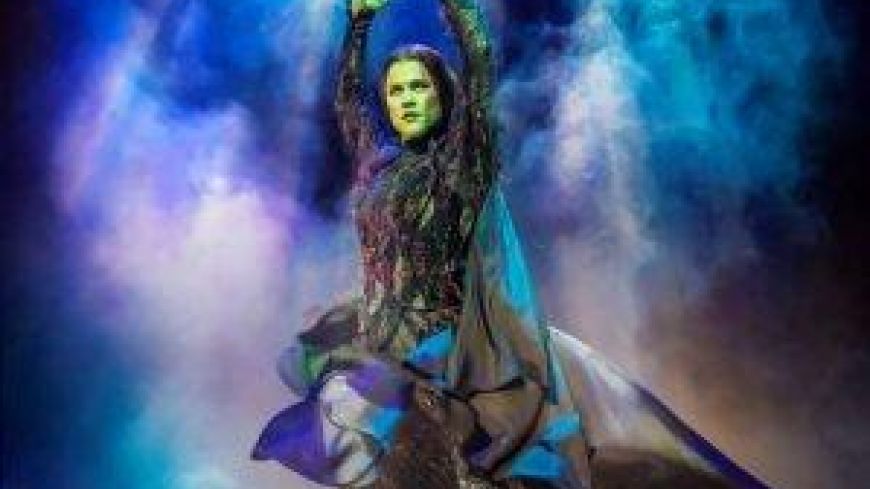 Company
Marc Platt Universal Pictures, The Araca Group, Jon B. Platt & David Stone.
Production
Gregory Maguire (original novel), Winnie Holzman (book), Stephen Schwartz (music & lyrics), Joe Mantello (director), Eugene Lee (settings), Susan Hilferty (costumes), Kenneth Posner (lighting), Tony Meola (sound).
Performers
Amy Ross (Elphaba), Helen Woolf (Glinda), Aaron Sidwell (Fiyero), Emily Shaw (Nessarose), Iddon Jones (Boq), Kim Ismay (Madame Morrible), Stephen Pinder (Dr Dillamond & Wizard of Oz), Jack Harrison-Cooper (Chistery), Howerd Ellis (Witch's Father), Sara Morley (Witch's Mother),Helen Walsh (Midwife), Charli Baptie, Emily Olive Boyd, Georgia Rae Briggs, Jason Broderick, Grace Chapman, James Davies-Williams, Charles Karlsen, Nicole Lupino, Stacey McGuire, James Titchener, Amy Webb, Luke Woollaston, Benjamin Yates (Monkeys, Students, Palace Guards, Denizens of the Emerald City & other Citizens of Oz).
L.Frank Baum's story The Wonderful Wizard of Oz, first published in 1900, is undoubtedly best known in its 1939 cinematic musical guise starring Judy Garland. While Baum himself went on to produce 14 books about Oz, it is Gregory Maguire's 1995 novel, Wicked: The Life and Times of the Wicked Witch of the West, that forms the basis of the stage musical which is prequel, 'equel' and sequel all rolled into one.
It opens with the Munchkins and Glinda The Good celebrating the death of the Wicked Witch of the West, murdered-by-melting after Dorothy, the little farm girl, has chucked a bucket of water over her. We are then taken back in time to see the events that have led us to this place and, if you're familiar with the original film version, it is not at all what you might expect.
Inverting the moralities of the classic, this story is told from the viewpoint of the apparent villain, The Wicked Witch of the West, who is here reinvented, given a three-dimensional human character and named as Elphaba. Bullied and marginalised even within her own home due to her green skin-tone, Elphaba first meets Glinda at an Oz university. Glinda is a shallow socialite used to getting her own way, preoccupied only with being beautiful and popular. Elphaba is an aspiring social reformer who, witnessing the barbaric treatment of non-human animals who are rounded up, forbidden to talk, and kept in cages, decides to take a stand despite the risk to herself.
Elphaba's world is shaken when she discovers that the benevolent, wise and powerful Wizard of Oz in whom she had such faith and hope, is actually a selfish, evil hypocrite who enacts pogroms against minority groups, enforcing his despotic rule with propaganda and armed storm troopers, justified with flippant aphorisms such as 'to bring people together they need a really good enemy'. Elphaba then becomes a brave freedom fighter against this wicked totalitarian regime.
This dark and twisted tale is an incongruous driver of what is, to all intents and purposes, a glitzy, ditzy, song-and-dance show in the Broadway Musical style. Corny jokes and witty one-liners, eccentric and colourful costumes, special effects and technical wizardry, provide the smoke and mirrors that prop up the somewhat mediocre big show tunes and dance routines that are nevertheless performed with punch and panache.
The packed audience, some dressed for the event in ruby slippers or emerald shades (the latter sold in the foyer as part of the marketing and merchandising machine), respond to the musical numbers with explosive applause and cheering, with most rising to their feet for a final, resounding standing ovation. The verdict has to be that it matters not who is pushing what buttons and pulling which levers behind the curtain, as long as the smoke heralds a dramatic key-change and the mirrors are beautifully polished.
Runs 8th May – 9th June