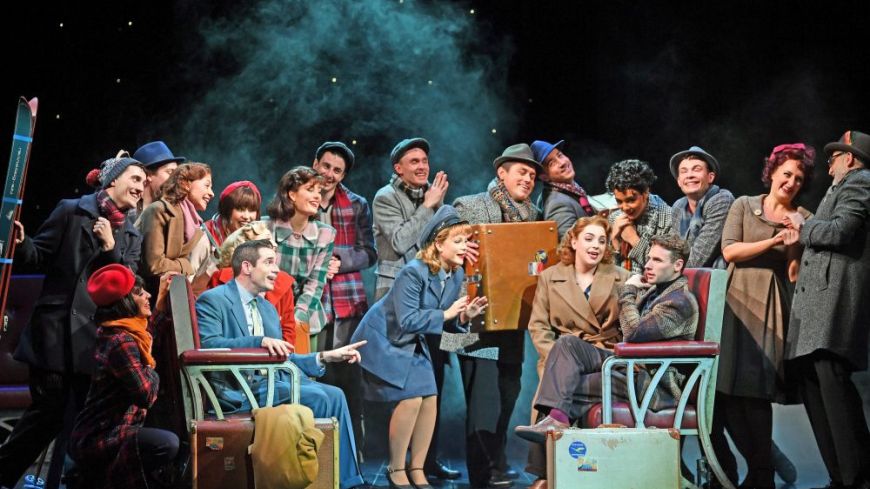 Production
Music & Lyrics by Irving Berlin; Book by David Ives and Paul Blake; Nikolai Foster (Original Direction); Ian Talbot (Director); Stephen Mear (Choreographer); Michael Taylor (Set Design); Diego Pitarch (Costume Design); Mark Henderson (Lighting Design); Tom Marshall (Sound Design); Larry Blank (Original Orchestration); Bruce Pomahac (Voice & Dance Arrangements); Jason Carr (New Musical Arrangement); Stephen Brooker (Musical Supervision); Neil MacDonald (Musical Direction/Keyboard); Jonathan Russell (Casting); Sam Young (Associate Musical Director); Phil Steventon (Drum Kit/Percussion); Paul Meylan (Double Bass); Nick Rees (Guitars); Andy Hunter (Alto Sax/Clarinet/Bass Clarinet); Eikel Hernandez (Trumpet/Flugelhorn); Jamie Pimenta (Trombone)
Performers
Matthew Jeans (Bob Wallace); Dan Burton (Phil Davis); Jessica Daley (Betty Haynes); Emily Langham (Judy Haynes); Duncan Smith (General Henry Waverly); Sally Ann Triplet (Martha Watson); Ella Kemp (Susan Waverly); Kraig Thonber (Ezekeil/Mr Snoring Man); Philip Bertioli (Ralph Sheldrake); Martin McCarthy (Mike); Kayleigh Thadani (Rita); Meg Darcy (Rhoda); Isabel Canning (Tessie/Mrs Snoring Man); Benjamin Mundy (Ed Sullivan); Sam Holden (Jimmy); Joshua Lovell (Marty); Freddie Clements (Mark); Oliver Ramsdale (Scooter); Kirsty Fuller (Ethel); Imogen Bowtell (Cigarette Girl/Connie); Aoife Kenny (Loretta); Adam Denman (On Stage Swing/Seamstress); Beth Devine (On Stage Swing); Ashton Harkness (Swing); Matt Holland (Swing); Samuel John-Humphreys (Swing)
A much-loved classic, White Christmas is a show packed with familiar songs, dazzling dance routines and costumes, together with the feel-good atmosphere that brings home the joy and love of the festive season.
In this refreshed and Covid-friendly version of the musical, there have been some minor changes. What these subtle differences bring is a show that stands on its own, with a fresh and fast-paced delivery that means the audience is taken on a rollercoaster journey through the end of WWII, to the difficulties of post-war life.
Bob Wallace (Matthew Jeans) and Phil Davis (Dan Burton) lead the show well as the song and dance duo. Jeans and Burton makes the roles their own which is no mean feat considering how strong the memory of the film portrayals is.
As Wallace and Davis are preparing for a new show, they find out their former General – a delightfully gruff but sensitive performance from Duncan Smith - is now an inn-keeper struggling to survive financially. Through a series of dance routines, witty repartee and the obligatory love confusion with the late addition of a sister duo, the end when it comes is a satisfying conclusion.
The set feels pared back which works well to show off the song and dance routines for which the show is famous. A standout is the leading routine in the second act between David and Betty Haynes (Jessica Daley) which is a wonderful reminder of just how mesmerising a well-danced routine can be.
Count Your Blessings as a song is beautifully and emotionally rendered which makes the various times it appears be both uplifting and poignant. Without giving the game away, look around the audience at the end of the show.
Seeing faces light up with childlike wonder is uplifting. The ending with the titular song and audience engagement makes for a lovely conclusion which will help the audience hold onto the memories for a long time.
Til 30 December