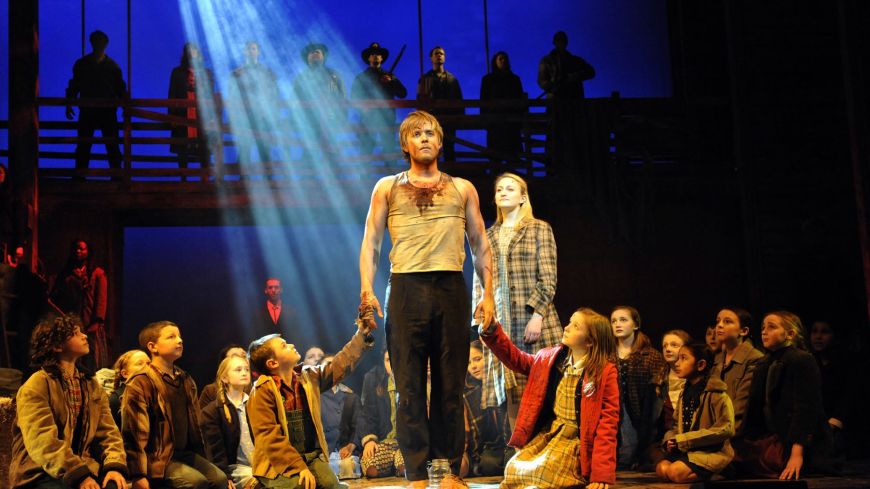 Production
Andrew Lloyd Webber (Music Composer), Jim Steinman (Lyrics), Bill Kenwright (Director), David Steadman (Production Musical Director/Arranger), Henry Metcalfe (Associate Director/Choreographer)
Performers
Jonathan Ansell (the man), Carly Bawden (Swallow), Carl Stallwood (Amos)
This is a "Wind" worth catching at the Playhouse for the rest of the week. It's a Bill Kenwright presentation of the Andrew Lloyd Webber and Jim Steinman version of 'Whistle down the Wind'. It's based on the novel written by the late Mary Haley Bell and created as a film starring her daughter Haley Mills back in 1961.
The musical crosses the Atlantic swapping Lancashire for rural god-fearing America. And it's in that setting that a naïve teenager and her brother and sister find "the man" asleep in their barn.
His initial words "Jesus Christ" resonates with the children who have heard the fiery preachers promise that someday "He" will return.
Meantime the sheriff is seeking a prisoner on the run and the plot gets more complex around beliefs and reality.
As a musical, the first half is very good culminating in an arrangement of "No Matter What" which is far removed from the Boyzone hit record.
The second half is electrifying with the staging which is good throughout excelling with motor-bike rides, trains coming and ultimately a fire scene.
The cast isn't half bad either, the plaintive voice of newcomer Carly Bawden suits the numbers sung by her character "Swallow" and you could hear the extra applause at the end of a memorable performance.
Jonathan Ansell from G4 is also relatively new to musical theatre and while he appears to deal effortlessly with all his songs he shows real acting ability in "The Nature of the Beast".
Swallow's two younger siblings also catch the eye with a strong performance by Carl Stallwood as the biker who is torn between his girl friend Candy played lively by Scarlette Douglas and young Swallow.
While early on there is almost a clash of musical styles between the rock background and other Lloyd Webber compositions, the reprising of the most catchy tunes throughout is really effective and it's difficult leaving the theatre without having at least a couple lodged firmly in your head.
Local schoolchildren form the ensemble of children and their singing fits in as if they were permanent cast members and I am sure this will be a highlight of their young lives to date.
The principals are backed by the rest of the cast and an excellent orchestra.
It's only on for a week so you will have to be quick to catch this excellent production.
Runs to March 20th. Buy tickets