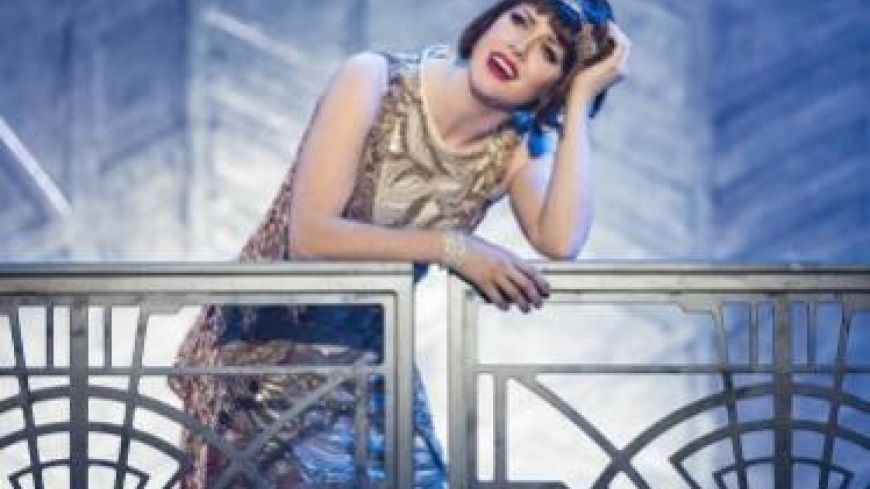 Company
David King for Modern Millie Ltd
Production
Richard Morris & Dick Scanlan (book), Jeannie Tesori (new music), Dick Scanlan (new lyrics), Morgan Large (set), Paul Gould (lighting), Racky Plews (director & choreographer).
Performers
Joanne Clifton (Millie), Sam Barrett (Jimmy), Graham MacDuff (Trevor), Jenny Fitzpatrick (Muzzy Van Hossmere), Michelle Collins (Mrs. Meers), Damian Buhagiar (Ching Ho), Andy Yau (Bun Foo), Catherine Mort (Mrs. Flannery), Alice Baker, Laurie Marie Benson, David Muscat, Marios Nicolaides, Lotty Somers, Laura Wilson, Bobby Windebank (ensemble).
Thoroughly Modern Millie is an oddball musical, with a fun and frothy sugar coating layered over a queasy-humoured centre.
It's 1922 and the cool and the clever, from jazz musicians through poets to intellectuals, are flocking to New York. This big, golden city is the place to be and it's just buzzing with young people crowding in from the sticks, seeking their fortune.
Women have just won the right to vote and are visible in the workplace, with skirts raised a little higher and hair fashionably bobbed to herald the dawn of a new, modern era. But it's still early days for female emancipation, and while a woman can earn a living as a secretary or librarian, true success – not to mention financial security - still resides in the ability to catch a good man.
So here's Millie, fresh outta Kansas and in New York to find herself a rich husband. As she says, the modern woman marries with her head and hopes the heart will learn to go along with it. Millie manages to find a single, rich boss to employ her and looks forward to getting him to put a ring on her finger, while falling hopelessly in love with a poor guy she meets in the street.
To spice up the plot a little further, the proprietor of her lodgings, Mrs. Meers, is in the white slave trade, selling off any girl who doesn't have a family to come looking for her. Millie eventually learns that virtually no-one in her new life is quite as they seem. Meanwhile, she has to figure out how to save her friends from slavery and decide whether she should choose love or security, will she allow her heart or her head to win through?
On the upside, the strong cast, with Strictly's Joanne Clifton gamely at the helm, pumps every ounce of energy possible into every scene. Visually, this production is a hit, from Morgan Large's art deco set to the glitzy '20s costumes, and nothing can put Clifton in the shade when she's dancing. Whether it's a Charleston, an Argentine Tango or just hoofing it with the rest of the crew, she absolutely sparkles. Clifton also has a surprisingly beautiful singing voice, although she is bested on this by the other leads who are all terrifically strong, powerful and confident singers.
However, there is a problem surrounding the central, comic character of Mrs. Meers, the wanted American criminal slave-trader disguised as a woman from China. Not only is the idea of young, vulnerable women being sold into slavery not a very funny one, the main laughs rely on making a mockery of a Chinese accent. Unfortunately, Collins' completely unintelligible, OTT, babbling in a hackneyed, cod-Chinese dialect is so cringingly dreadful it only deepens these misgivings.
All in all, it's a lively bit of entertainment that shouldn't be scrutinised too closely.
Runs until 4th February