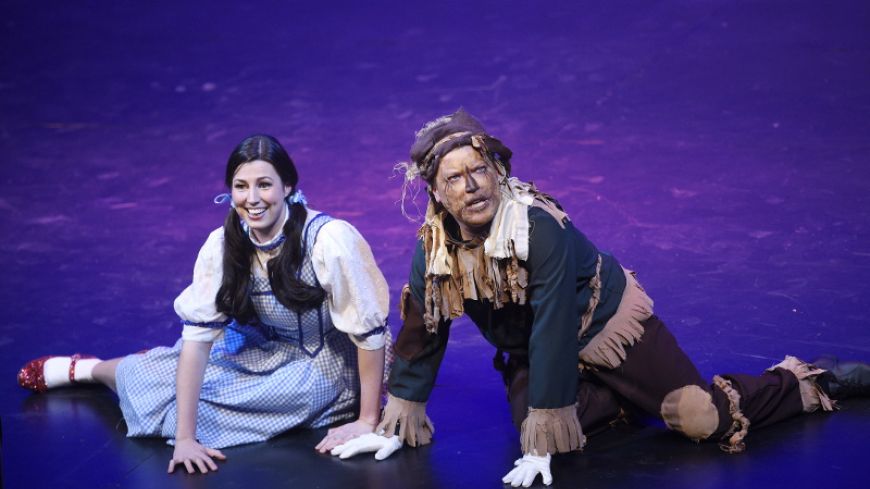 Company
The Southern Light Opera Society
Production
Andy Johnston (Director), David McFarlane (Musical Director), Lousie Williamson (Choreographer), Andrew Thompson (Assistant Musical Director), Louise Hunter (Production Assistant)
Performers
Anna Chidgey (Dorothy); Rory MacLean (Scarecrow/Hunk); Laurence Aitken (Tin man/ Hickory); Gary Gray (Lion/ Zeke); Elspeth Whyte (Wicked Witch of the West/ Miss Gultch); Tanya Williamson (Glinda/ Auntie Em); Scott Walker (Guard/Uncle Henry); David McBain (Wizard of Oz/ Professor Marvel); Milly (Toto)

Brimming with nostalgia and inducing an urgent need to tap your toes and click your heels, The Southern Light Opera Society have produced the perfect trip down the yellow-bricked memory lane to see where all the magic started.
A young Dorothy Gale (Anna Chidgey), along with canine companion Toto, flees the comfort of her families' farm in Kansas hoping to find somewhere better over that rainbow. Unfortunately, a terrible storm suddenly hits, transporting her far from home into Munchkinland. Guided in the right direction by Glinda The Witch of the North (Tanya Williamson) this venturesome, yet homesick, little girl embarks on a trek to find only man who can help her – The wonderful Wizard of Oz.
Reprising their roles after 9 years away from the Land of Oz, director Andy Johnston, musical director David McFarlane and choreographer Louise Williamson director return with even more tricks up their sleeves. Working with a cast of over 150 adults and children (including Milly who is making her theatrical debut as Toto) this team had a challenge on their hands, especially with the larger musical numbers where the stage didn't seem large enough to cope with the audacious choreography. Luckily, this didn't waver the enthusiasm and excitement that kept the audience wistfully watching Dorothy's jaunt.
Leading the troupe was Chidgey's melancholic Dorothy, whose performance of "Over the Rainbow" melted the hearts of almost the entire theatre. The only person immune to the heart-warming vocals of the lost teen is the deliciously evil Wicked Witch, played marvelously by Elspeth White, who possesses a shudder-worthy cackle which is bubbling over with malice.
Despite technical difficulties and unnecessarily lengthy scenes changes, causing panicked stage crew to be onstage as long as some actors, the boundaries pushed by this team must be noted. Complete with flying monkeys, pyrotechnics and extremely innovative video projection, Johnston has left no avenue unexplored in creating a truly enjoyable piece that will keep you reminiscing from Kansas to Oz and back again.
King's Theatre, Edinburgh, Tue 23 – Sat 27 February 2016 (7.30pm; 2.30pm mat on Sat)
Tickets £16-£20
To book visit www.edtheatres.com/wizardofoz or telephone 0131 529 6000