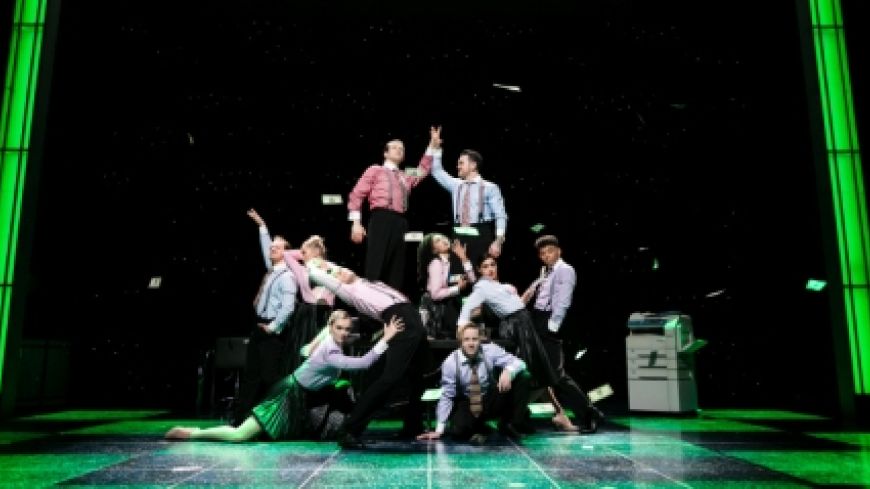 Company
Dan Looney with Paulden Hall Productions, Jason Haigh-Ellery, Tom O'Connell Productions & Tim Lawson
Production
Chad Beguelin & Tim Herlihy (book), Matthew Sklar (music), Chad Beguelin (lyrics), Ben Cracknell (lights), Ben Harrison (sound), Francis O'Connor (set and costume).
Performers
Jon Robyns (Robbie Hart), Cassie Compton (Julia Sullivan), Ray Quinn (Glen Gulia), Ruth Madoc (Rosie), Stephanie Clift (Holly), Ashley Emerson (Sammy), Samuel Holmes (George), Susie Fenwick, Tara Verloop, Paris Green, Erin Bell, Hannah Jay-Allen, Helen Walsh, Simon Anthony, Eamonn Cox, Mark Pearce, Andrew Carthy, Ainsley Hall-Rickets, Ryan-Lee Seager (various & ensemble).
The Wedding Singer takes us on a romp down the well-travelled, rom-com road, singing as we go.
If you didn't know that The Wedding Singer was set in the 1980s, a hanging screen dominating the stage is running trailers for Back to the Future, Rambo and Desperately Seeking Susan on a loop, with the sound blaring. It's a lot like being at the cinema and a reminder that The Wedding Singer stage musical is, of course, based on the hit film notably praised for the on-screen chemistry between Adam Sandler and Drew Barrymore and little else.
It's a boy-meets-girl while both are otherwise engaged to wrong-uns, with break-ups, make-ups and mis-understandings preventing the inevitable getting together until the last possible moment. The plot is set up in scene one, when they first stare into each others' eyes and time stands still, accompanied by a portentous note on the keyboard. Such deliberately tongue-in-cheek devices are scattered throughout. It's a game attempt to lift the corny and clichéd script with a light touch of humour and irony. It could definitely cope with a more heavy-handed approach.
The 80s' references come thick and fast, from a looky-likey Boy George, called George, who plays the keyboard in the wedding singer's band, 'Simply Wed', to 'guest appearances' from Billy Idol, Cyndi Lauper and Ronald Regan. Known as the tasteless decade that style forgot, the songs and the costumes are disappointingly pale imitations of more memorable originals. If you're going to do a pastiche, why not go the whole hog on the costumes and throw in some original stonking 80s' hits while you're at it?
Despite being trapped in such a timid environment, the performers are talented and fearless. It's often the case that the lead characters are decent one-dimensionals, and while Jon Robyns as the wedding singer gets a brief opportunity to release his dark side, Cassie Compton as his Juliet called Julia, sings her heart out with grace and gusto but remains largely passive and sweet. It's Ray Quinn who is really able to let rip, giving a swaggering, towering performance as love-cheat Glen Gulia, the only down-side being we don't see nearly enough of him.
All in all, it's a dated and predictable bit of frothy fun.
Runs 6th-10th June