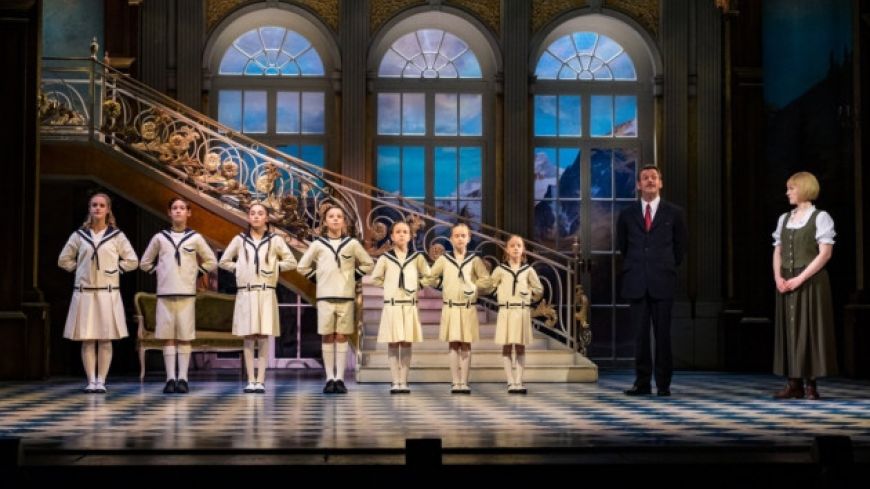 Company
Bill Kenright Production
Production
Martin Connor (director), Bill Deamer (choreography), Gary McCann (designer), David Steadman (Musical director), Nick Richings (lighting), Dan Samson (sound), Jo Hawes (Children's casting director).
Performers
Lucy O'Byrne (Maria), Gray O'Brien (Captain Georg von Trapp), Jan Hartley (Mother Abbess), Jon de Ville (Franz), Anne Horn (Liesl), Isla Carter (Elsa Shraeder), Duncan Smith (Max). The Children (three teams); David Steadman and the Orchestra.
This new production on tour across the UK, celebrates the fiftieth anniversary of the film version of Rodgers & Hammerstein's global hit musical, "The Sound of Music." Starring Julie Andrews and Christopher Plummer, it received five Academy awards and two Golden Globes after the original 1959 Broadway stage show won six Tony Awards.
The enduring popularity of the Musical on stage and screen, (alongside riotously camp, fancy dress Singalong shows), is due to the masterly libretto, melodic score, tear jerking romantic tale and atmospheric pre-WWII setting, based on the true life story of Maria von Trapp.
The curtain rises to reveal the calm, cool cloisters of the Abbey with towering arches and stained glass windows, as the nuns engage in devotional time with quiet serenity. Meanwhile, the free spirited Maria has escaped for a trek in her beloved mountains to run and sing in the open air.
Lucy O'Byrne, Will.i.am's protégé from the TV series The Voice, steps assuredly into Julie Andrew's shoes. With her neat bobbed strawberry-blonde hair and a mischievous grin, she portrays Maria with girlish innocence as well as a bold personality.
Mother Abbess and the Sisters consider her behaviour in "How do you Solve the Problem like Maria," with lovely choral unison...."She's a darling! She's a demon! …...She's a lamb!" Here and in other charming vignettes, Jan Hartley gives a strong performance as the compassionate Mother Abbess.
A seamless set change transports us to the von Trapp's ornate Mansion with its central staircase, velvet chaise longue, a terrace garden and distant Alps seen through the French Windows.
As this is essentially a dramatic play with music, characterisation and acting skills are vitally important to create a realistic narrative. The smart-suited, slick-haired Gray O'Brien as Georg von Trapp first appears as a stiffly mannered Naval Captain, ordering staff and family as if on his battleship. But he soon mellows into a kindly father figure as well as the suave, attractive Aristocrat.
In her shabby second-hand dress, Maria has no pretentions or material belongings, soon to mature from timid Convent girl to confident woman.
Liesl and the six Von Trapp children are all totally professional young actors and singers, hardly off stage as they rush between musical numbers, dance routines and dramatic scenes. They are a delight to watch, always in character with genuine expression.
Their quick change of costumes throughout the show is amazing, from first appearance lined up in their pristine white Sailor suits to Maria's handmade play-clothes and their gorgeous party frocks and tailored suits.
The entire cast is meticulously, fashionably dressed, especially at the grand Black Tie Ball where the ladies parade in glamorous evening gowns. The choreography by Bill Deamer is so graceful, such as the elegant Lander dance with Maria and Georg. Their blossoming love affair is subtle yet convincing (especially to the highly observant Brigitta).
Martin Connor's fresh and energetic direction moves the plot briskly along from humorous happy-go-lucky scenes (Maria and children singing "My Favourite Things" in the thunderstorm), to chilling moments with telegrams and orders to the Captain from Berlin.
O'Brien does not have a great singing voice - but this is deliberate. His enthusiastic, slightly off key musical talent proves invaluable when they all perform at the music competition as Family Von Trapp Singers; "Edelweiss" sung against a backdrop of the Swastika, emphasises the moving refrain, "Bless my Homeland Forever" only too well.
Hammerstein's eloquent lyrics, accompanied by a fine orchestra, in all these well known songs, illustrates once again, the profound simplicity of the words, rhythm and rhyme: superb storytelling through the power of sentimental music.
"The Sound of Music" was screened on TV, as always, over the Festive season but nevertheless the Playhouse theatre was packed out - the perfect entertainment to beat the January blues.
This highly polished, elaborately staged production highlights the romance, humour, emotional drama and theatricality of this timeless classic.
All together now … "Raindrops on roses and whiskers on kittens, Bright copper kettles and warm woollen mittens" ……..
Show times
5 - 9 January, 2016