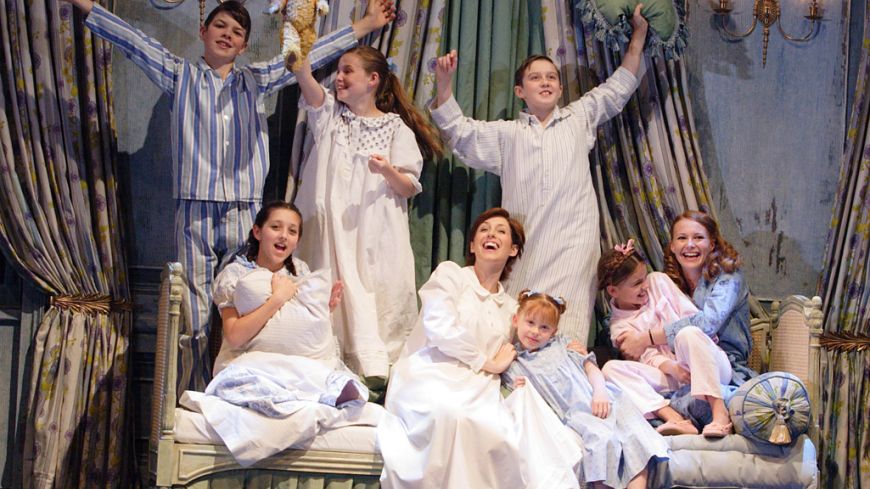 Company
The Really Useful Group
Production
Jeremy Sams (Director), Arlene Phillips (choreographer), Robert Russell Bennett (orchestrations)
Performers
Connie Fisher (Maria), Michael Praed (Captain), Margaret Preece (Mother Abbess)
Familiarity breeds contentment! When nearly everybody in your audience not only remembers the ending, but nearly every scene, then the director and cast have to be at their best to meet expectations. This production of The Sound of Music rises to that challenge, and exceeds it.
All eyes are naturally on Connie Fisher as the lead, in particular to check out if the people's choice of her as Maria (Fisher won the BBC One talent contest, How Do You Solve a Problem Like Maria?) was the right choice.
Apart from a few weak hand gestures at the beginning, she started well with a singing voice that sounded mellow and she seemed to be totally at ease in her role, allowing the audience to relax and enjoy.
The production and staging are impressive throughout, starting with the Abbey scene where the Mother Abbess, played by Margaret Preece, and her senior staff debate the problem of Maria.
Connie Fisher's performance moved up a gear in scene three when she met the children for the first time and in "Do-Re-Mi".
Direction and performance drew spontaneous applause. The Von Trapp children are excellent, drawn from a pool that travel with the show, confident in speech, vocals and movement and work well no matter what adult they are playing alongside.
The stage show has some songs not on the film soundtrack and the Baroness and Max, excellent throughout, perform "How Can Love Survive", which is an unexpected bonus.
Michael Praed fulfils his role convincingly as the Captain with the full range, from military precision through to the softening father, love scenes and patriotic fervour. It is near the end that the production perhaps could have created a bit more tension around the threat posed by the incoming Nazi regime but I guess we all know the ending.
This show lives up to the standard of the West End with great scenery, inventive set changes and brilliant orchestra. The supporting cast are all excellent and it's that evenness of quality that makes this a show to enjoy in the theatre and in your head for a couple of days at least.
The Sound of Music runs until 20 February at The Edinburgh Playhouse.