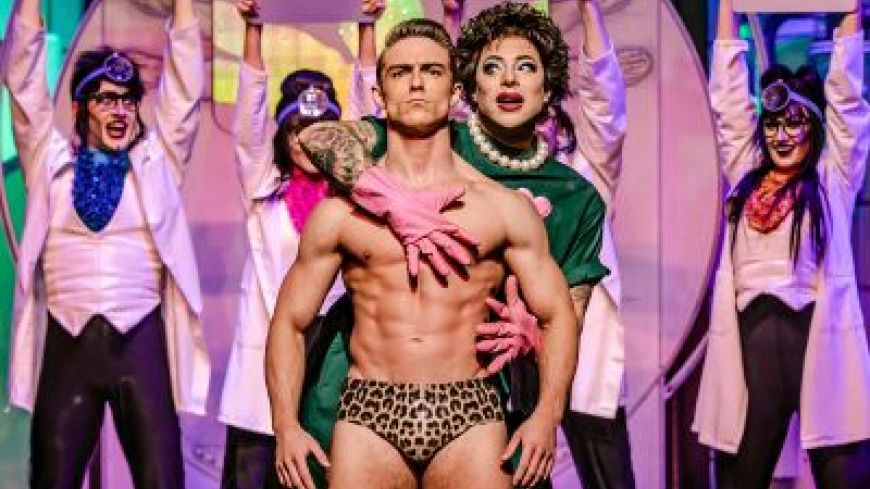 Company
Rocky Horror Company
Production
Duncan James (Dr Frank'N'Furter), James Darch (Brad Majors), Joanne Clifton (Janet Weiss), Kristian Lavercombe (Riff Raff), Laura Harrison (Magenta), Miracle Chance (Columbia), Callum Evans (Rocky) Ross Chisari (Eddie/Dr Scott), Reece Budin, Shelby Farmer, Katie Monks, Jake Small (Phantoms) Andrew Ahern, Maddie Hope Coelho (Swing)
Performers
Richard O'Brien (Writer), Christopher Luscombe (Director), Hugh Durrant (Set Designer), Sue Blane (Costume Designer), Nathan M Wright (Choreographer), Nick Richings (Lighting Designer), Gareth Owen (Sound Designer), Richard Hartley (Musical Arrangements)
"Give yourself over to absolute pleasure", declares the tantalising Dr Frank'N'Furter – and Edinburgh was ready to envelop itself in Richard O'Brien's camp cult classic, celebrating 46 years of Time Warps with a UK tour wrapping up in Scotland's capital.
Still packing out theatres with freaks and geeks, we follow the newly betrothed, all-American Brad Majors (James Darch) and Janet Weiss (Joanne Clifton) travelling to visit their college professor Dr Scott (Ross Chisari) when a flat tyre forces them towards the light of a nearby castle to seek assistance.
Greeted by Riff Raff (Kristian Lavercombe), it's an evening they'll never forget as they encounter weirdly wonderful residents Magenta (Laura Harrison), Columbia (Miracle Chance) and guests who are gathered to celebrate Dr Frank'N'Furter (Duncan James) revealing his latest experiment.  
The audience were having a riot with a strong chorus of devotees leading the insult-filled banter, now synonymous with the stage show after midnight screenings brought the 1975 flopped film a new lease of life as students poked fun and dressed up. There is a welcoming feeling from the eager audience, allowing Philip Franks' Narrator to quip back with dry wit and some great one-liners, although sometimes raucous audience responses were edging into showboating territory retracting from the stage. Some may have been wishing they had access to a sonic transducer, but that's the power of The Rocky Horror Show to unleash a riotous, vibrant and effervescent night out without inhibitions – which you'll receive in abundance.
Played out with the tongue firmly planted in cheek and backed by a smashing soundtrack, risqué costumes and suggestive script, director Christopher Luscombe ensures the hammy B-movie plot with touches of farce, erotica and horror moves along at a strutting pace, allowing the juvenility to take centre stage while questions of sexuality, gender and conformation whisper in the backdrop and loudly empower the toe-tapping musical numbers.
Hugh Durrant's set allows a fun playing area and dynamic space where realism and symbolism combine. An unspooling film reel overhead highlights both confinement and release that's key to the plot, paired with Gothic interiors reverberating the influencing genre, while the costumes (Sue Blane) combine burlesque and punk to perfectly echo the two fingers up attitude of liberation that the show invokes.
The small cast commit with gusto and deliver a motley crew of anomalies, managing to ensure that a polished performance doesn't overtake the rambunctious energy and feeling of chaos. Kristian Lavercombe – who holds a new world record for having performed in the show over 1400 times – has reprised his role as Riff Raff, and it's clear he relishes the character. Both hilarious and creepy in equal measure, his comedy is nuanced with simple movements and earned one of the biggest laughs of the night, while his nasally haunting vocal is a joy in Over at the Frankenstein Place before joyous abandon in Time Warp, complemented gorgeously by Laura Harrison's Magenta who embodies erotic sensuality throughout.
Miracle Chance's Columbia is unhinged with a marmite affect, while Ross Chisari's Eddie/Dr Scott struggle to have any impact beyond progressing plot. Extending her run for the full tour, Joanne Clifton is clearly having a ball as the sugar-sweet-to-sexually-awakened Janet, with powerhouse vocals matched by James Darch who nails the stiff, awkward Brad who slowly unravels, while Callum Evans makes sure his gymnastic dexterity doesn't stop Rocky having a strong voice.
And in very strong voice is Duncan James who absolutely nails the central sweet transvestite. His deep, dulcet vocals paired with giddy abandon packaged in a tattoo-laden physique whipped the Monday night audience into a frenzy as he successfully makes the role his own, not afraid to ensure a healthy dose of masculinity at his Frank's core where effeminate clichés are usually the order of the day.
Ready to thrill with fun and naughty moments and greeted by an audience keen and eager, The Rocky Horror Show is an eye-opening, hilarious and entertaining evening at the theatre designed to lift your spirits and shake off the gloom and mundanity of everyday life. In our current socio-political climate, there is a reassurance in seeing everyone joined together in the pelvic thrust and embracing the riotous release the show invites. "Don't dream it, be it"- and get along to this explosive show that guarantees to put a smile on your face.
Until Sat 2 November, 2019
© Lindsay Corr, October 2019