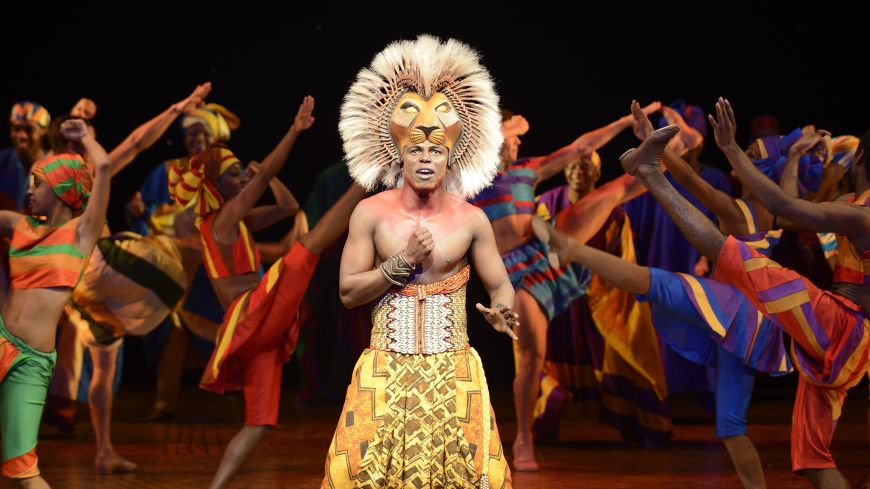 Production
Original creative team + Tim English(Resident Director)
Performers
Nicholas Nkuna(Adult Simba)Ava Brennan(Adult Nala)Stephen Carlile(Scar)Gugwana Diamini(Rafiki)John Hasler(Timon)Lee Ormsby(Pumbaa)
The Lion King takes the theatrical experience to a higher level. It's visually stunning. 
The anticipation running through the audience is palpable as the lights dim and expectations quickly met by Gugwana Diamini atmospheric introduction followed by the parade of animals throughout the stalls.
As you turn to marvel at the amazing costumes and masks, you are also aware of the delight on the faces of the mainly adult audience whose years may have made them immune to such wonderment.
Featuring many of the recognisable members of the animal kingdom and some not so familiar along with birds on wires. It is difficult to absorb what is laid out before your eyes. Add in imaginative sets, use of gauze, silhouettes and a range of other stage techniques to enhance the show topped only by the most colourful stage lighting imaginable and you have the Lion King and that's before you consider the story ,the dancing and of course the songs.
The story is not that complicated and reasonably familiar one of the young prince exiled on the advice of an evil uncle who wants to be king and his journey back to his land in adulthood. The music mainly by Elton John and Tim Rice contains the well-known 'Circle of Life' and 'Can You Feel the Love To-night', but I defy anyone to hear the former track without being transported back to the colour and staging of this production.
There are strong performances from Nicholas Nkuna who dominates the stage with his physical presence as the adult Simba and his scenes with Ava Brennan as the adult Nala are a highlight.
Ava performs 'Shadowlands' to a still audience drinking in every phrase and nuance of the song.
Whether with young or old Simba, the comedy duo of Timon (John Hasler) and Pumbaa (Lee Ormsby) excel with great comic timing while controlling the creative costumes provided by Will Pearce and his team.
It is difficult to explain in words the choreography containing such elaborate costumes, but suffice it to say that the ensemble deserves maximum credit for their contribution to the show.
The evil uncle (Scar) played by Stephen Carlile just gets the tone right and enjoys the notoriety up to the final bows.
The musical score is interesting and diverse with the use of the boxes to give percussion prominence.
All in all this is a spectacle that surrounds your senses in Africa's Serengeti and creates memories that should be with you for sometime.
This is without doubt the most lavish show to hit the Playhouse ever and it will be a mighty challenge to follow this in 2014.
Whether you are a visitor to the City or a resident this is possible a once in a lifetime opportunity to see this show in Edinburgh.
Runs to 18 January 2014