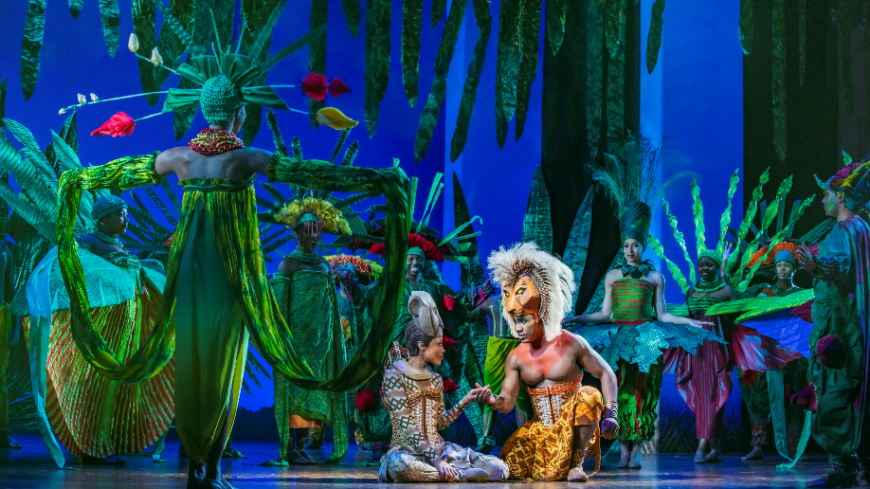 Company
The Walt Disney Company Ltd
Production
Julie Taymor (Director), Garth Fagan (Choreography), Elton John & Tim Rice (Music & Lyrics), Lebo M & Mark Mancina & Jay Rifkin & Hans Zimmer (Additional Music & Lyrics), Roger Allers & Irene Mecchi (Book), Richard Hudson (Scenic Design), Donald Holder (Lighting Design), Steve Canyon Kennedy (Sound Design), Michael Ward (Hair & Make-up), Michael Curry (Mask & Puppet Design)
Performers
Thandalize Soni (Rafiki), Jean-Luc Guizonne (Mufasa), Jochebel Ohene MacCarthy (Sarabi), Matthew Forbes (Zazu), Richard Hurst (Scar), Rebecca Omogbehin (Shenzi), Simon Trinder (Banzai), Alan McHale (Ed), Steve Beirnaert (Timon), Carl Sanderson (Pumbaa), Dashaun Young (Simba), Josslynn Hlenti (Nala), Keiron Bell, Hunter Del Valle Marfo, Joshua Moabi, Benjamin Parker, Theo Somolu (Young Simba), Minaii Barrowes, Stella Harris, Kayne Muhumuza, Mary-Anne Pity Tiekou, Drew Troussaint (Young Nala)
If you want to see real live action Disney, and not digitally enhanced better drawings, then get along to The Lion King at Edinburgh's Playhouse and forget the movie remake happened as this long running crowd pleaser will transport you and ensure no worries over the holidays.
It's been 21 years since the Broadway premiere and 20 years of shows at London's Lyceum Theatre (making it the sixth longest-running West End musical of all time) but this award winning musical hasn't diminished as it presents a glorious cacophony of movement, sound and colour with a real sense of uniqueness through Julie Taymor's re-envisaging.
Taymor is an integral part of the show's ongoing success as director, costume and mask designer for ensuring her adaptation doesn't pander to the film, presenting a true theatrical showcase uniting set, costumes, puppeteering, music and story (which, for those not familiar sees future king cub Simba flee Pride Rock when tricked by his Machiavellian uncle Scar) which stands the test of time, and theatre goers.
The book may have a few weak spots, with some bloated intersections and a tendency toward twee dialogue, but overall the balance of mesmerising darker set pieces peppered through multi-coloured joyous moments means the touring production hasn't lost its majesty despite shrinkage, especially combined with Garth Fagan's choreography and Lebo M's African rhythms.
The ensemble cast are stellar down to the last plain of grass, with scene-stealing turns from Thandazile Soni and Matthew Forbes as Rafiki and Zazu, a solid pouncing Simba from Dashaun Young and a mesmerising Nala from Josslynn Hlenti. But Richard Hurst's Scar never truly chills with a more panto-esque deliver and Steve Beirnaert's Timon is a tad lacking in restraint.
With an opening sequence that still enthrals young and old alike in a moment of theatre magic – and an injection of modern, self-deprecating humour with a great reference to Frozen – The Lion King is a gift this festive season with a message of always being true to yourself that everyone can take home with them.
until Sunday 29 March 2020
Audio described: Wednesday 26 February 2020, 7.30pm
Signed Performance: Wednesday 15 January 2020, 7.30pm and Wednesday 4 March 2020, 7.30pm
Relaxed Performance: Sunday 26 January 2020, 1.30pm
Captioned Performance: Wednesday 5 February 2020, 7.30pm and Wednesday 25 March 2020, 7.30pm