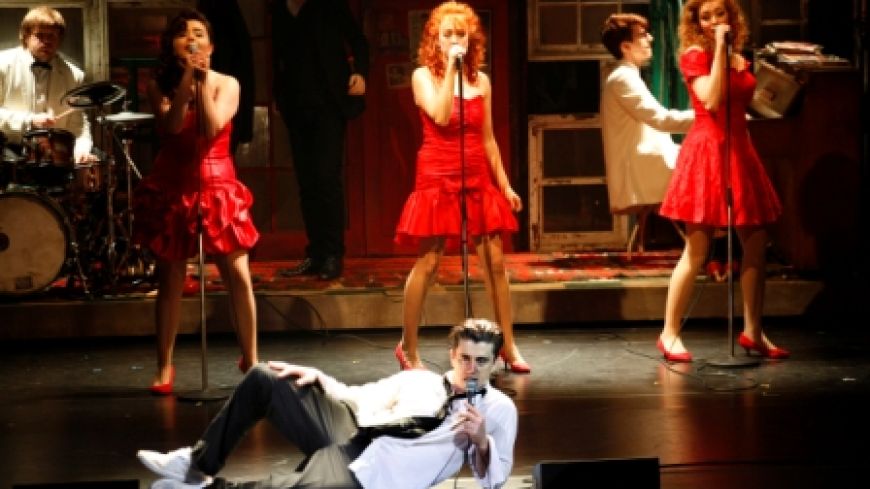 Company
Phil McIntyre Entertainments Limited
Production
Roddy Doyle (book), Caroline Jay Ranger (director), Soutra Gilmour (set & costume design), Alan Williams (musical supervisor & arranger), Jon Clark (lighting designer), Rory Madden (sound designer), David Grindrod CDG (casting director), Roddy Doyle & John Sutton (executive producers).
Performers
Brian Giliigan (Deco), Andrew Linnie (Jimmy), Kevin Kennedy (Jimmy's Dad), John Currivan (Billy/Dave), Padraig Dooney (Dean), Sam Fordham (Mikah), Christian James (Outspan), Alex McMorran (Joey the Lips), Peter Mooney (Derek), Hannah Stratton (Natalie), Leah Penston (Imelda), Christine Tedders (Bernie), Rhys Whitfield (James).
The Commitments is a right guid craic. It's like a live gig, with a bit of behind-the-scenes footage and a lot of 'fecking'.
Roddy Doyle himself turned his 80's book, The Commitments, into a film in the 90's and then, only a few years ago, into the stage musical. Given that Doyle is a great writer, it's surprising how little of the written word remains in this third iteration, how much of the meat and sinew have been hacked away, yet the bared bones are thankfully still recognisable as the original story.
We're in Dublin in the 80's, with a backdrop of economic hardship, and the bingo and the pub the only lights on an otherwise gloomy and limited horizon. But Jimmy dreams of managing a band and holds auditions in his sweary-lairy dad's front room, searching for musicians with soul. For soul music is the music of the Black Man, and the Irish are the Blacks of Europe, and Jimmy's band will return the music to the people. Yeah brother!
He quickly puts together a raggle-taggle crew of mates, mates of mates and people from the pub. They rehearse a bit, gig a bit, all fall out and that's it over. There's just enough dialogue to let you know who's who in the band (well, just about) and what they're up to (not much). Mostly, the banter gives the cast a breather before they get going again with another soul classic.
But this is not too much of a problem, because the music is good. Really good. Brian Gilligan as the drunk and dirty, selfish slob singer with the voice of a soul angel is terrific, as are all three of the Commitmentettes - tonight played by Hannah Stratton, Leah Penston and Christina Tedders – and the mostly non-singing Andrew Linnie as Jimmy holds the whole thing together with style.
The evening ends with Jimmy addressing the Edinburgh audience directly, rousing the house to shouts and cheers before joining the band for 'Mustang Sally' and a few other sure-fire hits. Despite the lack of back-story or character development, this motley crew looks, sounds and feels like a real band. No gloss, no polished sheen, no fancy moves, just a raw and gritty gig with swearing – oh, and soul. A whole lotta soul.
Runs 27th February – 4th March