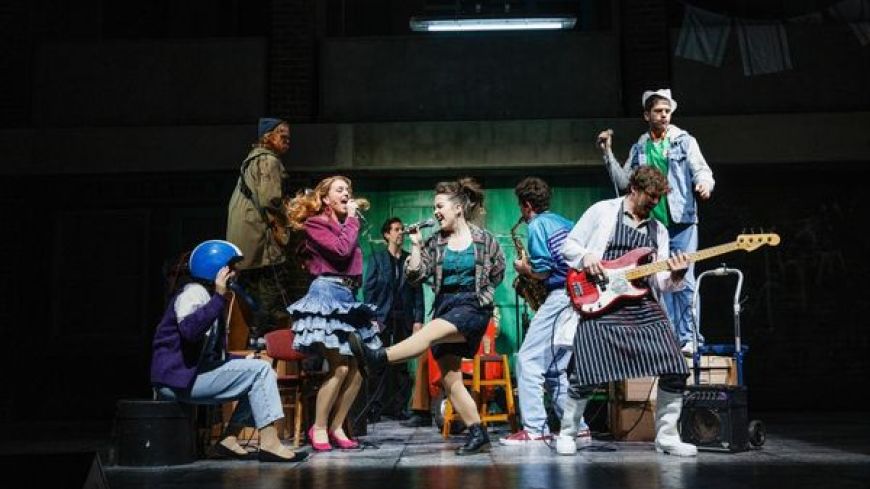 Production
Roddy Doyle (Book), Andrew Linnie (Director), Tim Blazdell (Set Designer), Alice Lessing (Costume Designer), Alan Williams (Musical Supervisor), Jenny Sawyer (Movement Director), Jason Taylor (Lighting Designer), Rory Madden (Sound Designer), George Francis (Musical Director)
Performers
Ian McIntosh (Deco), James Killeen (Jimmy), Ed Thorpe (Da), Michael Mahoney (Outspan), James Deegan (Derek), Ryan Kelly (Billy), Conor Litten (Dean), Stephen O'Riain (James), Stuart Reid (Joey The Lips), Ciara Mackey (Imelda), Eve Kitchingman (Natalie), Sarah Gardiner (Bernie), Ronnie Yorke (Mickah/Ray), Joshua Barton (Dave), Colm Gleeson (Hot Press), Callum Martin (SAP), Alice Croft (Ensemble), Maryann Lynch (Ensemble)
Returning for a UK and Ireland tour 5 years after a record-breaking run in the West End and successive sell-out tour, Roddy Doyle's tale of disenfranchised working-class Dubliners finding empowerment through music leaves the plot for the book and film to present a non-stop celebration of classic soul music. 
Under the musical direction of Alan Williams and set against Tim Blazdell's split-level set of grimy, suburban Dublin in 1986, Jimmy (James Killeen) is trying to form a band, despite the seeming lack of talent in Barrytown. When the gifted but difficult Deco (Ian McIntosh) signs up as lead singer and old-time trumpeter Joey The Lips (Stuart Reid) comes along, the band looks set for success. As we proceed through their early rehearsals and gigs, improvements and reputation are challenged by Deco's ego, the trio of female singers (Ciara Mackey, Eve Kitchingman, Sarah Gardiner) all getting off with Joey, and saxophonist Dean (Conor Litten) developing an unhealthy leaning towards jazz.
The stage version, adapted by Doyle and directed by Andrew Linnie, packs in the tunes but lacks the dramatic arc highlighting the late-1980s economic and social decay that inspired it, with the personal conflicts and social history shafted in favour of more music. There's little to explain why this working-class collective is so passionate about soul, but the release it offers them from their everyday lives is abundantly clear, urging everyone in the room to escape through rousing rhythms and empowering lyrics. 
The multifaceted cast are led with sensational stamina by Ian McIntosh as Deco, who returns to the role he previously shared with Killian Donnelly in the original West End production, with winning vocals and a cheeky charm that forgives his more brash and selfish traits.
Featuring 22 full songs and 16 snippets more, there's a feast of fantastic music from the opening 'Proud Mary' to the closing 'Try A Little Tenderness', ably and energetically delivered by an ensemble who still look like they're improvising the joy. While McIntosh is definitely the front man, the ladies are not to be forgotten with gorgeous harmonies and impressive belts, most notably showcased in 'River Deep, Mountain High' with Eve Kitchingman on lead showcasing her impressive pipes. James Killeen's beleaguered but still daydreaming Jimmy endears the audience, and if you are struggling to feel the music have a glance at his ever-watching enthusiasm, plus a mention must go to Ronnie Yorke who looks like he's having a ball delivering intimidating punk thug Mickah.
If you accept that this is a party show akin to a concert rather than an opportunity to connect the music and let soul really speak to "the politics of the people", then you'll have a cracking time and no doubt be eager to get on your feet for a dance and sing along to a fantastic soundtrack performed by a stellar ensemble. 
The Commitments is on at the Edinburgh Playhouse until Saturday 3 December.
© Lindsay Corr, November 2022