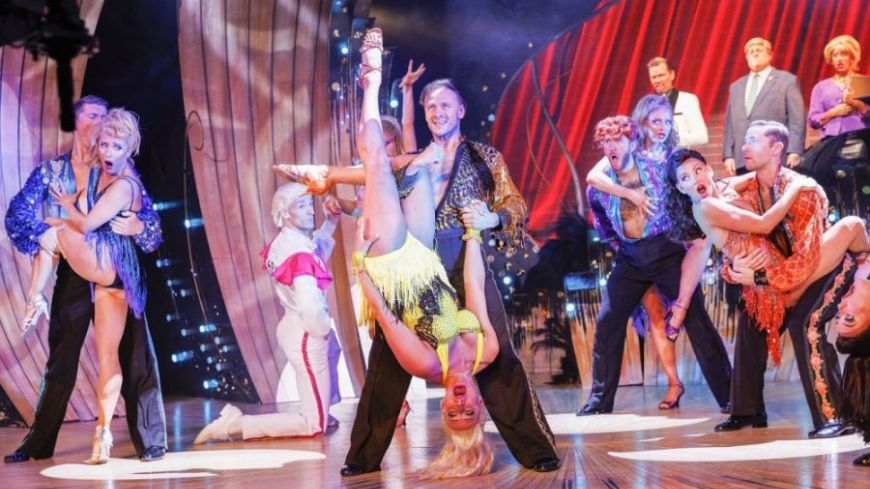 Company
Phil McIntyre Live by arrangement with Global Creatures
Production
Baz Lurhmann & Craig Pearce (Book), Craig Revel Horwood (Director, Co-Choreographer), Jason Gilkison (Co- Choreographer), Mark Walters (Set & Costume), Stuart Morley (Musical Supervisor), Richard G. Jones (Lighting), Rory Madden (Sound)
Performers
Kevin Clifton (Scott Hastings), Faye Brooks (Fran), Michelle Buckley (Shirley Hastings - understudy), Mark Sangster (Doug Hastings), Gary Davis (Barry Fife), Stuart Rouse (Les - understudy), Oliver Brooks (JJ Silvers), Jose Agudo (Rico), Karen Mann (Abuela), Kieran Cooper (Wayne), Maddy Ambus (Vanessa), Liv Alexander (Liz - understudy), Danielle Cato (Tina Sparkle), Benjamin Harrold (Ken), Adam Davidson (Nathan), Poppy Blackledge (Pam), Jessica Vaux (Charm), Hollie Jane Stephens, Stuart Rouse, Edwin Ray (Ensemble), Stylianos Thomadakis, Jasmine Joy, James McHugh (Swing)
For those unfamiliar with Baz Lurhmann's 1992 film, it tells the story of rebellious ballroom dancer Scott Hastings (Kevin Clifton), who dares to dance non-federation steps much to the disapproval of his hysterical dance teaching mother Shirley (Michelle Buckley as understudy for Nikki Belsher), his teacher Les (Stuart Rouse as understudy for Quinn Patrick), and Dance Federation President Barry Fife (Gary Davis). Enter Fran (Faye Brooks), a complete dance beginner who timidly tempts Scott to dance his way with her as they discover long-held family secrets, double crosses, and desire as they break the mould, challenge tradition, and forge ahead with new love and passion.
A sweet love story amidst a farcical mockumentary set up and adorned with the glitz of ballroom ensured a cult hit for the movie, but this musical stage adaptation waltzed into the West End to mixed reviews at its 2018 UK debut, and for this reviewer electric anticipation quickly precipitated to apathy as the spectacle of sequins adjusted to reveal a missed opportunity. 
The biggest hurdle was the lack of convincing Aussie accents, making it hard to truly lose yourself in the high energy, quick-paced and over the top performances. The sharply witty script is often muffled with cliched or missed timing in the delivery, with a few awkward moments creating a ripple of uncomfortable giggling in the auditorium. The addition of musical numbers could elevate the spectacle of dance but the original compositions are instantly forgettable despite multiple repetitions and feel shoehorned in, while the recognisable songs like 'Time after Time', 'Perhaps, Perhaps', and 'Love is in the Air' are truncated to further the plot. The first act is a tad too long whilst elements of the second feel rushed, and despite a talented cast clearly giving it their all, there's an amateurish quality in the final presentation. 
Despite disappointment, there are some great moments in this show especially when dance is being showcased, with an ensemble of slick talent and lead performances that deliver. The best scene in the show by far is Jose Agudo as Fran's father, Rico, demonstrating the Paso Doble technique which strips everything back to rhythm and ignites the audience with the authentic flamenco enthralling and drawing a much deserved roar of approval. Leads Kevin Clifton and Faye Brooks are comfortable in their roles and create a nice chemistry, while Mark Sangster as Doug Hastings creates a likeable, relatable meek yet freak father to Scott. 
Strictly Ballroom isn't groundbreaking or particularly great, but it's beautiful to look at with stunning, shocking, and satisfying choreography. It only wants to entertain, and the sheer will of the cast ensures many will get to their feet for a feel-good dance and sing along to end this fluffy, feel-good romp. 
Strictly Ballroom is at the Playhouse until Sat 13 May.  
© Lindsay Corr, March 2023