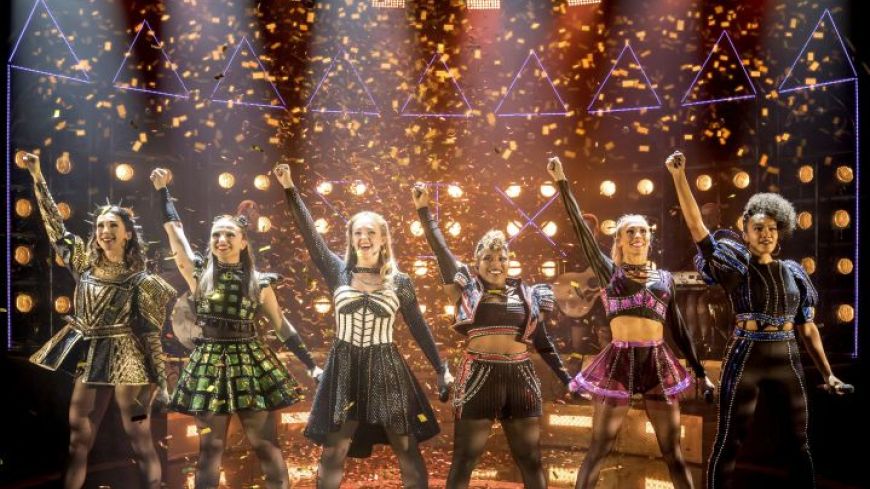 Company
Kenny Wax, Global Musical and George Stiles
Production
Lucy Moss (writer, director), Toby Marlow (writer) Carrie-Anne Ingrouille (choreographer), Emma Bailey (set designer), Gabriella Slade (costume designer), Paul Gatehouse (sound designer), Tim Deiling (lighting designer), Tom Curran (orchestrator), Joe Beighton (musical supervisor), Katy Richardson (UK associate musical supervisor), Justin Allin (costume supervisor), Franny Anne Rafferty (associate director), Grace Taylor (associate director), Freya Sands (associate choreographer), Lauren Dix (associate set designer), Charlie Smith (associate sound designer), Jamie Platt (associate lighting designer), Laura Rushton (associate costume supervisor), Ellie Verkerk (associate musical director), Sam Cox (hair & make-up supervisor), Lauren Appleby (associate hair & make-up supervisor), Melody Sinclair (assistant choreographer), Felix Davies (production manager), Alexa Penny (company stage manager), Lisa Mansson (deputy stage manager), Fiona Davis (assistant stage manager), Anthony Hannah (tech swing), Gemma Johnstone (sound 1), Monty Evans (sound 2), Alex Hopkins (LX1 & relighter), Sophie Wilson (head of wardrobe), Anna Hillary (head of wigs & make-up)
Performers
Lauren Drew (Catherine of Aragon), Maddison Bulleyment (Anne Boleyn), Lauren Byrne (Jane Seymour), Shekinah McFarlane (Anna of Cleves), Jodie Steele (Katherine Howard), Athena Collins (Catherine Parr), Cassandra Lee (alternate Catherine of Aragon and Anna of Cleves), Jennifer Caldwell (alternate Anna of Cleves and Katherine Howard/ Social Media Captain), Harriet Watson (alternate Jane Seymour and Catherine Parr/ Dance Captain)
With Hamilton and now SIX reaching stratospheric popularity, it is clear the future of musical theatre is this explosion of powerful edutainment - merging history (or in this case, her-story) with the here and now of pop culture, music and vernacular.
Divorced, beheaded, died. Divorced, beheaded, survived. Taking back their power and their story, the six wives of Henry VIII are back to tell their own grisly tales - at first glance, quite the pop-SIX-squish-uh-uh-cicero-lipschitz situation... murderee edition! What starts out as a competition, battling it out for the title of Which-Queen-Had-it-Worst, culminates in a mega metaphor moment where they rise above the rivalry and band together. 
Truly, there are 10 queens on stage - the SIX (ex)wives and the four women in the killer on-stage band, the "ladies in waiting", musical director Arlene McNaught on keys, Vanessa Domonique on drums, Frankie Smith on guitar and Kat Bax on bass. 
In place of a traditional musical set (Emma Bailey), lighting (Tim Deiling), choreography (Carrie-Ann Ingrouille) and costume (Gabriella Slade) reign supreme, making SIX less a "mu-si-cal" and more a super girl group gig you never want to end. Costume design takes cleverly from the queens both of the Tudor and pop variety, merging Beyonce and Boleyn, Gaga and Aragon in studded, spiked and sleek regalia.
The book and lyrics by Toby Marlow and Lucy Moss make this the most original musical made in recent memory. Written with a sharp tongue and taking musical cues from Britney, the Spice Girls, Ariana Grande and more, the script and score separate each queen from their status as 'wife' and give them back their voice, their humour, their gumption, their gall! 
These capital F-I-E-R-C-E queens will seriously send tingles down your shoulders for 80 minutes straight (no interval needed, thank you). With insane charisma, chemistry and vocals that will make your jaw reach the floor, these ladies have come to slay. Catherine of Aragon (Lauren Drew), Anne Boleyn (Maddison Bulleyment), Jane Seymour (Lauren Byrne), Anna of Cleves (Shekinah McFarlane), Katherine Howard (Jodie Steele) and Catherine Parr (Athena Collins) - the throned throng of the hour - manifest energy so electric and palpable, you'd think a shock would be imminent. All six have their powerhouse strengths, each tackling tinges of different genres from bubblegum pop to hip hop to house to R&B, while serving you the T about their collective ex-hubby and bringing you from howling laughter to welling tears.
If SIX is anything, it is as the queens' closing number describes - "one of a kind - no category". 
After rising from my seat in a ball of excitement and smiles, I only went and bought two of the last few tickets remaining to see the show again, didn't I? If you can't grab yourself one - and you should - don't lose your head! Click here for details on where SIX is (be)heading on its #RoyalTour.
TUE 04 FEB TO SUN 09 FEB 2020
Evenings Tue, Wed, Thu & Sat 8pm, Fri 6pm & 8.30pm; Matinees Sat 2.30pm & Sun 2pm
Running time (approx.): 1 hour 20 minutes (No interval)
Age: 10+
FESTIVAL THEATRE
BOX OFFICE: 0131 529 6000
photo by Johan Persson