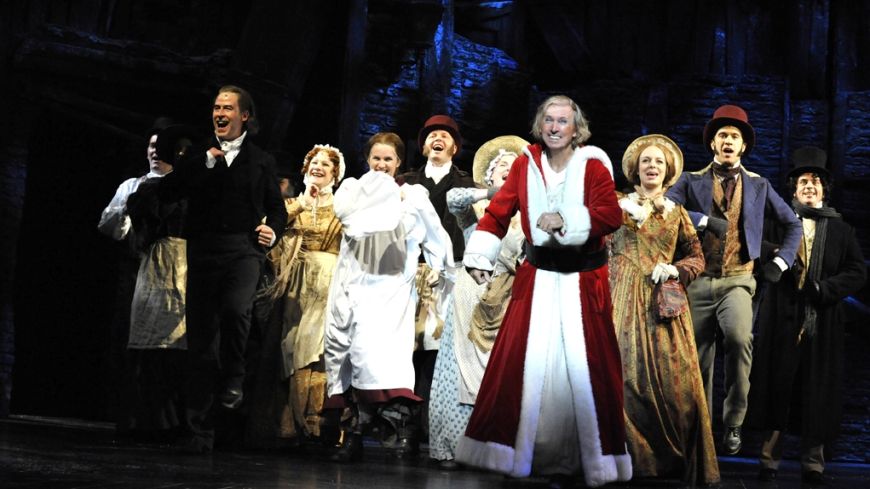 Company
Bill Kenwright presents
Production
Bob Thomson (director), Stuart Pedllar (musical director), Lisa Kent (choreographer)
Performers
Tommy Steele (Scrooge), Morgan Crowley (Bob), Louis Maskell (Harry), Conor Michael Sheridan (Tom), Claire Marlow, James Head &Edward Handoll (Ghosts)
Christmas has come early to Edinburgh in the form of the musical 'Scrooge' playing sadly for only one week at the Playhouse. Based on Dickens' classic story A Christmas Carol, it tells the story of Ebenezer Scrooge's Yuletide transformation, and is a vehicle for the talents of the evergreen Tommy Steele.
Although few under Sixty will remember Tommy's whirlwind career as a singer and film star, before even Cliff Richard emerged as a pop star, he has carved out a career as one of the greats of British musical theatre.
He famously told Parky that Fred Astaire, the star of Finian's Rainbow watched him dance and ascribed his style to the 'Irish Fella (Gene Kelly). The pupils of Mary Erskine and Stewart's Melville who play the children will remember the week that they shared the stage with Tommy Steele for the rest of their lives!
Scrooge himself - in the form of Tommy - is on the stage for nearly all of the two and a half hours,  but is ably supported by a talented cast and a fantastic orchestra.
The ghost of Christmas present played by a larger than life James Head caught the eye along with Louis Maskell, Conor Michael Sheridan and Clair Marlowe.
The show is one of two halves. Nothing strange about that, but the first is a slow burn with the story of 'Scrooge's legendary meanness and lack of charity to family, fellow businessmen, and most famously his employee Bob Cratchit, father of five including the lame Tiny Tim.
The Musical numbers are well executed without being memorable and although some are reprised in the second half the show builds up pace towards a tremendous climax leaving the appreciative audience sad that the show has come to the end.
The number 'The Minister's Cat' brought back memories of my Christmas past and it showed the supporting cast at their best.
The staging is of a west end quality with sets flying in without hitch, but again it was into the second half before the spectacular effects made you jump and sit back and admire.
There was a point in the second half when I just felt that 'Scrooge' is a marvellous opportunity to see a veteran of stage and screen demonstrating that he is master of his craft.
The show ends with Tommy Steele centre stage soaking up a deserved ovation.
Show times
Runs to Saturday 13 December, 7.30pm & 2.30pm (Wed & Sat only)
Tickets
£20.25 - £39.25 (Buy online)
More Edinburgh Christmas Shows and Pantomimes 2010