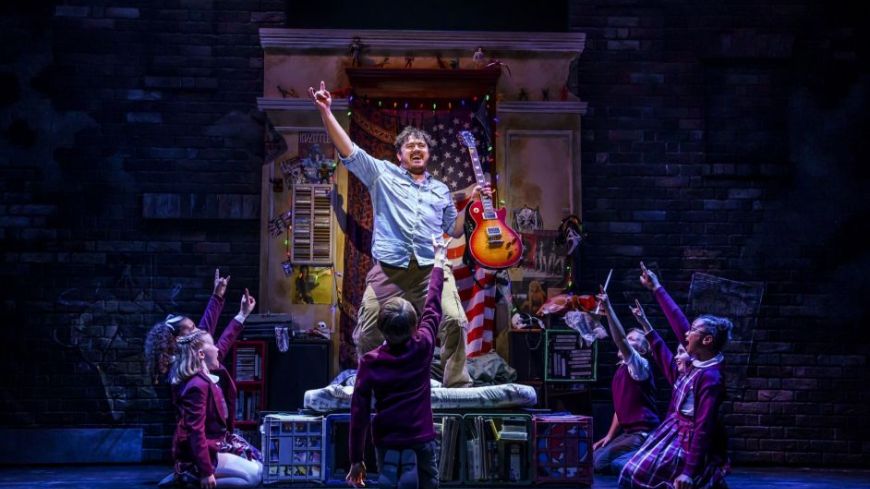 Company
David Ian (Crossroads Live), Warner Music Group, Access Industries Inc., The Really Useful Group
Production
Andrew Lloyd Webber (Music), Glenn Slater (Lyrics), Julian Fellowes (Book), Laurence Connor (Director), Michael Riley (Musical Director), Joann M. Hunter (Choreographer), Anna Louizos (Set & Costume Design), Natasha Katz (Lighting Designer), Mick Potter (Sound Design)
There's no way you can stop the School of Rock, and last night's Scottish premiere of Andrew Lloyd Webber's stage show based on the hit 2003 Jack Black film proved as much as a talented cast and eager audience celebrated live theatre restarting with a loud, proud and unabashedly upbeat showcase.
We follow Dewey Finn (Jake Sharp), a wannabe rock star still living in a slobby teenage faze, sponging off his best friend Ned (Matthew Rowland) and sulking as he's been kicked out of his band. In need of cash, he takes on a substitute teaching job, posing as Ned, at the prestigious prep school Horace Green. Unexpectedly finding pint-sized musical prodigies when he overhears a music class, Dewey quickly cooks up a plan to turn them into a rock band ahead of the looming Battle of the Bands competition while ensuring the uptight Ms Mullins (Rebecca Lock) doesn't find out.
There is a simple message here delivered wonderfully in a show that manages to retain a fresh, raw delivery as it celebrates the power of music to unite us and give people their voice.
Jake Sharp in the lead role manages to work in traits from the well-known Jack Black portrayal but makes the role his own, evoking most of the laughs with his high-octane delivery, goofy charm and passion for rock. The young cast are a revelation and their incredible talent and enthusiastic joy on the stage is delightful. They all deserve a mention so a massive sign of the horns to Thomas Harvey (Freddy), Daisy Hanna (Katie), Angus McDougall (Lawrence), Harry Churchill (Zack), Hadlee Snow (James), Jemima Newman (Sophie), Wilf Cooper (Billy), Florrie May Wilkinson (Summer), Souparnika Nair (Tomika), Caelan Wallington (Mason), Elodie Salmon (Marcy) and Kyla Robinson (Shonelle).
Interspersed amidst the already catchy music from the film, Webber's 14 new songs flesh out the show giving a voice to the kids with 'If Only You Would Listen' who vent their frustrations in a world that's organised for them, and Rebecca Lock's aria hitting head mistress who gets to let loose with 'Where Did The Rock Go', a poignant lament at remembering the wild child within and easily claims stand-out song.
Young and old alike will be hooked from the first bass slapping chords to the last shredding guitars in a fantastic night of musical theatre that is the perfect energiser for a dark, dreary January night. You'll know doubt be humming or singing 'Stick it to the Man' as you march home rejuvenated and ready to rock.
School of Rock is on at the Edinburgh Playhouse until Saturday 29 January.
© Lindsay Corr, January 2022