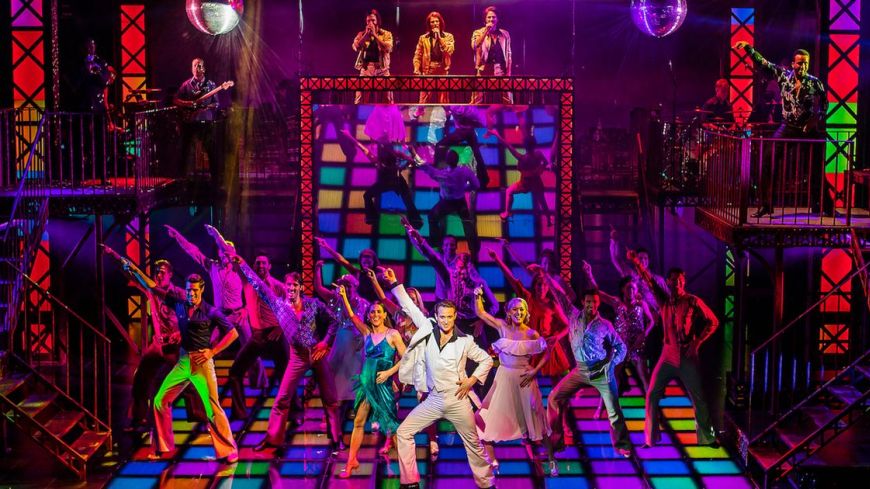 Production
Bill Kenwright (director), Bill Dermer (choreographer), Gary McCann (designer), Nick Richings (lighting designer), Dan Samson (sound designer), Rick Morris (musical director), Gary Hickson (musical supervisor and music producer), Lewis Barnshaw (assistant director), Kylie Cruikshanks (associate choreographer), Lindsey Milligan (company stage manager), Paul Duffy (technical stage manager), Lisa Lewis (deputy stage manager), Christie Wilkes (assistant stage manager), Robb Mookhoek (technical swing), Tom Davis (lighting programmer), Steven Hoye (LX number 1), James de Carle (LX number 2), Adam Crawford (LX number 3), Piers Archer/David Beckham (sound number 1), Tom McGloin (sound number 2), Iwan Wyn Harries (head of wardrobe), Amber Zoe Mullarkey (wardrobe deputy), Hayley Hill (wig/wardrobe swing), Pippa Batt (costume supervisor), Emma O'Callaghan (props supervisor), Jessica Ellen (assistant resident director), Carly Miles (dance captain), Jeremy Wootton (associate MD)
Performers
Richard Winsor (Tony Manero), Edward Handoll (Barry Gibb), Alastair Hill (Maurice Gibb), Matt Faull (Robin Gibb), Kate Parr (Stephanie Mangano), Melody E Jones (Flo Manero), Phillip Aiden (Frank Senior), Marios Nicolaides (Frank Junior), Raphael Pace (Bobbie C), Jared Thompson (Double-J), Owen Broughton (Gus), Anna Campkin (Annette), Michael Cortez (Joey), Faizal Jaye (DJ Monty), Aimee Moore (Connie), Brett Shiels (Jay), Rhianne Alleyne (Maria), Carly Miles (Shirley), Olivia Kate Holding (Linda), Nathan Ryles (Chester), Javier Cid (Caesar), Jessica Ellen (Doreen), Andrew Gordon Watkins (Fosco), Eikel Hernandez (trumpet/flugelhorn), Luke Bierne (guitars), Ali McMath (bass guitar), Dan Hayward (drums
If you love the Bee Gees and you've got some boogie shoes, then you'll love Saturday Night Fever, the groovy jukebox musical led by dazzling Richard Winsor as Tony Manero (John Travolta, if you need a refresher) and the fabulous backup-Bee Gees of Edward Handoll, Alastair Hill, and Matt Faull.
Upstage on top of the subway platform, the three countertenor-voiced Bee Gees sing their hit tunes, while below and around the story of the 1978 movie, Saturday Night Fever , comes to life. Tony struts in, and this is not Travolta impression, but a fully formed new Manero; Matthew Bourne principal dancer Richard Winsor has managed to capture all the innocence and passion of the character and an accent that is strongly Brooklyn without crossing over into cartoonish.
The dancing in this one is feel-good, club moves from the disco era. Each number a chance to show off the costumer's work, the bell-bottomed and platformed cast dances their funky way through the 2001 club. The musical plays out mostly like a soundtrack to the narrative with a few moments on incorporating the singing into the dialogue a la Mamma Mia. Mirror effects from upstage create a 360-degree experience and the disco balls around the theatre complete with light up disco stage are all so satisfying. Each cast member brings their own character to the show, fully fleshing out the ensemble and creating a world before you.
Some bits of the writing show the same sexism seen in the movie; they're included to be true to the original, but they're ignored. It seems this reproduction missed the opportunity to convey it in a clever way that addresses the conduct for a modern audience. While the vignettes with other supporting characters are successful, there are moments, like the peak of Bobby's story arc, that could have been better interpreted for the stage.
Despite this, there isn't much here that is lackluster. As soon as Winsor dons that epic white suit, it's all you can do not to sing along and bob your head to the beat as the finale closes in. Fantastic music by the band and the vocalists, acting that surpasses expectations of a movie musical and dancing that just thrills, this is one disco inferno that delights. What you doing on your back? You should be dancing!
Runs till 27th October