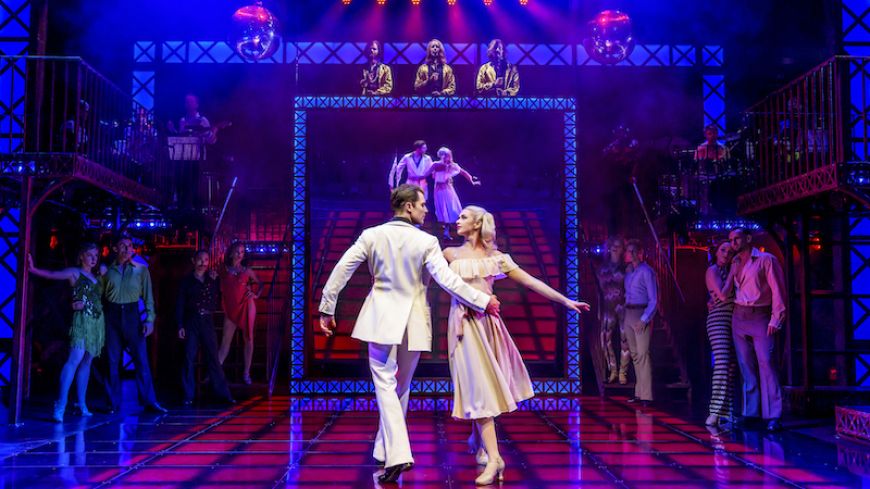 Production
Bill Kenwright (Director), Bill Deamer (Choreographer),
Performers
Jack Wilcox (Tony Manero), Rebekah Bryant (Stephanie Mangano), Billie Hardy (Anette), Marios Nicolaides (Frank Junior), Harry Goodson-Bevan (Bobby C)
There's one heck of an affinity for dance competitions in musical theatre, isn't there? The allure of some choice tunes, tight dance moves, and tighter trousers are usually enough to secure an audience. And when you're basing a stage adaptation around one of John Travolta's most famous flicks – you'd think you have a winner. Pretty much falling in line with John Badham's 1977 of the same title, Saturday Night Fever attempts to change up the formula of the jukebox musical – a noble endeavour, but with faulty execution.
Curiously, Saturday Night Fever isn't a strict jukebox but a mixture of disco ballet with accompanying vocals. A Greek Chorus, a tribute to the Bee Gees, provides most of the backtracks for the show as the principal cast engages in their choreography – Oliver Thomson, Drew Ferry, and AJ Jenks doing a sterling job – all while decked out in some of Gary McCann's best period wigs and facial hair.
Below, Bill Deamer's choreography shines throughout, making for some touching duets and solo moments as the Greek Chorus rings overhead. Emotional integrity and storytelling are utilised here, rather than within the vocals. Suspicions lay that if able, Deamer would have communicated the show's more distressing aspects with more delicacy than the writing and performance.
Donning the white suit, Jack Wilcox takes to the role of Tony Manero in the physical sense more than characteristically. This lothario with outdated attitudes to women, who he deems to be 'nice girls or bitches' (thankfully toning down the film's language), certainly carries the self-indulgent ladies' man with no time to talk mentality. Wilcox does provide some stellar dance moves when paired alongside Billie Hardy's underwritten Annette or Rebekah Bryant's superb choreography and attitude as Stephanie.
Saturday Night Fever suffers dreadfully from capturing the romanticism of the cinematic version rather than focusing on the adaptation to the stage. Ultimately, it leaves Bill Knewright's production woefully under-qualified to handle the delicacies and darker aspects of the narrative and does little to offer a branch of depth to its female leads, both played remarkably well given the circumstances by Hardy and Stephanie.
Where paper-thin circumstances of suicide and sexual assault are whirl-winded past to offer a garish wrap-up of the show's romantic subplots that ultimately leave Tony's transgressions unaddressed if anything reinforced: it leaves audiences with whiplash. And though no one is attending this evening for a course on gender politics, the representation is likely to leave some audiences with a bitter taste as the mega mix finale of Bee Gee classics rings out over the neon lights.
1st - 5th November, 7.30 pm. Thursday & Saturday matinee 2.30 pm. Ages 14+
Tickets from £21.00
Saturday Night Fever Tickets | Edinburgh Playhouse in Edinburgh | ATG Tickets
Photo Credit: Paul Coltas