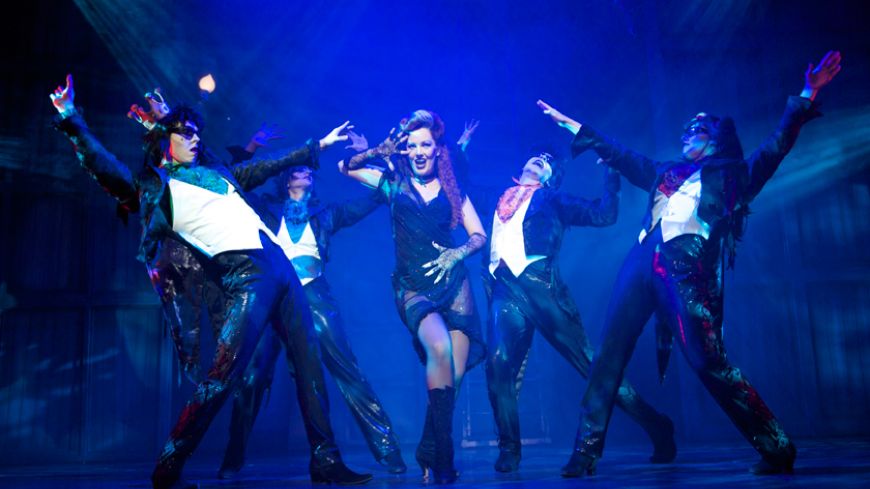 Production
Christopher Luscombe (Director), Richard Hartley (Musical Arrangement), Janet Bird (Set Designer), Sue Blane(costumes), Jenny Arnold (Choreography)
Performers
David Bedella (Frank 'N' Furter), Gerard Kelly (Narrator), Richard Meek (Brad), Haley Flaherty (Janet)
Expect a raucous, riotous welcome to 'Rocky' at the Playhouse all this week. It's not often you get such a roar of anticipation at the beginning of a musical, but this first night audience were determined to have a good time.
Gerard Kelly as the narrator dealt deftly with spirited attempts to heckle him and other cast members rose to similar challenges when members of the audience tried to finish lines before they got them out.
The show gets off to a great start with the Usherette's (Kara Lane) rendering of the "Late Night Double Feature Picture Show".
The plot sees a young straight laced couple Brad and Janet played by Richard Meek and Hayley Flaherty travelling home on a country road and their car breaking down which results (as in all good horror movies) in them seeking help at a remote castle inhabited by some strange people.
What happens next is left to your imagination if you have not seen this show. The first half only lasts 45 minutes and it's over in a flash, because this show just bowls along with great numbers from a very strong cast supported by a fantastic band.
The production is inventive with great movement and delivered crisply by a cast without a weakness.
"The Time Warp" features early on in the show and had the stalls following if not leading the moves in this cult musical. "Sweet Transvestite" performed by a David Bedella who is a commanding presence throughout as Frank 'N' Furter is another highlight of this incredible first half.
The creation of 'Rocky' (Dominic Tribuzio) as the perfect male specimen is appreciated by the largely female audience and I guess also some of the males. Apart from the highly toned body, 'Rocky' performs some highly skilled gymnastic moves as well as showing singing and acting talents.
After disposing of 'Eddie' with a chainsaw out of sight, Frank N' Furter returns to the main stage closing the door behind him; in the pause, a voice from the audience got the biggest laugh by calling out 'There's been a murder'.
The second half opens with seduction scenes involving the young couple and explains why this is not a show to take the proverbial maiden aunt or minors to as it leaves little to the imagination.
Cerise Hine as Columbia, Brian McCann as Riff Raff Kara Lane as Magenta are perfect as the main supporting cast along with Nathan Amzi who doubles up as Dr Scott and Eddie.
As a "Rocky Horror" virgin I was really impressed with the first half and felt that it contained the best numbers and tight script. The second half dips in musicality and perhaps the storyline could be developed to make the show a little longer.
The show ends with an opportunity to join in the 'Time Warp' and few could resist.
The Rocky Horror Show runs til Saturday 26th June (Buy tickets)