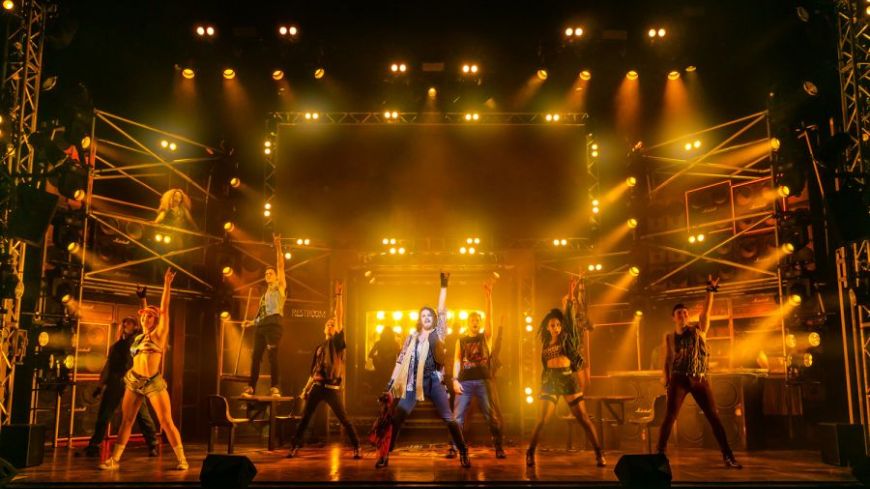 Production
Chris D'arienzo (Book), Ethan Popp (Arrangements, Orchestrations), Nick Winston (Director & Choreographer), Morgan Large (Set & Costume Designer), Ben Cracknell (Lighting Designer), Ben Harrison (Sound Designer), Duncan Mclean (Projection Design)
Performers
Joe Gash (Lonny), Sam Turrell (Drew), Gabriella Williams (Sherrie Christian), Matt Terry (Stacee Jaxx), Kevin Kennedy (Dennis Dupree), Vicki Manser (Regina), Phoebe Samuel-Gray (Justice Charlier), Vas Constanti (Hertz Klinemann), Andrew Carthy (Franz Klinemann), Erin Bell (Constance) and Billy Roberts, Scott Hayward, Darius James, Siobhan James, Hollie Ann Lowe, Morgan Scott, Reece Duncan (Ensemble)
Last reviewed in 2019, the opinion of this juke-box juggernaut – with global smash hit seasons on Broadway, Las Vegas and the West End, as well as an (awful) star-studded film version – hasn't changed, despite some clunky transitions and sound issues on its opening night at Edinburgh's Playhouse.
Amidst a smorgasbord of more recent morale musicals, cancel culture and woke woes, this show promises nothing but a good time, planting its tongue firmly in its cheek, happily demolishing the fourth wall and mocking the structures of musical theatre, allowing for messiness that at other times would irk the audience, yet in this setting is lapped up.
Toilet humour, debauchery and silliness surround the fantastic soundtrack – the real reason for its success – as you can't deny the American glam-rock of the late 1980s which Rock of Ages celebrates with electrifying mash-ups, featuring Foreigner, Poison, Whitesnake, Journey, Bon Jovi, Pat Benatar and Twisted Sister to name a few! 
Creator Chris D'Arienzo's combination of lewd laughs, a retro rock score and obligatory romantic storyline combine with Nick Winston's exaggerated direction and stylised choreography as we join narrator Lonny (Joe Gash) on LA's Sunset Strip. His boss, Dennis Dupree (Kevin Kennedy), stoner owner of The Bourbon Room, hatches a plan to save his club from demolition at the hands of German developers Hertz Kunemann (Vas Constanti) and Franz (Andrew Carthy), inviting back hit band Arsenal to play their last gig before lead singer Stacee Jaxx (Matt Terry) flies solo. Fired city planner Regina (Vicki Manser) rallies the masses to protest the commercialisation of the city built on rock and roll, while Detroit boy Drew (Sam Turrell) and Paola, Kansas girl Sherrie (Gabriella Williams) pursue their dreams of Rocker and Actress, while pining for each other but bottling revealing their feelings. 
Alluding to the frenzied "decade of greed" and celebrating the drug culture and intense sexuality of the late 80s, Morgan Large's touring set is a functional industrial metal frame akin to music festival set ups, showcasing two walls of amps allowing characters to pop out of all areas, with Duncan McLean's video projections adding 80s context and detail, with the live band (Liam Holmes, Liam Stevenson, Alex Ward, Elliot Mason and Vito Guerrieri) integral to the show and the era on top form, completing the polaroid picture of a flash in time.   
The cast are having a ball, giving their all with energetic fervour in this truly ensemble show where everyone gets at least one moment in the spotlight (literally). Even if the sound is slightly muffled on this opening night, the harmonies were still spine-tinglingly on point. Sam Turrell has great power ballad pipes that please, combined with Gabriella William's sultry delivery, and a mention must go to understudy Phoebe Samuel-Gray as Justice who confidently displayed her dulcet tones with plenty of runs. Andrew Carthy's Franz eats up the scenery with his cartoonish creation and almost steals the show.
After a beat, where there's a slight worry the manic, camp Russell Brand-esque delivery may irritate, Joe Gash gets comfortable in the lynchpin role of Lonny, embraced by the audience who accept the buffoonery, plus he delivers some killer ad-libs which crack up the capacity crowd and his voice is fantastic, perfectly showcased in 'I Can't Fight This Feeling'. 
While there's no doubting Matt Terry's voice, you feel the tentativeness of this debut performance as he joins the touring cast this evening, with the notoriously cocky rock god Stacee Jaxx needing to be coaxed out of him as the run goes on – own it Matt! 
The overarching and concluding message is that everybody has dreams and a good heart at their core – sometimes dreams get fulfilled and sometimes the dreams you thought you had change. While your dreams may not be fulfilled by this show, your mood will certainly be elevated as you swagger home with 80s anthems buzzing through your head.
Rock of Ages is on at the Edinburgh Playhouse until Saturday 14 May.
© Lindsay Corr, May 2022