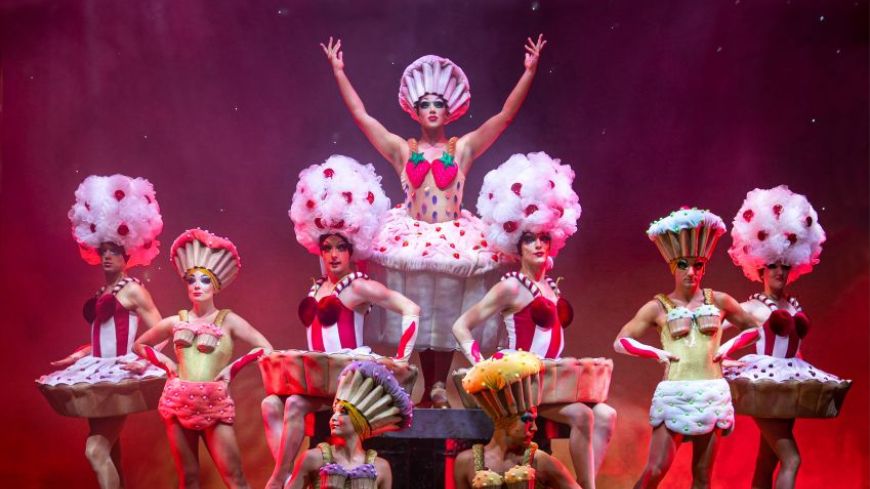 Company
In association with Nullarbor Productions and MGM On Stage
Production
Stephen Elliot and Allan Scott (Writers), Ian Talbot (Director), Tom Jackson Greaves (Choreographer), Charles Cusick-Smith and Phil R Daniels (Set and Costume), Ben Cracknell (Lighting), Ben Harrison (Sound).
Performers
Joe McFadden (Tick/Mitzi), Miles Western (Bernadette), Nick Hayes (Felicia/Adam), Aiesha Pease, Claudia Kariuki, Rosie Glossop (Divas), Daniel Fletcher (Bob), Jacqui Sanchez (Cynthia).
Twenty-five years ago, The Adventures of Priscilla, Queen of the Desert burst into our cinemas. The iconic story of three drag queens driving through the Australian outback to perform the gig of their lives solidified its cult status among the queer counterculture of the 90's, leading the way with one of the first central trans narratives with the beautiful and genuine Bernadette.
Now, thirteen years since the musical version debuted, Priscilla Queen of the Desert is making a comeback. What with the success of RuPaul's Drag Race reaching fever pitch throughout America and now Britain, this is a perfect time to bring this cult musical back on the road. And boy, they did not disappoint!
Straight off the bat we jump into a phenomenal rendition of "It's Raining Men". The glittering trio of Divas sing live, overwhelming us with the sheer prowess of their voices as the Queens mime and dance. Welcoming us into this magical world is Miss Understanding, (played by Kevin Yates) who brings a hilarious personalised element to her 'highland fling', her mockery and wit directed straight at the audience.
The set of mundane, rusting, iron fences, twist and transform into the most luxurious of spaces- an intelligent comment on drag culture. Miles Western, between the glamour and the music, does not let Bernadette down, managing to capture her effortless femininity and longing sadness. The women of the cast really shine also, from the Divas to the droopy-breasted hick. Cynthia (played by Jacqui Sanchez) does deserve a special mention, as her side-splitting ping pong routine has the whole audience rolling in the aisles.
This production truly has everything: the most flamboyant funeral, a dead kangaroo, surreal opera, dancing cupcakes, love, loss and family. Showstopper after showstopper, with costume changes fast enough to make your head spin, fill the stage with no hint of slowing down. The stellar cast, who you could believe was double the size, never hit a bum note or a wrong step. Everything, from the tightly choreographed dance sequences to the stunning voices and even more stunning costumes, allows this production to truly live up to the hype. Not to be missed!
Dates & Times: Tues 5th - Sat 9th (19:30), Wed 6th & Sat 9th (14:30).
Age Range: 13+
https://www.atgtickets.com/shows/priscilla-queen-of-the-desert-the-musical/edinburgh-playhouse/