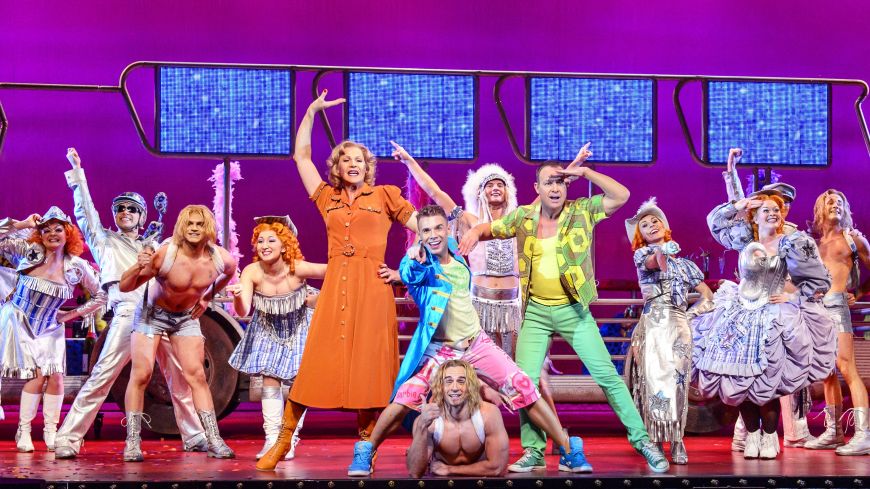 Company
David Ian Productions/ATG in Association with Nullarbor Productions & MGM on stage
Production
Simon Phillips (Director), Stephen 'spud' Murphy (Music), Tim Chappel/Lizzy Gardiner (Costume designers), Ross Coleman/Andrew Hallsworth (Choreography)
Performers
Jason Donovan (Tick), Felicia (Graham Weaver), Richard Grieve (Bernadette), Giles Watling (Bob)
Riotous Road Show comes to an unscheduled halt. The opening night of Priscilla, Queen of the Desert was interrupted after a loud bang and the stage was left empty before the curtain came down for an impromptu break.
However, the show had already put the large audience in such a good mood that most people chatted away until normal service was resumed.
Based on the cult film of the same name, Priscilla tells the story of Tick, and his alter ego Mitzi, whose estranged wife invites him to play at her Alice casino, principally because she wants their young son to know his distant father.
Tick, who is played by Jason Donovan, is joined on the journey by two other Australian drag queens who pack up their troubles in a glamorous but mechanically defective bus and head for the centre of their nation, Alice Springs. Tick admits to the existence of a wife to his companions the transsexual Bernadette (Richard Grieve) and his partner Felicia Goodfellow played by Graham Weaver but keeps the existence of his son a secret.
While the production is a glorious romp with brilliant lighting and clever use of scenery, the costumes are almost the star of the show. With headdresses last seen in Edinburgh on the late Rikki Fulton and dresses of which Stanley Baxter would have been proud. Priscilla is a visual treat.
Travelling through the desert, they meet with rednecks by the score, and a mechanic called Bob (Giles Watling) and his wife (Frances Mayli McCann) who has a show-stealing trick with ping pong balls that has to be seen to be appreciated. The music comprises of well known songs in the main and such was the effect on the audience that people were singing as they left the auditorium at the interval. Credit to the Divas who were flown in and out at different stages and seemed to cope better in the air than Gareth from 'Dancing on Ice.'
The plot is thin, but the scenes of father and son are very touching as the Queens arrive in Alice Springs. Jason Donovan is a fantastic leading 'man' ably supported and indeed enhanced by a virtuoso Richard Grieve and a superbly camp Graham Weaver.
The humour is a bit obvious and crude at times, but In the context of the show it is acceptable. The three principals are well supported by an ensemble that adds slick choreography and pace to an enjoyable show.
Some of the costume design is brilliant and it will be hard to see a better dressed show this year at the Playhouse.
The first night technical problems were probably a one-off and did not detract from the overall performance.
Runs to Thursday, 7.30pm.
2 Performance on Friday 8th & Saturday 9th March