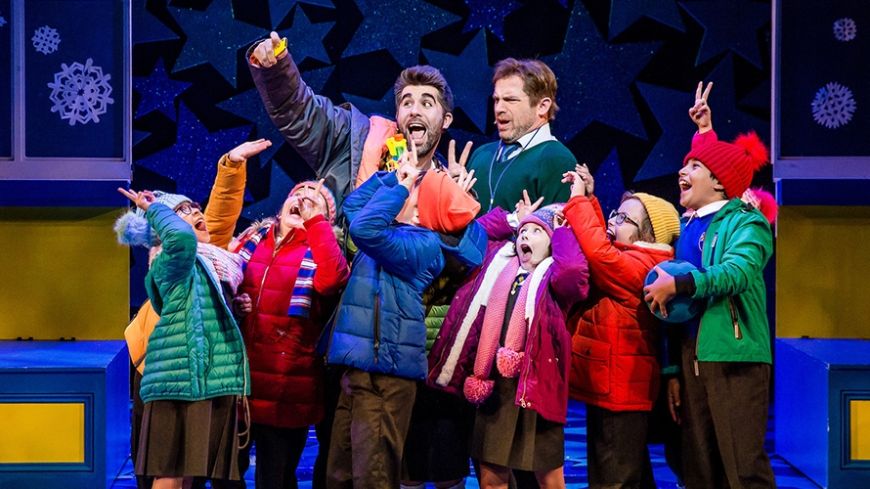 Company
Entertainment One
Production
Debbie Isitt (Writer/Director), Nicky Ager (Music & Lyrics), Andrew Wright (Choreographer), David Woodhead (Designer), Tim Mitchell (Lighting), Tom Marshall (Sound), George Dyer (Orchestrations)
Performers
Simon Lipkin (Mr Poppy), Scott Garnham (Mr Maddens), Ashleigh Gray (Jennifer Lore), Jo Brand (The Critic), Andy Barke (Mr Parker), Andy Brady (Mr Shakespeare), Jamie Chapman (Tony/Tour Guide), Jemma Churchill (Mrs Bevan), Oscar Conlon-Morrey (Mr Rye), Gary Davis (Lord Mayor), Kade Ferraiolo (Ensemble), Ashleigh Graham (Ensemble), Helena Pipe (Ensemble), Pepper (Cracker)
Debbie Isitt knows what she's doing. Seeing the potential to create drama and comedy around a relatable scenario of stress, scepticism and the "most wonderful time of the year", her film Nativity! was a huge hit and the stage show follows tight on its tail with additional Sparkle and Shine!
For those not familiar, this fable follows Mr Maddens (Scott Garnham), whose been heartbroken and Christmas hating since love of his life Jennifer (Ashleigh Gray) left Coventry five years ago to become a Hollywood Producer.
Mr Maddens is tasked (and dismayed) with directing the school nativity, exasperated by his hyperactively creative new teaching assistant Mr Poppy (Simon Lipkin) and irritated by rival school teacher Mr Shakespeare (Andy Brady). Amidst the chaos – and Poppy's eagerness to turn the event into a musical – Maddens' rediscovers his spark and sees an opportunity to bring Hollywood home in more ways than one.
For a touring production, the creative team are to be praised for the set, which is a versatile, glittery treat, especially the recreation of Coventry Cathedral ruins in the finale. And just like its set, this show is simply charming.
Nativity! The Musical doesn't deviate from its big screen counterpart, and screams feel-good bonanza as it celebrates the underdog, presented with fairytale charm as an Ofsted-failing school and its "useless" ordinary kids overcome adult cynicism and calamities to create a Nativity beyond expectations.
The touching central focus – especially when wrapped around the fantastic ensemble of 9-12-year-olds who bring the students of St Bernadette's to life – is dangerous territory, as it could so easily go down the route of saccharine sweet overkill, but the show never fails to retain its heart, guaranteeing to put a smile on your face and a tap in your toes.
A large part of this is down to Simon Lipkin who reprises his role as Mr Poppy after delighting critics and audiences when the show premiered last year. Onstage for the majority, he is an hilarious delight for the duration with an off-the-cuff ease, delivering humour and heart in equal measure.
The other adults don't disappoint, with Scott Garnham's Mr Maddens pitching the trickier, straight-laced role perfectly, Ashleigh Gray delivered some fantastic vocals and Jemma Churchill's Mrs Bevan, haggard Principal with a lost passion for inspiring youngsters, delivers with authenticity.
As well as the talented touring ensemble, following very popular open auditions, fifteen Scottish children got to share the stage as students of Oakmoor School and impressed, with slick formations as the rival posh primary, especially under the frenzied eyes of their fame hungry teacher Mr Shakespeare, played with relish by Andy Brady who at points embodies Rik Mayall.
All in all, this is a feel-good evening for all ages, delivered at a whirlwind pace with slick choreography and sheer delight from all onstage, as well as catchy songs you're guaranteed to be humming for weeks to come.
The sheer spectacle alone – never mind the few delightful moments of tenderness sprinkled throughout – has definitely shifted the bah-humbug feelings from this reviewer's mindset, who recommends you book a ticket and soak up the joy of the 'First Time Ever Christmas Eve!'
Until Sunday 2 December
www.capitaltheatres.com