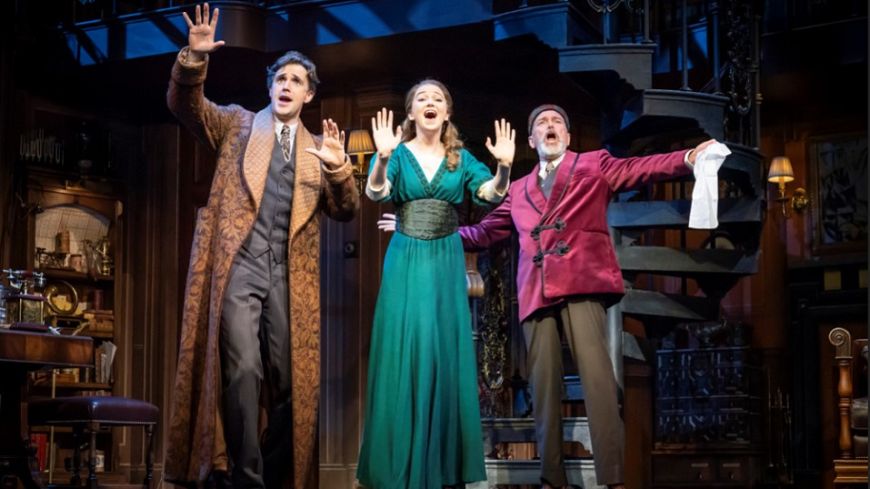 Company
The Lincoln Centre Theater
Production
Alan Jay Lerner (Book & Lyrics), Frederick Lowe (Music), Bartlett Sher (Director), Christopher Gattelli (Choreographer), Ted Sperling (Music Supervisor), Gareth Valentine (UK Music Supervisor), Michael Yeargan (Set Designer), Catherine Zuber (Costume Designer), Donald Holder (Lighting Designer), Marc Salzberg (Sound Designer), Robert Russel Bennet/Philip J. Lang (Musical Arrangements), Trude Rittmann (Dance Arrangements), Larry Blank (Tour Orchestrations), Alex Parker (Musical Director), Geraint Owen (Associate Musical Director)
Performers
Michael D. Xavier (Henry Higgins), Charlotte Kennedy (Eliza Doolittle), Adam Woodyatt (Alfred Doolittle), Heather Jackson (Mrs Higgins), John Middleton (Colonel Pickering), Lesley Garrett (Mrs Pearce), Tom Liggins (Freddy Eynsford-Hill), Dammi Aregbeshola (Ensemble), Bernadette Bangura (Ensemble), Joseph Claus (Ensemble), Jordan Crouch (Ensemble), Jamie Cruttenden (Ensemble), Francessca Daniella-Baker (Ensemble), Barry Drummond (Swing), Bethany Huckle (Swing), Emma Johnson (Swing), Sinead Kenny (Ensemble), Jenny Legg (Ensemble, Dance & Fight Captain), Rebekah Lowings (Ensemble), Carl Patrick (Ensemble), Tom Ping (Ensemble), Dominique Planter (Ensemble), Joseph Poulton (Ensemble), John Stacey (Ensemble & Resident Director), Joshua Steel (Ensemble & Assistant Dance Captain), Oliver Tester (Ensemble), Adam Vaughan (Ensemble), Annie Wensak (Ensemble), Paul Westwood (Ensemble).
This classic Lerner and Loewe musical is presented in a sumptuous revival directed by Bartlett Sher, delivering a warm hearted production, effortlessly bringing the soaring score to life and ensuring all ages were enthralled in the simple story. 
The wheel is not being reinvented here, it's simply being pedaled to produce a lavish visual tale that revels in Edwardian London cliches, acting as a caricature time capsule to when the classes and sexes clashed with lots of tittering at insults towards women and those lowest on the social ladder played straight with no attempts to wink, wink, nudge, nudge the here and now audience. 
The production and pacing is elegant, gliding seamlessly from one set piece to the next, as Professor Henry Higgins (Michael D. Xavier) bets his friend Colonel Pickering (John Middleton) that he can transform cockney gutter girl Eliza Doolittle (Charlotte Kennedy) into a lady fit for the Embassy Ball. 
The chemistry between Higgins and Eliza as their relationship traverses from mutual animosity to awkward sentiment is crucial and both leads excel in their parts, presenting rounded, fully realised characters, allowing Eliza to shine as the hero of the story rather than a downtrodden puppet in the Professor's hands. 
Michael D. Xavier is wonderful. He strides around the stage with colossal confidence, relishing how entertaining Higgins is as a wordsmith despite his utter contempt for women, allowing his bumbling, befuddled creation to connect with the audience, bringing much needed believability which peaks beautifully with 'I've Grown Accustomed to Her Face'. Charlotte Kennedy is just superb as the snarling, roaring flower seller desperate to improve herself. From the opening scene to the last, her Eliza is smart, sassy and beautifully illustrates the heartache of feeling like a discarded experiment, while her singing voice enveloped the auditorium with impressive trills drawing gasps from many when reaching the high notes with aplomb. 
They are ably supported by the rest of the company and a stellar ensemble, relishing the fast-paced, busy scenes which effortlessly unfold, set against Michael Yeargan''s set which merges a pop-up book feel with a doll's house, beautifully utilising a Coliseum revolve within Higgins' Wimpole Street residence to allow for engaging and seamless transitions. As expected, Catherine Zuber's costumes are lavish and beautifully balance bright, bold accents with a dreamy muted, lilac palette. 
Adam Woodyatt is having a ball as loveable chancer Alfred P Doolittle, with the crowd-pleasing 'Get Me to the Church on Time' raising the roof, with eye-popping choreography by Christopher Gattelli. John Middleton's Pickering is a loveable gent, at ease in this world and drawing warmth from the role while Tom Liggins' stunning voice breathes life into Freddy ensuring the dull besotted suitor shines, silencing the auditorium with his infectious joy delivering 'On the Street Where You Live'. Lesley Garrett's housekeeper Mrs Pearce is deliciously droll and savours every exasperated reply and eye roll, plus Tom Ping's sorrowful footman invokes a big reaction. 
Sher's vision of this classic could be viewed as a missed opportunity, but it unapologetically celebrates it's lack of invention to present a good, old fashioned showcase of a bygone time, forgiven many a missed opportunity for further depth instead of sedate charm thanks to a wonderful musical theatre score which pleased everyone in attendance, ensuring all were humming and singing a mashup of melodies this classic conjures all the way home. 
My Fair Lady is at Edinburgh Playhouse until Sat 7 Jan 2023.
© Lindsay Corr, December 2022