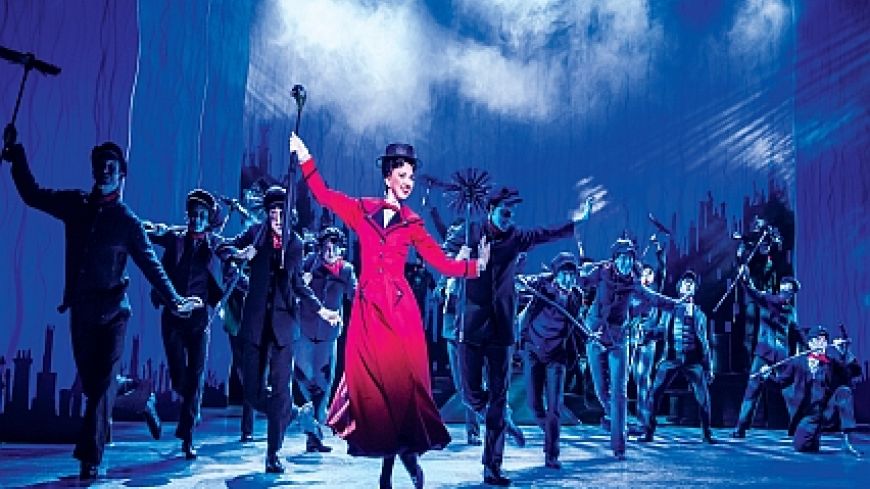 Company
Disney and Cameron Mackintosh Productions
Production
Richard M Sherman, Robert B Sherman (music and lyrics), George Stiles, Anthony Drewe (new songs and music), Book (Julian Fellowes), Richard Eyre (director), Matthew Bourne (choreography), Bob Crowley (scenic and costume design).
Performers
Zizi Strallen (Mary Poppins), Matt Lee (Bert), Milo Twomey (George), Rebecca (Winifred), Georgie Hill (Jane), Jabez Cheeseman (Michael), Wendy Ferguson (Mrs Brill), Blair Anderson (Roberson Ay), Grainne Renihan (Bird Woman), Yves Adang (Neleus),Ben Oliver (Pan), Graham Hoadley (Bank chairman), Anthony Lawrence (Von Hussler), John Stacey (Northbrook), Wreh-asha Walton (Mrs Corry); ensemble of actors, singers, dancers playing chinney sweeps, statues, bank clerks, toys, soldiers, kite girls, etc. The Orchestra, under Ian Townsend and Steve Moss.
There seems to be a dearth of originality by lyricists and composers these days when it comes to creating stage musicals. So much easier to turn a smash hit movie into a live show, such as The Lion King, Singing in the Rain, Legally Blonde, Billy Eliot, Chitty Chitty Bang Bang and The Bodyguard, to name just a few.
For Mary Poppins, the Musical, it took a great deal of time and persuasion by Cameron Mackintosh to secure the book rights from the author P.L. Travers and Disney to adapt the 1964 film. Opening at the West End in 2004, it ran for three years and on Broadway for over six years, winning numerous awards for choreography (Matthew Bourne), design and new musical.
This exuberant, extravagantly staged touring production, with an impressive cast of thirty and an orchestra, has now blown into Edinburgh - by a strong East wind, no doubt. All the songs from the film are here – Chim Chim Chiree, A Spoonful of Sugar, Let's Go Fly a Kite and Supercalifragilisticexpialidocious et al, with a few new numbers to enhance the storyline.
The period is around 1910 at the home of the Banks Family, 17 Cherry Tree Lane, London, where George, an uptight Victorian banker, prefers children to be neither seen nor heard. His wife Winifred struggles to cope with an understaffed household, while the children Jane and Michael misbehave so badly that their nannies come and go in quick succession.
The stage set is simply stunning, like a giant Dolls' House opening up to show the hall, staircase, nursery bedroom and a roof top of chimneys complete with puffs of smoke.
Like a letter to Father Christmas, the children's personal request for a kind nanny who will play games, is answered by Mary Poppins, a slim young lady in a red coat, carpetbag and parrot umbrella, blown in by a very strong wind. Immediately she takes control, conducting her own job interview and bundles the children with a brisk yet graceful glide upstairs to the nursery.
Zizi Strallen brings a youthful, sweet nature and stylish glamour to the iconic personality of the prim, practically perfect, no-nonsense nanny; she sees Jane and Michael as undisciplined but also unloved by their cold, distant father. It is her role as a guardian angel to change the lives of the Banks Family, the stressed out adults and spoilt children, with her special, supernatural powers.
Bert, the cheeky, charming chimney sweep, (brilliantly played by Matt Lee with free-spirited energy), joins Mary and the children for a walk in the park which turns magically into a Disney Technicolour wonderland. The Cockney knees-up rendition of "Jolly Holiday" is choreographed with the classical statues coming to life in Bourne "male swan" balletic style, leaping elegantly across the stage.
Another marvellous scene is an ensemble of pinstripe suited clerks marching in military precision and order around the banking hall, with the lyrics of "A Man has Dreams" reminiscent of a witty G & S ditty.
Through a series of fast paced scene changes, the house then rotates to reveal the kitchen presided over by Mrs Brill, the cook and her ineffective footman. A cake baking episode descends into silly slapstick farce which seems so out of place, adds nothing to the plot and much more in keeping to Christmas pantomime than Musical theatre. As the show is suitable for children aged 3+, the kids will love it!
However, you will surely be wowed by some show-stopping numbers such as "Step in Time", with Bert, Mary and a troupe of chimney sweeps using their brushes and rods like Singing in the Rain umbrellas and walking sticks a la Fred Astaire; this is a glorious tap dancing, jig reeling, Riverdance line-up routine.
Special credit must be given to the two young superstars, Georgie Hill and Jabez Cheeseman (a team of twelve children play Jane and Michael), who are hardly off stage, performing with extraordinary confidence, acting talent and polished professionalism.
With breathtaking magical moments, roof top walking, kite and other high-flying special effects, colourful costumes, giant toys, music, dancing and all those familiar songs, this is enchanting, classic entertainment for all the family.
Showtimes:
27 April to 21 May, 2016
Evenings Tue to Sat at 7.30pm. Matinees Thu (not 28 April), Sat & Wed 18 May at 2.30pm, Sundays 2pm
P.S. Tutto Matto, an Italian restaurant opposite the Festival Theatre, is personally recommened for a pre theatre supper, or after a matinee. 16 Nicholson Street.