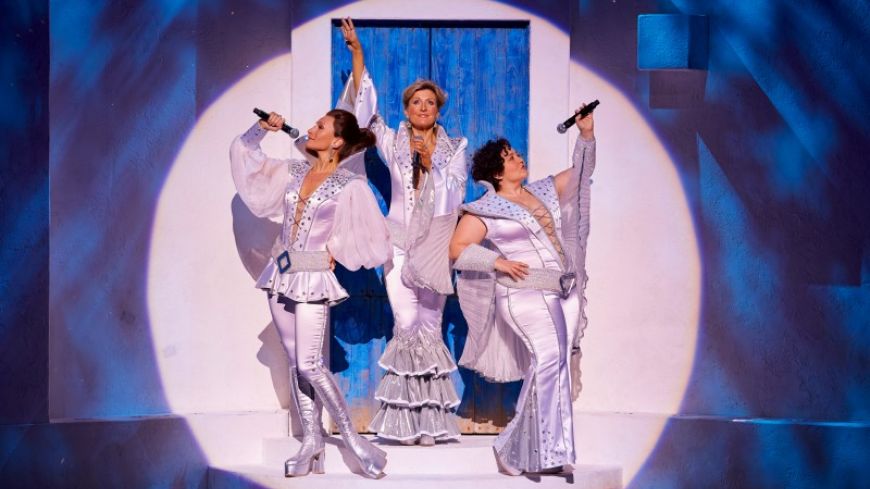 Company
Judy Craymer, Richard East and Bjorn Ulvaeus for Littlestar in association with Universal Stage Entertainment
Production
Benny Andersson , Bjorn Ulvaeous (music & lyrics), plus Stig Anderson (some songs), Catherine Johnson (book), Mark Thompson (production design), Howard Harrison (lighting design), Andrew Bruce & Bobby Aitken (sound design), Martin Koch (musical supervisor, additional material & arrangements), Anthony Van Laast (choreography), Phyllida Lloyd (director).
Performers
Lucy May Barker (Sophie), Micha Richardson (Ali), Blaise Colangelo (Lisa), Emma Clifford (Tanya), Jacqueline Braun (Rosie), Sara Poyzer (Donna), Philip Ryan (Sky), Louis Sockil (Pepper), Sam Robinson (Eddie), Tim Walton (Harry), Christopher Hollis (Bill), Richard Standing (sam), Matthew Ronchetti (Father Alexander).
Mamma Mia sails incongruously into panto season at the Playhouse on a warm breeze wafting sun, sea, sex and singing into mid-winter Edinburgh. It's a welcome escape from the Christmas clichés and yet bears glad tidings of great joy.
The plot contains all the ingredients for potential drama, mishap and mayhem. Set on an unnamed Greek island, fatherless Sophie is about to get married. Mum's diary reveals three potential candidates for father of the bride and, without telling mum, Sophie invites them all to the wedding. Crucially, one of them still holds the key to mum Donna's heart, yet she has seen none of them for 21 years. The action takes place over 48 hours: beginning on the eve of the wedding it ends with the wedding ceremony itself, which does not turn out quite as expected…
From the arrival of Sophie's friends right through to the final number, it's wildly upbeat, the ridiculously OTT hilarity deliciously mingling with moments of sincere and heartfelt emotion. The undisputed stars of the show are the Abba songs themselves, with all the greatest hits included in the action. At times there is a sense of the story being shoe-horned around the songs, but this merely emphasises the silliness of particular moments and enhances the fun while detracting nothing from the drama.
One of the highlights is Donna, played almost to perfection by Sara Poyzer, singing The Winner Takes It All, gloriously wringing out every last drop of emotion. By contrast, another unforgettable performance is Jacqueline Braun, as Donna's friend Rosie, chasing an unwilling male down the aisle while belting out Take a Chance On Me. The pace and continuity of the whole performance is never lost, with character and mood sustained even during scene changes.
Having men in peripheral - albeit relevant - roles is a refreshing change and perhaps accounts for the majority of the audience being female. Many of them are dressed in 70's gear and clap and sing along, anticipating key moments and whooping accordingly, bringing a raucous party atmosphere.
The estimated figure of around 375 million sales of singles and albums suggests a lot of people are tuned in to Abba. However, as the motto goes, you don't need to be mad about Abba to love this, but if you are, it probably helps. Either way, it's a proper feel-good, frolicking night out.
Runs 29th November 2016 – 7th January 2017