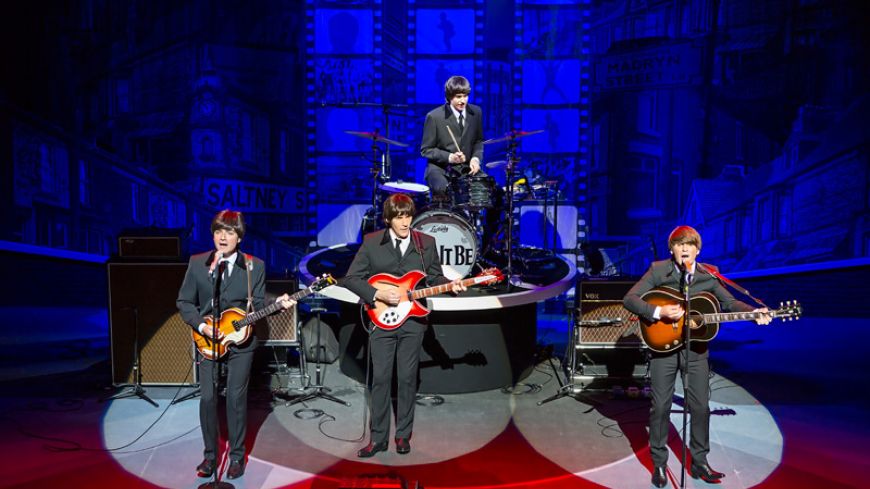 Company
Annerin Productions and Mark Goucher Productions
Production
Michael Bramwell (musical director and musical supervisor), Michael Gyngell (director), Darren McCaulley and Mathieu St-Arnaud (original video designers), Sooner Routhier and Robert Long (light co-designers), Annerin Productions (producer), Mark Goucher (producer), Dan Weiss (US musical director), Scott Christensen (production and creative designer), Giles Rowland and Kate Powell (UK general managers), Jason Culverwell (production manager), Tim Stanley (associate production manager), Nathan Petrie (production sound engineer), Terry Rice (production lighting and video), Leighton Vickers (company stage manager), Calum Robinson (head of sound), Rich Hoxley (head of lighting), Toby Darvill (head of video), Dean Croney (head of backline), Rosy Emmerich (head of wardrobe and wigs), Diana Estrada (wigs supervisor), James Marsh (sound no. 2), Molly Stoker (lighting no. 2), Sophie Mason (tech ASM), Josh Evans (tech swing), Jim Abbott (keyboard programming), Stage Sound Services (AV supplier), Southern Van Lines (trucking), Christie Lite (lighting supplier), Johnathan Russell (director of touring and casting), Tom O'Connell (associate producer), Claire Kenwright (business development), Wendy Jordan (accountant), Dee Bishop (assistant accountant), AKA (Marketing), Bill Elms Associates (PR), Snook Digital LTD (Social Media Marketing)
Performers
Michael Bramwell (musical director and musical supervisor), Emanuele Angeletti (Paul McCartney), John Brosnan (George Harrison), Ben Cullingworth (Ringo Starr), Michael Gagliano (John Lennon), Connor Bannister (Paul McCartney cover), Richard Jordan, Craig McGown and David Wray (John Lennon and George Harrison covers), Luke Roberts (Ringo Starr cover)
If you've got a ticket to Let It Be, you've got a ticket to ride this jukebox musical through the most iconic Beatles songs and performances of the band's reign.
Nostalgia and what-might-have-beens are the vibes of this production, with Act I a celebration of the group's career highlights and Act II a reunion concert that never was. The Royal Variety Performance rolls into the Shea Stadium concert and Beatlemania, followed by the psychedelic Sergeant Pepper era and Abbey Road, continuing through more milestones. All the hits are on the menu with this one, and it is difficult not to sing along to these incredible and timeless songs. Luckily, the group prompts you to chime in and they drop out periodically to hear the audience in chorus, with more than a few members dancing in the aisles.
Screens around the stage play up the scenes and add imagery to what is, essentially, a polished cover band show. Footage of old concerts, kaleidoscopes and strawberries, vintage 60s telly adverts, and even you, the audience, stream out from the big, wood-paneled TVs that act as interludes and support for the band. It's welcome, but not ground-breaking.
Liverpudlian accents abound, the Mop Tops of Let It Be deliver Fab Four-part harmonies that soar; Emanuele Angeletti and Michael Gagliano, in particular, have a satisfactory vocal likeness to their Paul and John, respectively.
Notable is Michael Bramwell on programmed keyboards, using his set up to play out those specialised instruments which are vital accompaniment to memorable Beatles arrangements: horns, wind sections, and the specific nuances of the Rhodes/Wurlitzer and Harpsichord keyboards. Combined with the tight playing of the band center stage, this makes each number as close to a carbon copy of its original as a tribute performance can get.
While Act II felt like a slower stretch, the first half was a pleasing sing-a-long. This is a night of "can-you-imagines" for the younger Beatles fans and "remember-whens" for those lucky enough to have been there during the height of it all. This mightn't be called a night of theatre, but pitching up a stage version of Across the Universe or crafting a quippy promenade of the band's personal drama wouldn't be the answer to a Beatles musical. This celebration of the music we all love is satisfying and feel-good, if a bit on-the-nose.
Thursday, October 11th is sold out.
October 12-13, 19:30
October 13, 14:30