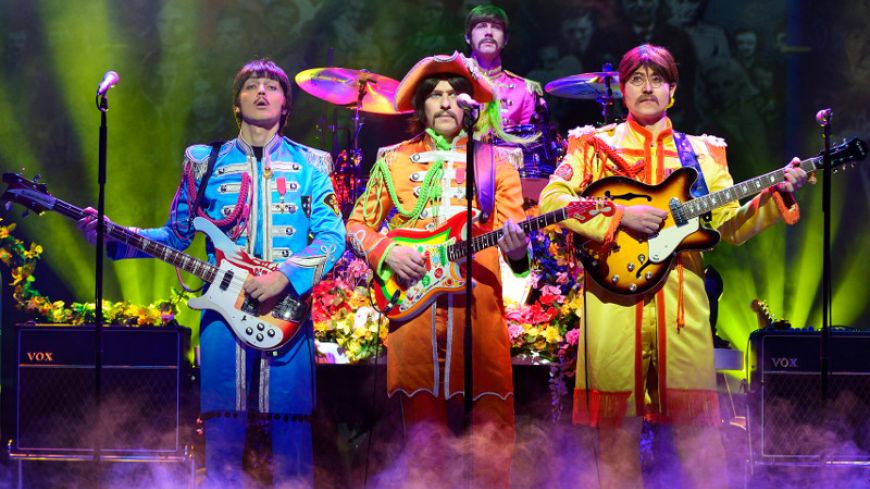 'Let it be' is an unashamed tribute to the most successful group in musical history and the prolific and varied writing skills of Lennon & McCartney.
A musical this is not, but it is a tribute concert of the highest order.
The guy playing Paul sounds like the master and has his mannerisms off to a tee. The rest of the group are also very credible and the patter works the audience well without sounding 'cheesy'.
'Let It Be' covers the various eras of Beatles from the Cavern, that infamous Royal variety performance when those in the posh seats were encouraged to rattle their jewellery. It moves on to their U.S. adventure - taking the country by storm exactly 50 years ago - and, of course, their involvement with the Indian guru Maharishi.
The songs come thick and fast - over 40 in total with a newsreel as backdrop - which gave an 'All their Yesterdays' feel to those who grew up in the 60's and 70's. It is like watching several concerts over a decade in one moment in time. The quality of their back catalogue was a joy to revisit, leaving me wondering why it is not in my collection.
Although there was a technical delay at the beginning, the show was well lit and dressed and only occasionally did the sound system fail to cope adequately with the performance. Given that some of the music was complex the production team did well to replicate a sound close to the studio output.
My only criticism was that 'Do you want to know a secret' was the Billy J. Kramer arrangement rather than the fairly turgid but accurate version on one of the Beatles' early albums.
Okay, the guy covering Paul was right-handed, but if you have the voice then that is trivial.
All in all, this is a celebration of the Beatles and a fitting tribute.
Show times
Runs til 7th June 2014 at Edinburgh Playhouse.