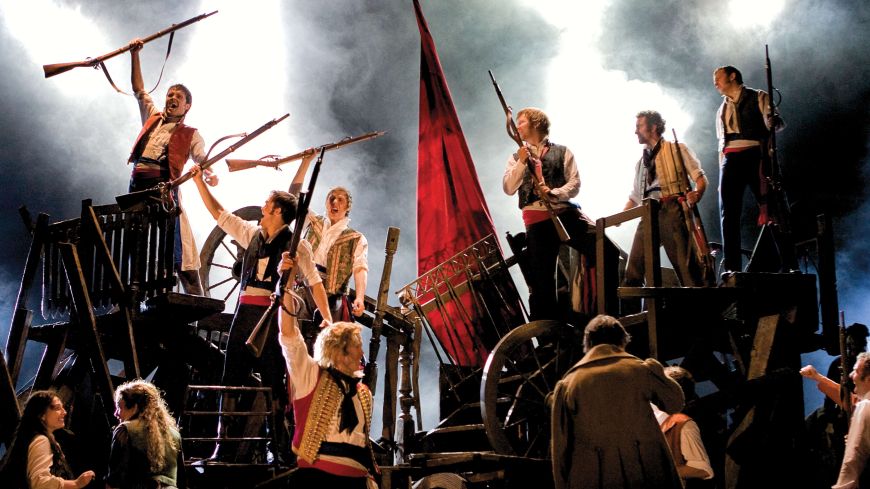 Production
Alain Boubil (Concept, Book & Original French Lyrics), Claude-Michel Schonberg (Book & Music), Cameron Mackintosh (Producer), Herbert Kretzmer (Lyricist), Laurence Connor (Director), James Powell (Director), Matt Kinley (Set and Image Designer), Paul Constable (Lighting Designer), Mick Potter (Sound Designer), Andreane Neofitou (Costume Designer), Christine Rowland (Costume Designer), Michael Ashcroft (Musical Staging), Geoffrey Garratt (Musical Staging), 59 Productions (Projections Realisation), John Cameron (Original Orchestrations), Christopher Jahnke (New Orchestrations), Stephen Metcalfe (New Orchestrations), Stephen Brooker (Musical Supervisor/ New Orchestrations), Graham Hurman (Musical Supervisor), Trevor Nunn (Adaptation), John Caird (Adaptation), Jean-Marc Natel (Original Text), James Fenton (Additional Material), Jean-Pierre Van Der Spuy (Associate Director), Sam Hiller (Deputy Associate Director), Lauren Storer (Assistant Resident Director), Ben Atkinson (Musical Director), Benjamin Ferguson (Assistant Musical Director), Mark Hedges (Children's Director), Carrie Grant (Children's Musical Director), David Harris (Associate Set Designer), Simon Sherriff (Associate Lighting Designer), Nic Gray (Associate Sound Designer), Stefan Musch (Wig Supervisor), Laura Hunt (Costume Supervisor), Sylvia Addison (Orchestral Management)
Performers
Killian Donnelly (Jan Valjean), Nic Greenshields (Javert), Brian James Leys (The Bishop of Digne), Jordan Simon Pollard (Factory Foreman), Katie Hall (Fantine), Mary-Jean Caldwell (Factory Girl), Lee Ormsby (Bamatabois), Jamie Birkett (Madame), Emma Warran (Whore), Jessie Hart (Whore), Megan Gardiner (Whore), Ruby Lyon (Whore), Helen Aylott (Old Woman), Teleri Hughes (Wig Maker), Heidi Russell (Little Cosette), Lexi Sheppard (Little Cosette), Millie McGowan (Little Cosette), Sophie-Louise Dann (Madame Thernardier), Perrie Wong (Young Eponine), Ava Simpkin (Young Eponine), Erin Kempton (Young Emponine), Martin Ball (Thenardier), Charlie Hagen (Gavroche), Max Mackintosh (Gavroche), Rodney Watts (Gavroche), Tegan Bannister (Eponine), Bronwen Hanson (Cosette), Leo Miles (Montparnasse), Michael Burgen (Babet), Brian James Leys (Brujon),Lee Ormsby (Claquesous), Will Richardson (Enjolras), Harry Apps (Marius), Aaron Pryce-Lewis (Combeferre), Shane O'Riordan (Feuilly), Zac Hamilton (Courfeyrac), Danny Colligan (Joly), Ruben Van Keer (Grantaire), Jordan Simon Pollard (Lesgles), Keoni Blockx (Jean Prouvaire), Corrine Priest (Swing), Janne Snellen (Swing), Joseph Anthony (Swing), Nicholas Carter (Swing), Nicholas Corre (Swing)

Orchestra:
Ben Atkinson (Director), David Larkin (Violin), Miles Brett (Viola), William Harvey (Cello), Will Henderson (Double Bass), Abigail Burrows (Flute/ Piccolo/ Alto Flute/ Alto Recorder), Peter Facer (Oboe/ Cor Anglais), Colin Blamey (Clarinet in Bb/ Clarinet in Eb/ Bass Clarinet/ Tenor Recorder), Laura Llewellyn-Jones (Horn 1), Chris Beagles (Horn 2), Oliver Carey (Trumpet/Flugel Horn/Piccolo Trumpet), Christopher Gill (Bass Trombone/Tuba), Daniel Bradley (Percussion), Ryan Mackenzie (Keyboard), Ben Ferguson (Keyboard 2/ Assistant MD), Sylvia Addison for Music Solutions (Orchestral Management)
A sold-out theatre holds its breath as the triumphant orchestra booms its first few notes, signaling the revolution is about to begin. Les Misérables is a staple in the wheelhouse of powerful, galvanizing productions, and this staging at the Festival Theatre is no exception. This stirring musical adaptation of the 19th century novel first premiered in 1987 and has been bursting hearts ever since. For the first time in 10 years it is touring the UK, and, with a sold out run in Edinburgh, theatregoers are clearly delighted to attend.
The cast is strong. Nic Greenshields as Javert is unyielding in countenance and in vocal bravado; Killian Donnelly as Jean Valjean is earnest and wise, vocally both delicate and potent. Donnelly is clearly delighted to employ his beautiful falsetto and baritone belt, shuffling through the lower ranges between these moments of light. The dichotomy of these two characters is what drives the story and carries it into the limbs of those in the velvet seats. Where one man would rather take his own life than face any personal growth or nuanced understanding of the law, the other devotes his life to honour and humanity.
Katie Hall as Fantine is golden, both her belt and her range. Most notably though, is her thoughtfulness on building Fantine's truncated story arc. I Dreamed a Dream is arguably one of the best ballads of the opera, let alone musical theatre repertoire in general; a conscious build up to the climax is necessary, and Hall develops that from the off. From withdrawn and demure in the factory, to starting her solo seated alone on the floor, she builds into the escalating notes most satisfactorily. It's always a shame that this character's time is so little.
A character in and of itself, the set is overwhelming. Floor-to-ceiling structures twist into scenes that sit in the foreground of projections-- reimagined scenery and paintings inspired by Victor Hugo, the original novelist himself. Lighting is ominous, supporting the ever-present themes of pain and despair, of lives living in hope for a better tomorrow. Special effects are resounding as gunpowder blasts echo throughout the theatre and as fog spreads throughout the stage, dropping off into the pit.
The end of Act I is, as one would hope: incredible. As soon the repeating modulations of those four cascading notes begin, it's one rumble growing into a crescendo of hope, justice and freedom. The choir rolls together like a ship upon the waves, heaving and ho'ing in tandem.
This tale of honour, humanity and morality in the face of what is law speaks volumes to the current climate. There's a fury growing in the populace onstage, young people gathering in droves to protest injustice, a reminder of the revolutions happening in many places the world over. Some men will devote themselves to honour, others to power, and this production leaves you with the message, "There's a new world to be won. Do you hear the people sing?"
Jan 22 - Feb 16
2pm Sundays, 2.30pm Thursdays, Saturdays and Wednesday 13 Feb, 7.30pm Tuesdays to Saturdays
Running time (approx.): 2 hours 55 minutes (Inc. 15 minute interval)
FESTIVAL THEATRE
BOX OFFICE: 0131 529 6000
Photo by Michael Le Poer Trench