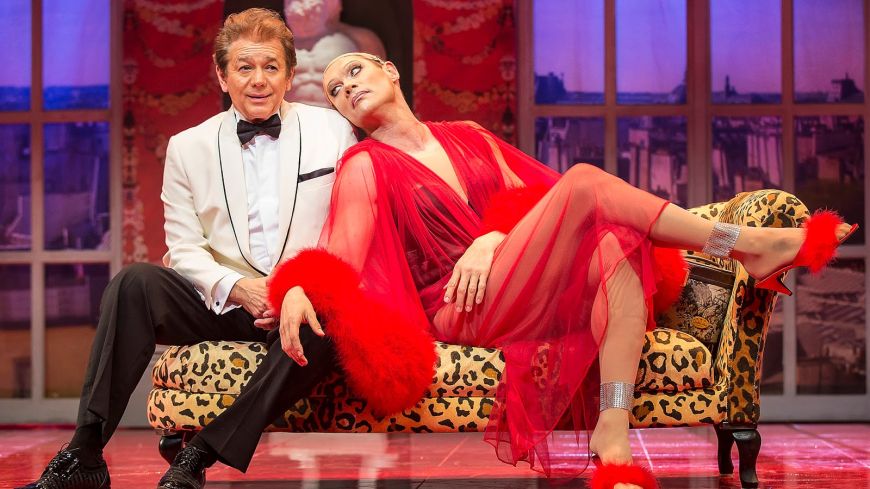 Production
Martin Connor (Director), Bill Deamer (Choreographer), Gary McCann (Set & Costume Designer), Richard Mawbey (Wigs & Make-Up Designer), Ben Cracknell (Lighting Designer), Dan Samson (Sound Designer), Gary Hickeson (Music Production & Keyboard Programming), Mark Crossland (Musical Director), Kylie Ann Cruikshanks (Associate Choreographer)
Performers
John Partridge (Albin), Adrian Zmed (Georges), Marti Webb (Jacqueline), Dougie Carter ( Jean-Michele), Alexandra Robinson (Anne), Samson Ajewole (Jacob), Paul F Monaghan (Dindon/Renaud), Su Douglas (Marie/Mde Renaud), Jon De Ville (Francis), Richard Leavey (Angelique), Matthew Ives (Bitelle), Louie-George Daniels (Chantel), Jordan Livesey (Hannah), Micah Holmes (Mercedes), Liam Paul Jennings (Phaedra), Luke Byrne (Rochelle), Jane Quinn (Babette), Rachel Cumino (Collette)
If feathers tickle your fancy, or your fancy piece is fitted with feathers then make for the playhouse and "Open your eyes, for you have arrived at La Cage Aux Folles". Strutting its way into Edinburgh , and indeed its first UK tour, Bill Kenwright's dazzling extravaganza flashes leg, cheek and is definitely not short of a bit of lip.
Following the plight of a homosexual couple, Albin (John Partridge) and Georges (Adrian Zmed), who make a living by running a drag nightclub, the fluid musical masterpiece explores what happens when they are forced to "straighten-up" in order to meet their son's future father-in-law.
Being a puritanical type, practically gagging at the prospect of homosexuality, Dindon (Paul F Monaghan) and his lap-dog of a wife get far more of a show than expected at dinner.
Through the pillow-factory of feathers and the sacks of sequins, the cast of this award-winning musical gain equal gasps with both their physical and vocal abilities. With legs longer than any catwalk model, and falsettos donning stilettos it was difficult not to be in awe of these beautiful drag queens.
Leading the Saint-Tropez troupe was the heart wrenchingly maternal Albin, played by vocal powerhouse John Partridge. A stand-out performance even in a formidable cast, the vocal ability of Partridge stole the show, beginning, middle and bitter end. Although, at points, his outstanding performance appeared to be filler for lack of plot, he is what he is, and no audience should wish him any different.
Supported by two reputations that proceed their performances, Patridge was in excellent company with firm, fatherly Georges, played by Adrian Zmed, and dangerously devious Jacqueline (Marti Webb) who held their own even when intruding upon moments clearly meant for Partridge's patrol.
Swamped in fabrics and flamboyancy, this hysterically heartfelt musical flows beautifully through its unequivocally ear worming score to a joyous end without a moments peace for pitch perfect Partridge.
Running until March 11th