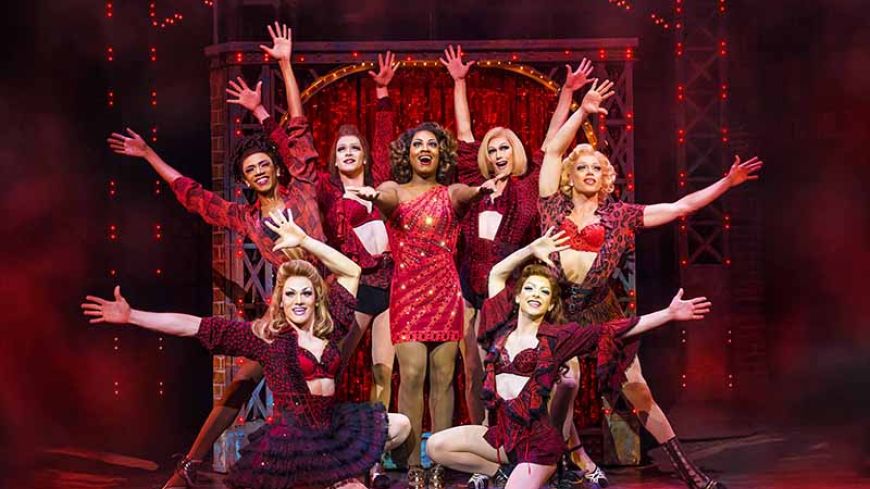 Company
Foresight Theatrical with Playful Productions
Production
Harvey Fierstein (book), Cyndi Lauper (music and lyrics), Jerry Mitchell (director and choreography), Stephen Oremus (music supervisor, arranger and orchestration), David Rockwell (scenic design), Gregg Barnes (costume design), Kenneth Posner (lighting design), John Shivers (sound design), Josh Marquette (hair design), Dominic Shaw (UK associate director), Darren Carnall (UK associate choreographer), Jim Henson (UK music supervisor), Jill Green CDG (casting director), Alex Sims (resident director), Patrick Hurley (musical director), Alistair Grant (UK associate lighting designer), Tim McQuillen-Wright (UK associate set designer), Greg Pink (UK associate sound designer), Chris Marcus & Jonathan Hall (UK props supervisors), Patrick Molony (production manager), Playful Productions (general manager), Aaron Lustbader for Foresight Theatrical (worldwide management), Rhian Thomas (company manager), Nicola Barrett (stage manager), Tom Mclean-Smith (deputy stage manager), Lindsay Innes (assistant stage manager), Laura Smith (assistant stage manager)

Producers:
Daryl Roth, Hal Luftig, James L. Nederlander, Terry Allen Kramer, Playful Productions, Yashuhiro Kawana, Allan S. Gordon & Adam S. Gordon, Jan Bergére, Ken Davenport, Hunter Arnold, Bryan Bantry, Adam Blanshay Productions, Judith Ann Abrams, Ron Fierstein & Dorsey Regal, BB Group, Jayne Baron Sherman, Brian Smith, Tom & Connie Walsh, Gregory Rae, Christina Papagjika, Warren Trepp, Jujamcyn Theaters, Cameron Mackintosh
Performers
Callum Francis (Lola, to Dec. 15th), Kayi Ushe (Lola, from Dec. 17th), Joel Harper-Jackson (Charlie Price), Paula Lane (Lauren), Connor Collins (Angel), John J. Dempsey (Angel), Damon Gould (Angel), Joshua Lovell (Angel), Chileshé Mondelle (Angel), Toyan Thomas-Browne (Angel, Lola understudy), Demitri Lampra (Don), Adam Price (George), Andy Watkins (Mr. Price, ensemble), Helen Ternent (Nicola), Lizzie Bea (Pat, ensemble), Joshua St. Clair (Harry, ensemble, Charlie understudy), Niki Evans (Trish, ensemble), Daniel Conway (Richard Bailey, ensemble, Charlie understudy), Fred Smiley (Simon Sr.), Scarlett Gabriel (Milan Stage Manager, ensemble), Charlie Allen (ensemble, Lauren understudy, Nicola understudy), Portia Harry (ensemble, Lauren understudy), Alfie Parker (ensemble, Don understudy, George understudy), Shaun Dalton (ensemble, Don understudy, George understudy), Nicola Avino (swing, Nicola understudy), Mary Fox (swing), George Grayson (swing, assistant dance captain), Jacob Mcintosh (swing, Lola understudy), Jason Winter (swing, dance captain)

Patrick Hurley (musical director/ keyboard 1), Richard Anderson (assistant musical director/ keyboard 2), Liam Waugh (drums), Iestyn Jones (bass guitar), Steve Bramwell (guitar 1), Craig Oxley (guitar 2), Stuart Mclean-Fowler (trumpet), Jonny Griffiths (reeds), Sebastian Rudnicki (violin), Jim Henson (associate music supervisor), Maurice Cambridge for Accord Music Productions Ltd (UK orchestral management)
Queens rule the stage as the sparkly musical that's anything but a drag hits the Playhouse for the holiday season.
Inspired by true events and spun closely off the 2005 movie by the same name, the story of Kinky Boots centres on a shoe factory in industrial Northampton, where the lack of evolution and innovation has caused the assembly lines to slow. When Mr. Price of Price and Sons passes, his son Charlie has a choice to make: sell the factory or save it? This musical is about an unlikely but beautiful heroine, a drag queen named Lola who moves the factory onwards and upwards...in shoe size, that is!
The key to saving jobs and jump-starting production lines is to find an under-served community and fill the market gap, quirky employee Lauren points out. Well, this "niche market", drag queens demanding dazzling and durable high-heeled boots, is certainly serving up looks, sassy and sharp choreography, and the audience is here for it.
As the story unfolds, the stage design and lighting come into clear focus. Many contrasts are on display between the stark, industrial factory and the colourful, vibrant world of drag. One particularly successful piece of design is the centre structure, which changes operation seamlessly from office to nightclub stage to boxing ring.
The tone changes dramatically in the first Act as soon as Lola arrives. The lights turn Moulin Rouge-red; the music shifts to the likes of an 11 o'clock number. With makeup, muscle and moxy, Kayi Ushe's Lola is a star. The voice control and musicianship of Ushe is impressive, frequently enacting messa di voce, but only reaching the heights of crescendo at choice moments.
Here you also see notable character development, as you witness the range of this person who, as Lola, is quick-tongued, filled with hubris and, as the male presentation of Simon, reveals layers of vulnerability. Championing empathy and compassion, Lola proves that there are many ways of manhood and just as many ways to wear it.
The music, written by Cyndi Lauper, is driving, 80s synth pop. It's fun and catchy, but not necessarily memorable. What is undoubtedly memorable is Paula Lane's Lauren. She's goofy gold. Not soon to be forgotten are the costumes, courtesy of Gregg Barnes. Down to every Angel's shoe, the detailed outfits are dynamite, showcased beautifully by the expert drag choir, titled in the programme as 'Angels'.
This musical teaches that you take what you've got and make it beautiful (or, in Lola's case…"RED!"). Original, entrancing and heartfelt, Kinky Boots lauds self love and acceptance in a time where we desperately need more of both.
Mon 10 Dec 2018 – Sat 5 Jan 2019