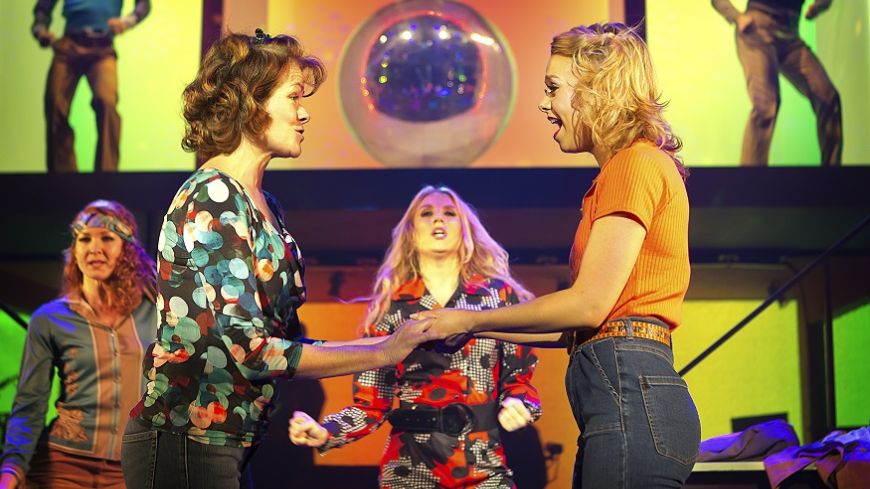 Company
Gardyne Theatre & Arden Entertainment in association with DC Thomson & Co Ltd
Production
Mike James (book), Anna Linstrum (director), Arlene Phillips (choreographer), Tim Shortall (set and costume designer), Philip Gladwell (lighting designer), Ben Goddard (music supervisor/arranger), Bobby Aitken (sound designer), Dan de Cruz (musical director).
Performers
Janet Dibley (Jackie), Lori Haley Fox (Jill), Michael Hamway (David), Tricia Adele-Turner (Gemma), Graham Bickley (John), Nicholas Bailey (Max), Bob Harms (Frankie), Daisy Steere (young Jackie).
In the 1970's, Jackie magazine was hailed 'the best thing for girls - next to boys'. Jackie The Musical proves a girl's best can be bettered - and that boy trouble doesn't get any easier with age.
Dundee publisher D.C. Thomson had already had major success with The Dandy and The Beano when he launched Jackie in 1964. By the mid-seventies, under the editorship of Nina Myskow, the magazine - aimed at 12 to 16 year old girls – was selling over half a million copies a week, making it one of the most popular teenage magazines ever. Not surprisingly. It had everything.
You could ask Dear Doctor – anonymously - about your embarrassing body, seek love advice from the omniscient Cathy and Claire, and find everything you needed to know about your favourite pop stars in Fan Club Corner. There were tantalising True Confessions, quizzes that asked - 'is it love or infatuation?' - when you trembled with the anticipation of finding out what being 'mostly A's' might reveal about your current love interest. And then there were the pull-out posters to drool over for the length of time you could get them to stick to your bedroom wall.
Jackie The Musical provides an opportunity to relive the sheer joy of it all - now we're free of the teenage angst - and revel in those care-free, innocent days when your biggest worry was how to get rid of a spot and your most urgent chore was to learn how to kiss properly (Jackie recommended practising on your teddy bear, and most of us did).
But this musical is not just a celebration of the magazine, it is also a celebration of all those '70s hits you thought you'd forgotten and then inexplicably discover that you still remember every single word. The story - that starts with a 50-something woman finding a box of her old Jackies as she packs away her life ahead of her impending divorce – is built around the glorious, glam-rock and pop tunes that, for us women (or men) of a certain age, slams us straight back to those heady days of heat-waves and heart-breaks.
The story is better than you think it's going to be – but it really doesn't matter. Part of the fun of this is watching the plot build towards the next song: a lovers' tiff; she turns and sings, 'I beg your pardon, I never promised you a…' – and if you don't know the rest, then maybe this show is not for you. For the mainly 50-plus women in the audience, such moments began with giggles and ended in a sing-along-and-sway-along and whooping applause.
With a live band, glitter balls, a pod chair and speech bubbles, plus Tiger Feet and David Essex – it's just non-stop, foot-tapping, utter joy from start to finish.
P.S. Original 1970s Jackies may be available at www.vintagebritishstyle.com
Runs 12th – 16th April 2016