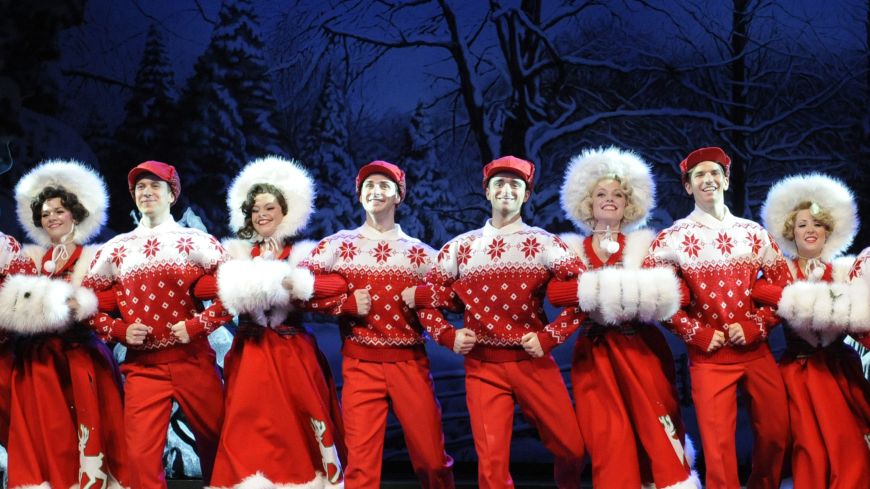 Company
Michael Rose Ltd.,Chris Moreno & the Mayflower Southampton presents
Production
Theatre Royal Plymouth Production, David Morgan (Director), Andrew Corcoran (Musical Director)
Performers
Steve Houghton(Bob), Paul Robinson (Phil), Wendi Peters (Martha), Graham Cole (General), Rachel Stanley (Betty), Jayde Westaby (Judy), Erin Moonie (Susan)
'White Christmas' is an opportunity to sit back and forget about festive arrangements and your troubles and indulge yourself in a   musical oft repeated on the television from a bygone era (1950's U.S.A.).
The story is not challenging and the happy ending is almost guaranteed from the off but, hey, this is an opportunity to wallow in a colourful extravaganza of song and dance.
The overture gets you immediately in the mood to sit back knowing that the show is in good hands with a full orchestra that just oozes quality.
The cast more than matches that standard with song and dance men Bob Wallace and Phil Davis played by Steve Houghton and Paul Robinson. While Steve comes into his own as the show develops, it's Paul Robinson as the care-free, womaniser that dominates the early scenes.
The humour throughout is amusing rather than belly laughs but the introduction of Wendi Peters as 'Martha' raises that bar considerably. Wendi is worth watching every time she is in a scene for all the flashing eyes and nuances that extract every bit of humour around. Her solo contributions are meant to impress and she 'gies them laldy' as they say here.
Producers should consider Wendi if they are looking for someone to play 'Miss Hannigan' in a revival of 'Annie'. The General's granddaughter, Susan (Erin Moonie) also grabs her moment in the spotlight and it's good to see another graduate of the Edinburgh Scout and Guide Gang show in the professional theatre.
This show reminded me of a visit to Radio City Musical hall in New York in terms of the quality of the scenery, lighting and costumes. It brings a Broadway standard to the Festival Theatre although the promised effect near the finale was a little short of what I anticipated.
It's quite a long show at 2 hours 35 minutes (including a 20 minute interval), but some of the scenes need to be enjoyed in their own right even if they do not carry the story forward. 'I love a piano' with Jayde Westaby and Paul Robinson maybe did not stop the show but certainly put it on pause for extended applause.
Graham Cole played the General with characteristic stage presence and his namesake Phil Cole made the most of his cameo appearances. The story centres on saving the general's hotel in Vermont and the on-off relationship between Bob (Steve Houghton) and Betty (Rachel Stanley).
Rachel works well with her 'sister' played by Jayde Westaby but also gets her big number in the Regency Room in N.Y.C. The chemistry between Bob and Betty maybe needs a little extra something to get you to care about the outcome but that is a minor gripe about an otherwise brilliant show for Christmas and an alternative to the usual Pantomimes on offer.
Show times
Fri 29 November 2013 to Sat 4 January 2014, 7.30pm (Matinees 2.30pm)
Ticket Prices
£16 - £46.50