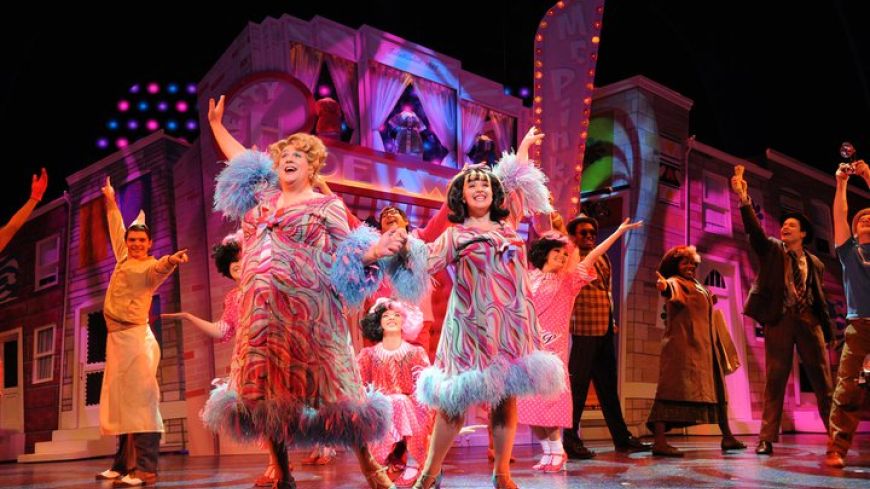 Company
Stage Entertainment UK
Production
Jack O'Brien (Director), Mark O'Donnell and Thomas Meehan (Book), Marc Shaiman (Music), Scott Wittman and Marc Shaiman (Lyrics), Jerry Mitchell (Choreography), David Rockwell (Set Designer), William Ivey Long (Costume Designer), Paul Huntley (Wig and Hair Design), Kenneth Posner (Lighting Designer)
Performers
Michael Ball (Edna Turnblad), Micky Dolenz (Wilbur Turnblad), Laurie Scarth (Tracy Turnblad), Liam Doyle (Link Larkin), Gillian Kirkpatrick (Velma Von Tussle), Wayne Robinson (Seaweed), Danny Bayne (Corny Collins), Emma Dukes (Penny Pingleton), Clare Halse (Amber Von Tussle), Sandra Marvin (Motormouth Maybelle)
With freezing temperatures and bone-chilling winds you could be tempted to stay indoors curled up on the sofa. But it is worth venturing out into the bitter cold as this upbeat musical based on John Waters' 1988 comedy will warm you to the core.
The big musical with a big heart and huge hair follows the story of naively upbeat Tracy Turnblad (Laurie Scarth), the fat teen offspring of fatter Edna (Michael Ball) who is transformed from chunky outsider to teen sensation thanks to Corny Collins (Danny Bayne) and his local dance show.
However, Tracy's eyes are opened to the realities of a less than perfect world when she falls foul of the grotesquely devious producer Velma Von Tussle (Gillian Kirkpatrick) and her daughter Amber (Clare Halse), a carbon copy of her mother and bitchy queen-of-the-hop.
Tracy's optimism is undeterred as she sets out to be crowned Miss Hairspray, end segregation on Corny's show and win the love of heart-throb Link Larkin (Liam Doyle).
Mark O'Donnell and Thomas Meehan's book is a salute to difference with a saccharine sweet layer poured over the latent underlying tones of Waters' original. Difference is defined as not being the perfect body shape, seen through Tracy and her gloriously bloated mother, being slightly odd as showcased beautifully by Micky Dolenz of Monkees fame as Wilbur Turnblad and, more gravely, being black in a racially divided 1962 Maryland.
It's a strange mix; the edginess of John Water's original conception and latent sexual repression in teenagers, the seriousness of the race issue and the confectionary inevitably dominant in a feel-good musical of this calibre. Yet it works. At its heart this production is about the triumph of youth culture, about the optimistic belief that the future will improve on the present with bigger-boned, darker-skinned and otherwise different folk taking revenge on the bigots and squares who conspire to keep them down.
The show lusciously and softly spoofs itself with sophisticated, tongue-in-cheek jokes sprinkled throughout the be-da-bop-bop dancing and toe-tapping musical numbers. Revamped and rescored by Marc Shaiman and Scott Wittman, they replace the film's 60s soundtrack of Gene Pitney and The Five Du-Tones with inflated bubblegum pop, which energetically recalls the beats and tricks of early R&B records that will stay stuck in your head long after the event is over. A mention must go to The Dynamite trio (Shakira Akabusi, Natalie Kelly and Abiona Omonua) for their stunning vocals during the contagious 'Welcome to the 60s' and Sandra Marvin's powerhouse performance of 'I Know Where I've Been'.
Laurie Scarth's Tracy is unflaggingly chirpy as both naive teen chastised for 'inappropriate hair height' and indignant civil-rights activist which makes 'that chubby Communist girl' hard to resist, and her stalwart, sheltered best pal Penny is played to comic perfection by Emma Dukes who's the ying to Tracy's yang.
The omnipresent giddy eroticism that communicates as readily to teenagers today as it did in the swinging 60s means this show will always strike a note with the peers it is aimed at, trying to get through the difficult teenage phase of wanting to be an adult with adult bonuses, but still needing support and cuddles from mum in times of hardship or confusion. It will also strike a cord with older couples who've been in each others presence forever, yet never tire of each others love and companionship, executed beautifully in 'You're Timeless to Me' which was the hit number of the night.
Executed at the front of the stage with no tricks and a dropped curtain, Michael Ball and Micky Dolenz duet with humour, charm and warmth as they both fought back the giggles at their own extra ad-lib jokes which sent the audience into hysterics. The most disturbing thing is as the song progresses, this most unlikely pair of schmaltzy lovers create a few magical moments of affection. It's clear to see why Michael Ball has decided to return to the West End in March for the show as he clearly eats up every moment he's onstage, excellently delivering the musical numbers and his many witty lines as the headstrong, voluptuous hausfrau.
The stellar cast performs with an abundance of energy creating an electric, buoyant atmosphere, which David Rockwell's cartoon-esque set compliments beautifully, echoing the light-hearted approach and ensuring seamless set changes. However Gillian Kirkpatrick's portrayal of snarky snake Velma titters on the edge of clichéd panto villain…then plummets hell for leather into its depths accompanied by Clare Halse's Amber who just overplays the spoilt brat role.
But this exuberant, breathless production, like a can of hairspray, chokes all resistance and smothers all in its course as all the characters are released by the finale to explore their exhibitionistic and sensual sides. The saccharine sweet message is a nice one to take into the New Year. No matter what you are or what you do, you can be anything you want to be, so flaunt your inner self and don't stop the beat.
Show times
Hairspray runs until 9 January Buy tickets