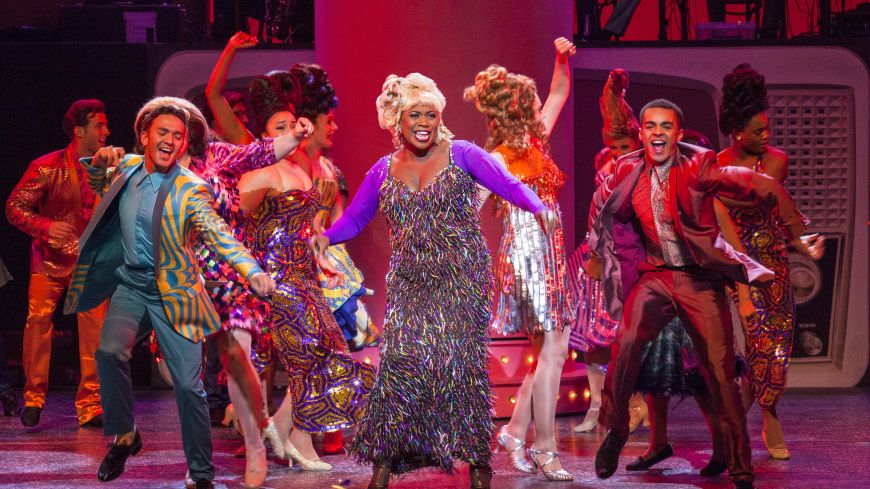 Production
Paul Kerryson (director), Mark O'Donnell & Thomas Meehan (book), Scott Whittman & Marc Shaiman (lyrics), Drew McOnie (choreographer), Ben Atkinson (musical director), Paul Moore (set designer), Takis (costume designer), Philip Gladwell (lighting designer), Ben Harrison (sound designer).
Performers
Tony Maudsley (Edna Turnblad), Claire Sweeney (Velma Von Tussle), Peter Duncan (Wilbur Turnblad), Brenda Edwards (Motormouth Maybelle), Freya Sutton (Tracy Turnblad), Jon Tsouras (Corny Collins), Dex Lee (Seaweed), Ashley Gilmour (Link Larkin), Lauren Stroud (Amber Von Tussle), Monique Young (Penny Pingleton), Adam Price (Male Authority Figure), Tracey Penn (Female Authority Figure), Karis Jack (Little Inez).
Hairspray lifts and holds a crowded Playhouse audience in a full-bodied production that is full of bounce.
Set in Baltimore, 1962 – a short seven years after Rosa Parks was arrested for refusing to stand for a white man on a bus – segregation is the plot-driver, broadening the theme of prejudice to include size and class provides the thrust, and a bit of drag is thrown in to resist the temptation of allowing any of this to get too heavy. This is a musical after all.
The lead character, Tracy Turnblad - given full force with both barrels by Freya Sutton - is big, bouncy and probably closer to 'white trash' than 'white treasure'. She not only wants the opportunity to dance on the Corny Collins show alongside the thin and the privileged, she also wants her black friends to be able to dance with her – and not just on Negro Day. Needless to say, her infectious optimism, nerve and enthusiasm makes everyone a winner in the end, triumphing over all the odds, with high hilarity, thumping great singing, smooth moves and super-charged energy from all the cast, all the way.
As much humour as possible is wrung out of the various larger-than-life characters. As Tracy's mum and dad, Tony Maudsley's Edna is massive and manly, with Peter Duncan's Wilbur reduced to the size of an elf beside her. The visual comedy of this pairing, combined with the evident cheeky rapport between the two, makes 'You're Timeless to Me' a knockout number.
Claire Sweeney gives a gloriously OTT performance, taking the nakedly-ambitious TV Producer Velma Von Tussle to new heights of vampish vulgarity, and Brenda Edwards as Motormouth Maybelle is not just cool and sassy – her rendition of 'Big, Blonde and Beautiful' is one huge, whopping show-stopper.
Dex Lee is sinuous and sexy as Maybelle's son Seaweed – he not only has all the moves but also knows just how to belt out a song; and Karis Jack as his sister Little Inez is nearly in danger of stealing all of the few scenes she's in – even from the back row. And it seems unfair to mention these two without also acknowledging the stellar support provided by Lauren Stroud as Amber Von Tussle and Monique Young as Penny Pingleton who both play their parts with guile and gusto.
A really great cast turns this show into one hell of a party – shakin' it and shimmyin' with all of your might, optional.
Runs 22nd – 27th February 2016. On tour.