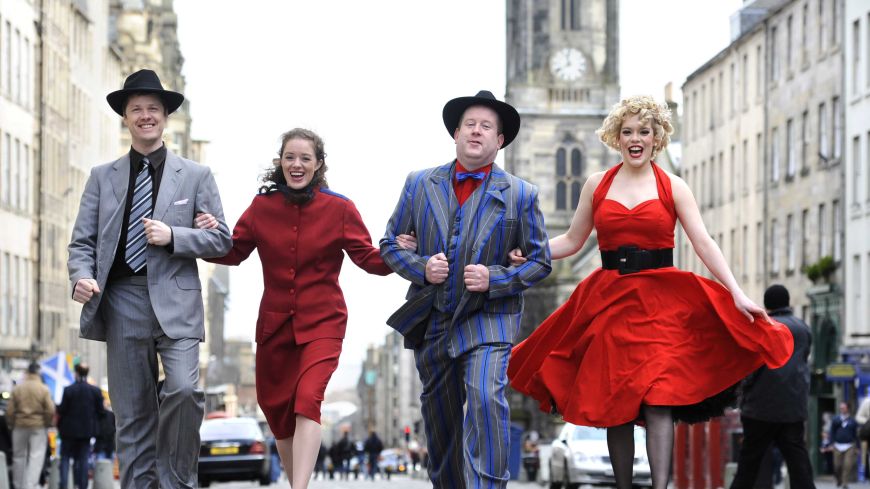 Company
Bohemians Lyric Opera Company
Production
Colin Cairncross (Director), Janice Bruce (Choreographer), Simon Hanson & Uames McCutcheon (Musical Directors), Simon Gillies (Technical director)
Performers
Eddie McDowell (Sky), Mary O'Gorman (Sarah), Malcolm J. Burnett (Nathan), Mary B.H. Clare (Miss Adelaide)
Smart moves, and a dice loaded in favour of the audience. That's Guys and Dolls, the Bohemian Lyric Opera Company's annual spring offering which has moved from the King's Theatre, up the road by a couple of miles, to the Church Hill Theatre.
This is a production with lots of things to applaud. The company itself has had a bit of a makeover with new members and members of cast switching from stage to directing and vice versa. The moves on the stage include some wonderful choreography and execution by both genders even if the lads had a couple of opening night slips. From the overture, the excellent theatre orchestra takes you back to Broadway and the golden age of musicals of its genre. 
Set around the gambling dens of 1940s New York, Guys n' Dolls focuses on four main characters: Nathan Detroit, Sky Masterson, Sarah Brown and Miss Adelaide. Desperate to find money to pay for his floating crap game, gambler Nathan Detroit bets Sky Masterson a thousand dollars that Sky will not be able to make the first girl he sees fall in love with him.
That girl is local Salvation Army girl, Sarah Brown who he tries to persuade, to go with him to Cuba. While Sky eventually is able to convince Sarah to join him he has to find sinners for the mission to save, Nathan battles with his fiancé of fourteen years, Adelaide. As Sky ends up falling for Sarah, he tries to reform his gambling ways, taking the rest of the crapshooters with him to the Mission.
The four principals are the focus of this production and all capture their roles effectively. Eddie McDowell glides through the part of Sky apparently effortlessly, while Mary O'Gorman transformation from Salvation Army leader to tipsy tourist in Havana to lovelorn young woman is accomplished.
Malcolm J. Burnett as the harassed organiser of the illegal crap game shows nifty footwork whether keeping ahead of the police, gangsters or his long-suffering fiancée Adelaide.
Mary B. H. Clare was exceptionally good as the fiancée and nightclub singer and you could feel the 'welcome' from the audience every time she appeared. Whether as a singer, dancer of actor, Mary was on top form as the dizzy blonde with a heart.
The supporting characters are all well observed with special mention to Ben Jeffreys as Lieutenant Brannigan and Fraser Jamieson as Nicely, Nicely.
It was fitting that a reprise of 'Sit Down your Rockin' the Boat had this young singer/actor centre stage. A couple of scenes, Havana and the Night club exploded onto the stage in a riot of dancing, music and costumes with lighting, staging and sound effects used to great effect.
Guys n' Dolls has crisp dialogue delivered with clear diction and good comic timing by the entire company. The Bohemians have excelled themselves in a venue that suited this production.
Show times

Friday 4th - 5th March, 7.30pm
Tuesday 8th - Saturday 12th March, 7.30pm