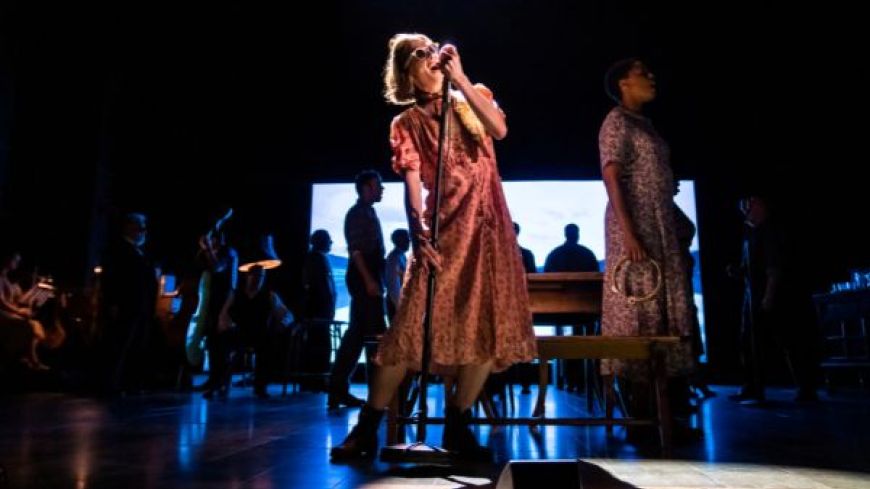 Production
Conor McPherson (writer & Director), Bob Dylan (Music & Lyrics), Rae Smith (Set & Costume)
Performers
Ross Carswell (Eliaz Burke), Colin Conor (Nick Laine), Joshua C Jackson (Joe Scott), Eli James (Reverend Marlowe), Frances McNamee (Elizabeth Laine), Justina Kehinde (Marianne),
The choking cloud of the Great Depression of America in the thirties was an all-encompassing doldrum which still resonates today. But as many slam their doors closed to those in distress, Girl from the North Country opens itself up on a dysfunctional guesthouse littered with proprietor Nick Laine, set in Bob Dylan's hometown of Duluth, Minnesota. But the arrival of further drifters and guests offsets the quaint, once quiet B&B into a cauldron of chaos, emotional turmoil, and an all-too-complex narrative.
Less a traditional jukebox musical, more a production set to a particular soundscape, Bob Dylan's score is an accoutrement rather than a driving force of drama or expression throughout the production, setting a generalised tone rather than imposing too heavy a hand on character. This, at least, seems to be writer and director Conor McPherson's intention. As each guest passes through the guesthouse, lonely drifters – ghosts of another era, the storytelling dynamics behind to lose themselves in the dust they seek to stir.
The previously mentioned Laine (played remarkably well by Colin Connor) attempts to provide for his ailing wife Elizabeth (Frances McNamee). Despite the mild tyrannical nature and penchant for adultery, Connor plays Laine with such reserve that even the outbursts communicate a sense of elicit empathy. With other cast members adding in additional murky reasonings for being at the guest house, including Joe Scott (Joshua C Jackson) and Reverend Marlowe (Eli James), again McPerhson's narrative attempts to ram too many characters into Rae Smith's creative but otherwise quite empty stage. Really, it is the women who audiences wish to hear more from, and not only vocally. 
The truth is that besides stand-out numbers which demonstrate the talents of the cast, Frances McNamee's Like A Rolling Stone is a key example of a crowd-pleasing recital which packs an emotional punch, the dialogue and scripting between musical moments come over as anywhere from pedestrian to contrite.
The musicality of the show is its strongest asset, the vocal capabilities of the cast are rarely called into question set against a spectacular score delivered by a superb on-stage band who complement one another without detracting from the projection of the cast. From the croaky-husky delivery of Ross Carswell's Duquesne Whistle as the haggard Elias Burke, the real emotional powerhouse lies within the lament of loss from Kehinde's Marianne, performing Tight Connection to My Heart. 
Dylan's music is interweaved to strengthen a tale surrounding McPherson's desires to communicate a heart-warming, and indeed wrenching, story of family, desolation, loss, and relationships. For the lonely drifters and the despondent, there's a home at the Edinburgh Playhouse which champions a sense of companionship and forges a path towards our dreams. There are principal aspects of the production which are star-bound to impress with its canny use of unspoken desires but rely too heavily on needless complications and an ounce too heavy of seriousness to truly capture a home for this musical break from the jukebox genre.
18th - 22nd October, 7.30pm. Wednesday & Saturday matinee 2.30pm. Ages 12+
Tickets from £25.50
Girl from the North Country Tickets | Edinburgh Playhouse in Edinburgh | ATG Tickets
Photo Credit: Girl from the North Country