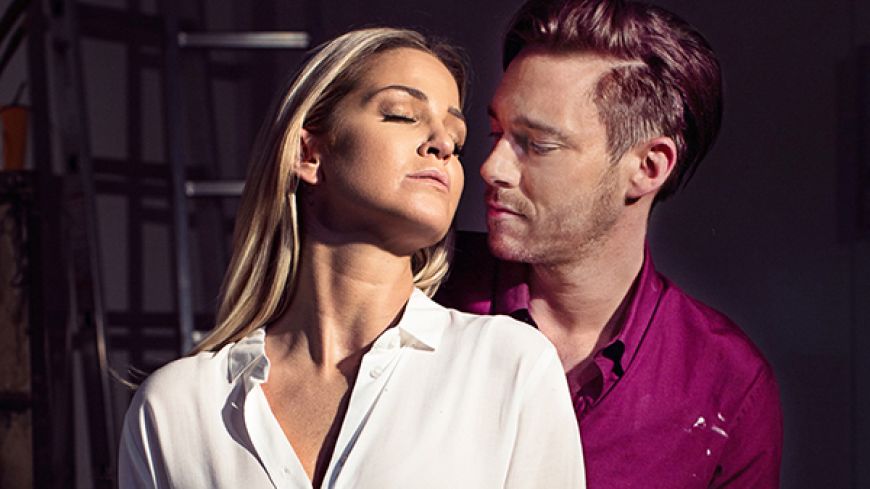 Production
Bruce Joel Rubin (Book and Lyrics), Dave Stewart and Glen Ballard (Music and Lyrics), Bob Tomson (Director), Alistair David (Choreographer), Mark Bailey (Set and Costume Designer), Nick Richings (Lighting Designer), Dan Samson (Sound Designer), Richard Pinner (Illusionist), Tim Whiting (Musical Director)

Performers
Sarah Harding (Molly), Andy Moss (Sam), Jaqcui Dubois (Oda Mae), Sam Ferriday (Carl), Leo Sené (Willie Lopez), James Earl Adair (Hospital Ghost), Garry Lee Netley (Subway Ghost), Tarisha Rommick (Louise), Simbi Akande (Clara), Lori Barker (Ortisha), Ethan Bradshaw (Detective Beiderman), Lauren Drew (Officer Wallace), Kelly Hampson (Mrs Santiago), Matthieu Vinetot (Orlando), Michael Ward (Robert).
Intimate pottery, forlorn purgatory and heart-throb Patrick Swayze. In a word – Ghost. The 1990 iconic film was reimagined for the stage in 2011, and is now embarking on it's second UK tour. Compiling jaw-dropping illusions and dewy-eyed imagery, with popularity-contest casting and some vague directorial decisions, it's difficult not to find yourself trapped betwixt nostalgia and disappointment.
After being attacked en route to their new apartment, Sam finds himself stuck between life with his girlfriend Molly and the afterlife. Now able to see without being seen, Sam discovers Molly is not safe. Enlisting the assistance of disreputable physic Ode Mae Brown, he sets out to save her life.
Jumping into the shoes of the late, but not yet departed, Sam, Hollyoaks' Andy Moss attempts to flirt and frolic with his monotone sweetheart Molly, played by the exceedingly flat Sarah Harding to no convincing avail. The couple are laboured as a pairing, and appear more as classmates awkwardly playing lovers in a school show than a smitten couple in their new home.
Both performers seemed uncomfortable even in the relatively small amount of stage space left for them after staging. Appearing to be following cringeworthy direction with uncertainty, the finished result is unnatural and clunky. Also upstaged vocally by other cast members, many of whom are far below them on the billing, it is baffling how Moss and Harding's casting hasn't been questioned by someone along the way.
Harding's only saving grace in her vocally challenged, characterless portrayal of Molly is her rendition of With You, which is delivered with beautiful poise and almost pitch perfect delivery. However this is not enough to forgive the lack of intonation or forethought in her delivery of dialogue. Never more was Moore missed.
Offsetting the disappointing top billing is an ensemble cast with impressive vocal presence and copious amounts of energy, whom propel the story onwards with their, although oddly placed, upbeat dance numbers set in New York offices.
Despite the shortcomings of this production, the work of Illusionist Richard Pinner and lighting designer Nick Richings are to be commended. Without an overt amount of smoke and mirrors, Sam's afterlife state is a paranormal wonder to witness where not even solid wooden doors could get in his way.
Much like Sam, trapped between two different worlds, the audience find themselves stuck between their hunger for a nostalgic touch and the urge to walk out and watch the original on DVD.
Running until Saturday 26 November
Tickets from £14.50
www.atgtickets.com